Mailbag: Manziel's Heisman hopes; Vols coaching search & ranking Golson
Mailbag: Manziel's Heisman hopes; Vols coaching search & ranking Golson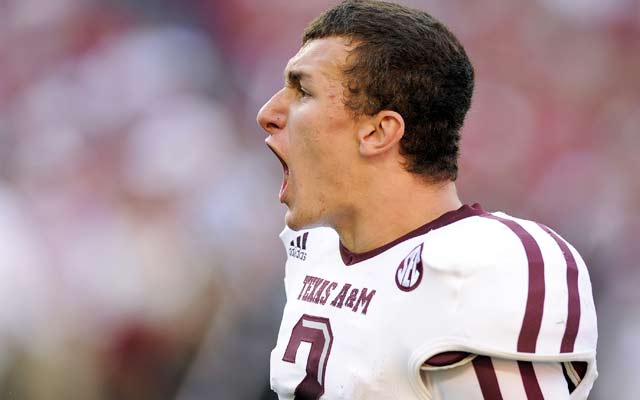 Could Johnny Manziel's freshman status hurt him with Heisman voters?
(US Presswire)
Here is this week's mailbag. As always send your questions to me via Twitter to @BFeldmanCBS:
From @Dougigem: do you think that Johnny Football being a freshman will hurt his Heisman hopes? Many more opp in future. Klein's last this yr
My hunch is it'll hurt a little in the fact that many Heisman voters probably had never heard of him until October so there was no name recognition with him. Some Heisman voters also fancy themselves as "traditionalists" and in the past I've heard would be reluctant to vote for a freshman. Look at some of these national individual awards. They say they're for the "top" player at a position yet in the fine print also point out that upperclassmen are only eligible. I think stuff like that is silly, but others don't.
Plus, him being a freshman also factors in the school not allowing him to do interviews. Does that last part hinder his Heisman hopes? It could because right now Johnny Manziel is Johnny Football—this kinda mysterious, spectacular revelation. Like he's some gridiron hero from another era whose legend is getting spun the old-fashioned way. In some ways that makes for a fun mix with the modern-day spectacle about him: The photos of Scooby Doo does Halloween in a Hef style that went viral. Or the fact that even though Manziel hasn't spoken to the media at A&M, he's been fairly active on Twitter and fired up a pretty strong tweet right before he led the Aggies to that monumental win over No. 1 Alabama in Tuscaloosa. At the time, @JManziel2 had a little over 28,000 followers. In less than a week, he has gained over 20,000 more although I doubt many of them are Heisman voters.
That curiosity about him makes him more intriguing to many of us. Then again, it's no stretch to think that the more interviews he does, the more visible he would become in those pass-around kinds of stories and TV interviews where his face and name gets reinforced to those Heisman voters who are less dialed in to the day-to-day aspect of the sport.
It also doesn't hurt to have a star player from a rival school touting you the way LSU DE Sam Montgomery has praised Manziel both in interviews and on Twitter.
This week Texas A&M has stepped up to push Manziel's case by launching a detailed "Johnny Manziel for Heisman" website. The site is very well done. I've also heard the school will likely make Manziel accessible to the media after the season-finale against Missouri sometime in the two weeks leading up to the Heisman presentation.
 As I've said numerous times of late, Manziel (and A&M) are the hot story in college football right now. That is helping drive his Heisman candidacy but since A&M only has Sam Houston State and Mizzou remaining, will that slow his momentum if Collin Klein closes out a perfect K-State season with a win over the Aggies' arch-rival Texas?
From @DirtyGreen1: who do you think the Vols should and will look at for a new head coach?
I've heard all the rumblings about Jon Gruden to Tennessee. That's the dream candidate for many Vol fans who are reeling from consecutive disastrous coaching hires in Lane Kiffin and Derek Dooley. If—and this is a huge if—Gruden were to take the job it would be fascinating to see how he did.
I've heard from a source he's curious, but then again, Jon Gruden gets curious about a lot of things. Yeah, UT has some boosters with deep pockets, but Gruden is already making more money than top-line college coaches are making and he's set to make even more. Does he want to go back to coaching and now have to deal with boosters, academic meetings, worries of late-night phone calls of players getting arrested and constant recruiting work beyond just coaching ball? I don't know. It sure would be fun to see. The guy is as charismatic as they come.
The downside to this Gruden Lovefest for Tennessee is what happens if he doesn't want to come? Anyone else would seem like a huge disappointment.
The candidate I think that is most likely to get the job is Alabama DC Kirby Smart. He has had a lot of success under Nick Saban. UT AD Dave Hart came from Alabama and you'd think Smart would be able to help shore up the Vols' biggest ill—its' defense. Will Muschamp's success at Florida probably helps Smart's resume since they're both former Saban defensive protégés. Of course, Dooley was a Saban protégé too and that backfired on UT.
Other names to keep an eye for the Tennessee job: Cincinnati coach Butch Jones; La. Tech's Sonny Dykes and Clemson offensive coordinator Chad Morris
From @abellwillring: Can you see any reason why Jimbo would be interested in the Aub job? I'm biased, but it doesn't seem to offer anything over FSU.
The only reason I've heard would be because his wife might want to move back to Alabama. I say might because that was the one explanation I heard that from someone in the media when I asked earlier this week why he'd even consider Auburn, where he'd take over a program that is in disarray and where he'd have to go head-to-head with his mentor Nick Saban in Nick Saban's state. Beyond that, he's got FSU back up to speed and with the state of the ACC, it's a lot easier to think Fisher could dominant that league that he'd have any hope of dominating the SEC from Auburn.
From @ClayPhillips27: Whats your take on what James Franklin has done with the Vandy program?
Franklin has done a remarkable job. He took over a program that had gone 4-20 the previous two seasons before he arrived and he immediately changed the mentality of Vandy football. By the way, about the cliché "changing the culture" . . . much easier said than done.
Franklin and his staff brought an edge to the program that had been lacking for years. In Year One, they made a bowl game. This year, they're already bowl eligible and now have a chance to go 8-4. That's two bowls in two years. The school had only been to four bowls in the previous 120-plus years of playing college football. Plus, recruiting, by all accounts, is going better than ever. Franklin's done such a good job there, you have to think other programs are going to try and woo him away from Vandy.
From @Murphy324: Is Everett Golson among the top 5-8 rookie quarterbacks after 10 games, or is he just the avg skilled kid with a lot to prove?
It is an especially deep and talented group of first-year QBs that have broken through in 2012 starting with the two guys that have legit Heisman chances in Johnny Manziel and Marcus Mariota.
Manziel's been so spectacular and because he's doing it in the toughest league in the country (remember he's faced three of the nation's top five defenses) that some people don't realize just how sharp Mariota has been. The Duck rookie leads the nation in passing efficiency—and by a fairly wide margin.
After them, you have UCLA's rising star Brett Hundley, who has also been superb especially considering he's working behind one of the youngest O-lines in the country. Hundley's No. 17 in the nation in passing efficiency; has completed 69 percent of his passes and has a 24-9 TD-INT ratio. That's the top three and there's a lot of separation between them and everyone else at this point.
Golson's after them, but in front of a couple of other first-year quarterbacks who have really stepped up: TCU's Trevone Boykin (14 TDs, 8 INTs) and Stanford's Kevin Hogan (6 TDs, 2 INTs).
Golson's more than just some "game-manager". His performance in the second-half at Oklahoma was huge for the ND season. We've also seen him blossom after the first month of the season. He can extend plays. He's got a pretty strong arm. He's become a much bigger weapon as a runner and he's also only thrown one INT since September. Those first three QBs mentioned are asked to do a lot more to win games than Golson is, but I think it's no stretch to say Brian Kelly's got the guy who'll lead the Irish for the next three seasons.
One thing that jumped out at me earlier this week when people started pointing out that the two young QBs in the Heisman race were actually both only three-star recruits, is how quickly those guys ranked as "dual-threat quarterbacks" have shined compared to the ones who are pegged as "pro-style quarterbacks" from what has proven to be a stacked 2011 QB class.
According to the Rivals.com rankings, neither Mariota (No. 12); Manziel (No. 14) or Golson (No. 16) were even among the top 10 of dual-threat guys. Then again, the top two on that list: Ohio State sophomore Braxton Miller and Hundley are certainly living up to the hype. So has the No. 6 guy Teddy Bridgewater. Boykin was No. 24.
The jury is still out on the Pro-Style group although the No. 1 over there Jeff Driskel has played well despite injuries. David Ash, the No. 6 ranked guy from that list, also has been solid as has Rutgers sophomore Gary Nova (No. 11).
It'll be fun to see just how deep this crop of QBs proves to be a few years from now.
From @RealMSavage: Will Canes play in a Bowl game when they Win ACC Coastal??
If Miami gets to six wins, which I suspect the Canes will do this Saturday after beating USF, my hunch is the school will later announce it is going to self-sanction and bypass playing in a bowl game for the second consecutive year. I detailed my opinion for this in last week's mailbag.
CBS Sports HQ Daily Newsletter
Get the best highlights and stories - yeah, just the good stuff handpicked by our team to start your day.
Please check the opt-in box to acknowledge that you would like to subscribe.
Thanks for signing up!
Keep an eye on your inbox for the latest sports news.
Sorry!
There was an error processing your subscription.
Purdue knocked Ohio State out of the College Football Playoff, and rival Michigan is happy...

The Buckeyes got stomped by Purdue, and now that's all anyone will talk about for the next...

Purdue turned in its most impressive win of the year, and honored Trent with a "cancer sucks"...
The Big Ten's biggest fear may just be starting to come true

NCAA football scores, highlights and updates from Week 8 all Saturday long

Projecting the new AP Top 25 college football rankings after a busy Week 8