Mailbag: N.D.'s ceiling, floor for 2012; Rogers' impact on Vols & BCS sleepers
Here is this week's mailbag. As always, send your questions to me via Twitter @BFeldmanCBS: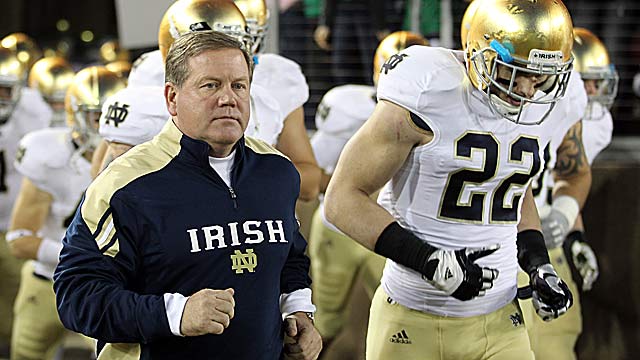 With a tough schedule and a freshman QB, it would be a surprise if Brian Kelly's Irish win eight games.
(Getty Images)
Here is this week's mailbag. As always, send your questions to me via Twitter @BFeldmanCBS: 
From @montlakend: what are your "totally exceeded expectations" and "2012 was a disaster and Kelly's gone" win totals for Notre Dame?
Given how rough Notre Dame's schedule appears to be and the fact that Brian Kelly's starting is a redshirt freshman QB, I'll be very surprised if they win more than eight games in the regular season. Maybe things could break right and they go 9-3. So I'd set my "totally exceeded expectations" number at 10 wins or more.
The "disaster and it's time to hit the reset button again" for N.D. would have to be under five wins. In addition, they'd have to get routed in some of those losses and Kelly's sideline demeanor also would have to come into question or something beyond the wins and losses for the school to make such a move after only three seasons. Now, if the Irish went 3-9 or even 4-8, it wouldn't shock me to see the brass get panicky. But I don't see that happening. I expect Everett Golson to be a good fit for what Kelly wants in terms of being a guy who can extend plays, like he had with Dan LeFevour and Zach Collaros at CMU and Cincy. Unlike many previous seasons in South Bend, I don't get the feeling that people expect they have a decent shot at winning 10-plus and qualifying for a BCS bowl. Instead, they're more focused on just seeing some positives and going in the right direction.
From @JasonAClairmont: does Arizona have the talent to reach Rose Bowl in next couple years under RR?
Not yet. Right now, 'Zona has the kind of talent to win six or seven games tops. Rich Rodriguez did inherit a dual-threat QB in Matt Scott who fits his system, but Scott will be gone after this season. How soon before Rich Rod brings in his ideal trigger man into the program to be his new Denard Robinson? And once he has that guy, it will take some time to develop him. Beyond that, it's not like there are some dynamic backs who look like the next Steve Slaton or Avon Cobourne. After all, the Cats were No. 11 in the Pac-12 in rushing last season. We'll see if sophomore Ka'Deem Carey can be that spark.
Defensively, the Cats also are really lacking. They were dead last in the league in sacks with 10. Only one of their top five tacklers from 2011 returns. They just don't have enough playmakers in the front seven. One of the most talented players in the program, junior DL Justin Washington was just suspended for a violation of team rules. Stuff like that, especially in the aftermath of a coaching transition, often reflects how far a program has to go to be a winning team. All that said, Rodriguez is a terrific coach. He and his staff know what they are doing. He did a great job at WVU and he was building Michigan back up before they pulled the plug on him. Plus, getting DC Jeff Casteel to come to Tucson really should help. I expect Rodriguez to at least get the Cats back into the top 25, but it may not happen realistically till 2014.
From @Bodemode1067: What school, or schools, is/are getting completely overlooked, ranked or not, that will be in a BCS bowl this season?
The two teams that come to mind are Michigan State, which wasn't in the top 12 of either preseason poll and Va. Tech (ranked No. 16 and No. 20). I feel like both have good chances to make a BCS bowl. In fact, I expect the Spartans, with a great D and a power running game, will win the Big Ten. From the unranked pile, keep an eye on BYU, La. Tech and Utah.
From @uplandhunt: How does losing Da'Rick affect Tennessee this year? Is their ceiling and floor now lowered?
The timing is bad being that it happened on the eve of the season. Rogers has been a big distraction within the program for quite some time. As I noted in the story we had on our site Thursday, there had been multiple incidents where he had crossed the line with Vols coaches, according to my sources inside the program. There was Rogers' meltdown during the Kentucky loss when the receiver ripped Vol coaches, including Dooley, and there was also an incident he had where he went way over the line with a UT strength coach in the team weight room. Staffers thought Dooley should've booted Rogers last year, but the coach kept him around. They felt Dooley was jeopardizing the dynamic of the team by allowing Rogers back after the kinds of things he had said and done. No question about his productivity on the field. He was a big, physical receiver who helped the offense when Justin Hunter was lost for season.
Even with Rogers gone, the Vols still have two big, athletic targets for Tyler Bray in Hunter and JC transfer Cordarrelle Patterson, but their margin for error just got a lot smaller. Remember, this is a team that has leaned heavily on the passing game while its ground attack has struggled. The Vols also have, by SEC standards, a very average defense.
Tennessee has a couple of intriguing games in the first three weeks of the season, against N.C. State and then home against Florida. I still like the Vols' chances to win both, and Derek Dooley can't afford to lose either. The pressure around that program is so heavy right now that any additional negative vibes could make things toxic there. It's a program the desperately can't afford any more bad news.
From @83isfarawaynow: If you were a coaches agent, what would be some characteristics of jobs you would advise your client to avoid?
Shaky administrations where there is a history of meddling and limited financial commitment from the A.D. would be my biggest red flag. If a head coach has to cope with a lot of bureaucracy and politics to get things accomplished, the job will be more trouble than it's worth. Stuff like that also breeds a lack of trust, and when you have that, it seeps into your war room. People get paranoid. You can't sustain winning that way.
From @PeteBellini2: Who is the next BREAKOUT coach for 2012 that is not a household name that could nail a big job in 2013 if they want it?
This is actually the topic for Tuesday's Top 10 list. I'll give you a hint who tops the list: It's a guy who was a former college baseball player.
From @alexpodlogar: Loved the book. Loved it. But what was the biggest fallout/criticism you got from "Meat Market"?
Thanks Alex. From a technical standpoint: that there were too many names for folks, especially those are don't follow recruiting closely, to try and keep track of. From a coaching standpoint: not enough Barney Farrar stories.
College football bowl games were all announced on Sunday, and you can check out the entire...

SportsLine simulated every bowl game 10,000 times for pick'em leagues and confidence pools

Everything you need to know to watch and pick the Las Vegas Bowl on Saturday
Everything you need to know to watch and pick the Camellia Bowl on Dec. 16

Everything you need to know to watch and pick the New Mexico Bowl on Dec. 16

Everything you need to know to watch and pick the Cure Bowl on Saturday