Mailbag: On the Big Ten, the new FSU staff and Barkley's NFL stock
Here is this week's mailbag. As always, you can send me questions via Twitter to @BFeldmanCBS: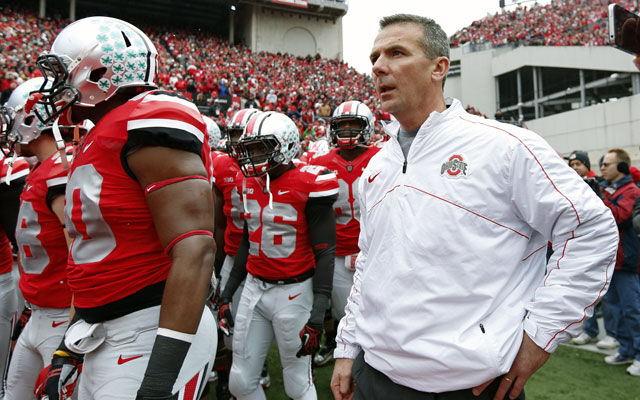 Here is this week's mailbag. As always, you can send me questions via Twitter to @BFeldmanCBS:

From @Purduefan61: can the B1G be respectable next year?

With Urban Meyer and Brady Hoke running the conference's two traditional powerhouses, it's a good sign that things are trending up for the Big Ten.
Ohio State is coming off a 12-0 season, returns a budding star in QB Braxton Miller and a lot of young talent for a team that should open in the preseason top 6.
Michigan has upgraded its D, has a capable dual-threat QB in Devin Gardner and arguably the nation's top RB coming in to fit Hoke's system in Derrick Green as the Wolverines look more comfy going forward. And as we've observed from the SEC going on this spectacular run of having won seven BCS titles in a row, a conference's worth is gauged by the heavyweights at the top more than anything else. It also doesn't help that the Big Ten has won only one Rose Bowl is the past dozen years with a record of 1-9 and 1-10 if you add in Nebraska's blowout loss to Miami.

But there are other encouraging signs in the Big Ten: Gary Andersen worked wonders at Utah State and should be a good fit for a strong Wisconsin program. Pat Fitzgerald has elevated Northwestern, and the Cats keep improving.

The downside: Iowa has lost its momentum. Nebraska has to replace almost its entire defense. Penn State is about to go into the teeth of devastating NCAA sanctions. Michigan State, which is hiring Jim Bollman (a guy whom Buckeye fans will be quick to tell you is waaay too conservative) as OC, has to find a way to revive a listless offense.

The key to the credibility of the Big Ten starting to come back is for these top league teams to win meaningful out-of-conference games. In 2012, that didn't happen at all, and the league's credibility took a few haymakers. Michigan played three teams ranked in the top 15 at the time they met and lost all three: to Bama, Notre Dame and South Carolina. Nebraska, which lost to UCLA, also lost to Georgia by two TDs. MSU beat Boise but lost to Notre Dame. Wisconsin lost to Stanford. All told, the best Big Ten teams went 1-6 in games against teams ranked in the Top 25 when they played. Overall, it was 1-7 if you include Purdue's loss to ND.

This year's big non-conference tests for the Big Ten: ND-Michigan, Sept. 7; UCLA-Nebraska and Wisconsin-ASU, Sept. 14 and MSU-ND, Sept. 21, so that's not actually a lot of opportunity. Realistically, though we won't know much until the bowl season. A big part of the focus figures to be on whomever the Buckeyes face in their bowl in Meyer's first post-season game at Ohio State. That, I suspect, will have as big an impact as any on the merits of the Big Ten.
Respectable? Yeah, I'll buy that. I think Meyer and Hoke will get their teams to that point in 2013, but I'm not convinced they have enough personnel just yet in their programs to win the BCS title. The good news for Big Ten folks is the top of the league should be better than it was last season or the year before.


From @AKFeezy: r u surprised Mangino didn't land another HC gig? his success at Kansas looks more impressive with each year of hindsight?

Yeah, I am a little surprised Mark Mangino didn't at least get an FCS head coaching job somewhere, but instead he has surfaced back at Youngstown State, where he's now the tight ends coach and recruiting coordinator given how much Kansas (a traditionally down football program) won in his time there.
The guy was the 2007 National Coach of the Year. He led them to a BCS bowl win and KU achieved consecutive eight-win seasons for the first time in around 100 years. Of course, he would bring baggage, and I think in this era of social media and the national microscope as it is, it's harder for people with perceived baggage to get another chance. Bobby Petrino got another chance, but Western Kentucky is a significant drop down from Arkansas. No doubt Petrino's image has taken a beating for his well-chronicled infidelity. But Petrino's coaching rep is even higher than Mangino is.

Mangino became the picture of the gruff football coach in the wake of his controversial exit from KU for alleged mistreatment of players. Perception becomes reality in situations like this. And unless you can get real insight into what happened, you probably don't know much about what actually went down and only figuring "something bad happened." And usually, that's as far as people want to go, and that includes administrators and people who hire football coaches. The guy is a proven winner -- and did so at a place where it's been extremely hard to win. But stigmas are hard to overcome.

From @malbrizio: Some claim FSU's coaching staff is now stronger than last year's. Agree or disagree?

The Noles lost a bunch of excellent assistants from last year's staff. I have heard good things about new defensive coordinator Jeremy Pruitt from guys who worked with him at Alabama, but he's still unproven and the guy he's replacing, Mark Stoops, was excellent. To me, the DC spot, especially with Jimbo Fisher being his own play-caller, is the key assistant hire for this staff. And it's hard to say with much conviction that the Noles upgraded at this point, but we'll see how Pruitt does. The bar is really, really high (Stoops).

Beyond that, Greg Hudson, who left for the Purdue DC job, is very well-regarded as a defensive mind and as a teacher. D.J. Eliot (Kentucky DC) is considered by many within the business as a rising stat in coaching. The offensive guys James Coley (Miami OC); Eddie Gran (Cincinnati OC) and Dameyune Craig (Auburn co-OC) have proven to be three of the best recruiters in all of college football. Gran and Coley have been noted for their prowess landing top South Florida recruits while Craig is golden in the Atlanta area and the state of Alabama, all are vital spots for FSU. Gran also has been a good special teams coordinator for years. As you'll note, all six guys left for bigger roles. Coley was the Noles' OC, but now he gets to call plays, which is a big upgrade in responsibility compared to what he had at FSU.

On the other hand, in addition to Pruitt, you add in Charles Kelly, whose stock really rose after seeing the impact he made as the interim Ga. Tech DC last year, as LBs and STC and other experienced guys. But at this point, I'm not ready to agree that this has been a staff upgrade from all that they replaced. It's just too soon to make that kind of leap.

From a bigger picture sense, it should be pointed out that you can have a great bunch of assistants, but if there isn't a good mix and strong staff chemistry, it won't matter. You will have issues. About a decade ago, that's where Bobby Bowden's staff had its problems, I was told by FSU sources years ago. Also, keep in mind that coaching hires -- much like recruiting on signing day -- are almost always played up and lauded. The new DC that every school just hired isn't almost always more aggressive than the guy or the system he's replacing. He could even be replacing Joe Lee Dunn or Rocky Long, and someone, the new DC is going to bring a more attacking style!

Fresh and new always sounds good, but sometimes the reality isn't what fans were hoping for.

From @krtgrphr: What do you really make of Matt Barkley -- was his season really done in by poor defense as Kiffin claims, or was he just bad?

I'm not at all surprised that teams were impressed with Barkley when they met with him in Indy. He's about as polished and bright as any college player I've been around. Remember, this was the guy who, during his freshman year at USC, became the voice of the program after it got rocked by devastating NCAA sanctions. I know people try to lump guys from certain schools together and people have done that with Barkley and Matt Leinart, but they are two completely different personalities.

Can Barkley be an elite NFL QB? I don't know. The only college QB I was very confident was as close to being a "Can't Miss" quarterback coming out of college was Andrew Luck. After that, we're all reaching and taking big leaps.
Barkley was outstanding in 2011 but looked like he regressed in 2012. Why? Was it the added pressure of being in a BCS title-or-bust mode? Was it bad coaching/play-calling? My hunch is it had more to do with playing behind an O-line that struggled losing its star left tackle (Matt Kalil) and had its top lineman (center Khaled Holmes), injured for the Stanford game and playing hobbled much of the rest of the season. Still, Barkley also had two great WRs, a few athletic tight ends and two experienced RBs, and the Trojans still had too many games where they couldn't convert on third downs. Worse still, Barkley threw twice as many picks as in 2011 despite attempting 60 fewer passes. That, and his completion percentage dropping from 69 percent to under 64 percent is giving people pause. And now you're hearing more skepticism about his arm strength.
I think his arm is strong enough to succeed in the NFL, and moving on will be good for him. I think, in the right system, Barkley can have a good pro career and be like a Matt Hasselbeck.
Expert picks for the top games during Week 8 of the 2017 NCAA football season

Leach wants a rally outside Texas Tech's stadium for $2.5 million he believes he is owed

It's the beginning of the end for a number of teams with College Football Playoff hopes
Every season has early surprises, but which ones are most capable of finishing the job?

Our computer model simulated every Week 8 college football game 10,000 times with surprising...

The bye weeks means there's more time for Smart to hit the recruiting trail