Mailbag: Petersen finally leaving Boise ... why? And what now?
Chris Petersen is finally leaving Boise State for Washington. Why now and what is next? Those questions and more in this week's mailbag.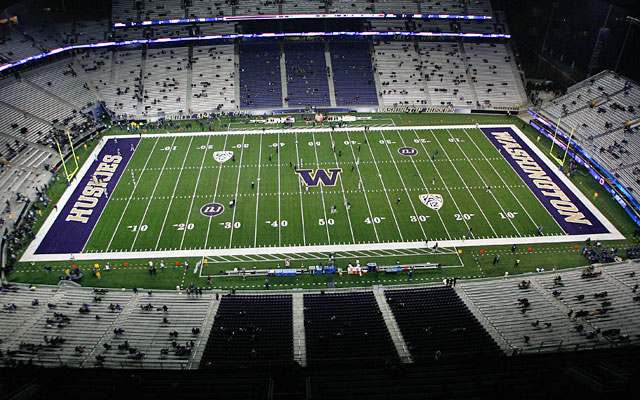 Here is the weekend mailbag. As always, send your questions to me via Twitter to @BFeldmanCBS:
From @BrettEhman21: why Washington over USC (for Chris Petersen) though?  You'd think the USC job was his if he wanted it.
As I reported right after Lane Kiffin was fired in late September, Petersen had told a few people close to him that he's looking for a change. I'm told he interviewed for the Southern California vacancy last week, but things didn't go that well. His vision of how he would run the program didn't mesh with how Trojans AD Pat Haden wants things run. How well the low-key Petersen would've fit in Los Angeles with a program that prides itself on being open and accessible is hard to say. I doubt Petersen would've been comfortable on such a stage.
Washington, in the Pac-12 with a lot of returning starters expected back for 2014, is a step up from Boise State. The stadium upgrade, I've heard, is awesome. Petersen would have much better resources and a better opportunity, if things click, to make a run at a BCS national title. According to a source, Petersen will become the highest-paid coach in the Pac-12. It's a bigger job than Boise State, especially as the landscape of college football has continued to shift with the BCS fading out and the College Football Playoff coming in.
At U-Dub, Petersen can still be more reserved and low-key. He won't be expected to have "open" practices for fans and media. He won't have to be in the spotlight as he would've at USC. And, in AD Scott Woodward, a guy who worked with Nick Saban at LSU, he has a boss who will be mindful of how the coach feels like he has to best operate his program.
From @JeffThakett: Now that someone has finally been able to lure Petersen out of Boise, how do you think he does?
Petersen's record as a head coach is superb. He's 92-12 and a gaudy 57-6 in conference play, although he is coming off the worst season he's ever had at Boise, going 8-4. The tricky part is projecting how well the 49-year-old Petersen will do in a much, much tougher league in a different environment. A bunch of coaches (Dirk Koetter, Dan Hawkins, Brent Pease, Bryan Harsin) have left Boise and haven't had anywhere near the same success as they did in the land of the blue turf. (One of the exceptions to that is the Huskies' own DC Justin Wilcox.)
Will he be invigorated by the change? I would think so, but this is a much tougher league he's moving into where your rivals often don't have inferior talent. Boise State was rolling when he took over the program. The Broncos were 45-7 in the four seasons before Petersen was named the head coach.
U-Dub is in much better shape than it was before Steve Sarkisian showed up, but it's not like the Huskies are on top of their league. Sark's team lost three Pac-12 games by double digits this season. They were, at best, the third-best team in the North Division of the Pac-12. Maybe Petersen can give the program another jolt. He is a brilliant X's and O's guy and a masterful game-planner. Then again the level of coaches he's going up against just got a lot steeper. All over the league in the past two seasons, programs have made significant staffing -- and resource -- upgrades.
From @JoeSta11ings: OK Bruce....who is our next coach at Boise? NUSSMEIER?
That's a pretty shrewd call. Nussmeier, a former star quarterback at Idaho, actually interviewed with Washington's Woodward on Thursday. The 42-year-old ex-NFL QB helped Sarkisian rebuild the dismal U-Dub program, which was 0-12 before they showed up. He's known as a charismatic, very structured guy who can not only draw on his time helping Saban win a BCS title last year, but also having coached in the NFL as well. I remember how many of the younger college coaches who staff the Manning Passing Academy are such devoted "Nuss" believers. Will the pedigree of being a Saban offensive coordinator like Jimbo Fisher and Jim McElwain help Nussmeier's cause here? I think it could.
Two other obvious choices would be former Boise assistants Justin Wilcox, the Washington DC, and Bryan Harsin, now the head man at Arkansas State. Harsin went 7-5 in his first season at ASU. Two more wild cards: former BSU coach Dirk Koetter is another possibility and long-time Cal coach Jeff Tedford also might be in play.
From @TheTeflonDante: if Muschamp is on his last leg, why keep him around? SEC isn't getting any easier and his team isn't getting better?
Jeremy Foley clearly believes in Muschamp. Three seasons is not a long time. There are going go be potholes, especially for a first-time head coach at such a big job. Muschamp also did go 11-2 and have a top-10 season last year. No doubt this season was a disaster, going from preseason top 10 to 4-8, losing to a middling FCS program and ending a 22-season streak of bowl appearances, but it's worth noting his program was rocked by injuries. A dozen starters were lost to season-ending injuries, including the starting QB and the best player in the program, DT Dominique Easley.
Muschamp has hit the reset button on offense, having canned OC Brent Pease and OL coach Tim Davis. This will be his third OC hire in four seasons, and such turnover is never a good thing for a program. But it's a move Muschamp had to make. A source tells me there was a lot of friction between the OC and his line coach, and now both are gone. Who Muschamp hires to run the offense will be an interesting choice. Will the new guy run his own offense or what Will wants to run or some combination of that? There is still a lot of talent, especially on defense.
The new OC needs to develop QB Jeff Driskel. That's vital. UF needs some receivers to step up to help Driskel out. On the plus side, recruiting is still going very well. The Gators are ranked No. 10 in the country by 247Sports, despite the on-field struggles.
The hardest part for Muschamp and his staff will be coaching in a high-profile place while on the hot seat. I've written this before -- whether it related to Charlie Weis at Notre Dame or this offseason with Lane Kiffin and USC, it's difficult for everyone to block out. There's a dark cloud hanging over the program. It doesn't take much for the environment to get toxic.
From @PC_Hiefield: How would you evaluate Mark Helfrich's first year as a head coach for Oregon?
He was headed for an "A+" but then November came and the Ducks stumbled, losing twice on the road, at Stanford and then getting beaten soundly at Arizona. The two blowout wins over ranked opponents -- Washington (45-24) and UCLA (42-14) -- seem so long ago. The Ducks were still explosive on offense, averaging 47 ppg (No. 5 in the nation). Not bad considering De'Anthony Thomas was hobbled for much of the season and star QB Marcus Mariota was gimpy in the final month.
Ultimately, the defense wasn't good enough to play at a national-title level. Nick Aliotti's D surrendered 31 ppg in November and got run over for much of the month. Even though Oregon beat Oregon State, the Beavers were one of the worst rushing teams in the country but even they gashed UO for 231 yards on the ground. Stanford and Arizona running through them was less of a surprise, but it still stung. For the season they ranked a mediocre No. 66 in rushing defense.
As I noted above with Muschamp, it's not easy being a first-time head coach on such a big stage. Most guys learn at the mid-major level, not at a powerhouse and trying to replace Chip Kelly. Overall, I would grade Helfrich a "B". I picked Stanford to win the Pac-12 because I thought beating the Cardinal in Palo Alto was going to be too much, but also because there would be some growing pains for the new head coach and there were.
From @CWoods1122: Wyomings next head coach will be?
I've heard there are three guys getting serious consideration: Oakland Raiders assistant Teddy Gilmore; Sam Houston State head coach Willie Fritz; former Cal coach Jeff Tedford. I think if Tedford really wants it, he would be tough to pass up. Wyoming's such a tough job because it has the least resources in the Mountain West, and is known in the business as the coldest and the farthest, and there simply aren't a lot of big-time recruits in the area. But Tedford would bring the program instant credibility.
Haynes was 14-45 in five years with the Golden Flashes

True romance isn't dead yet

The Egg bowl will be a Thanksgiving night treat for the college football world
Mayfield disappointed a lot of people with is most recent antics, NFL scouts among them

Gary Danielson previews the Iron Bowl on the 247Sports College Football Podcast

The Fornelli 50 ranks teams based on nothing but their performance in 2017