Mailbag: Sizing up UCLA; SEC against Pac-12 and Big Ten; FSU hype
UCLA has some buzz as does Maryland star Stefon Diggs. And would a one-loss SEC team trump an undefeated Ohio State or Oregon?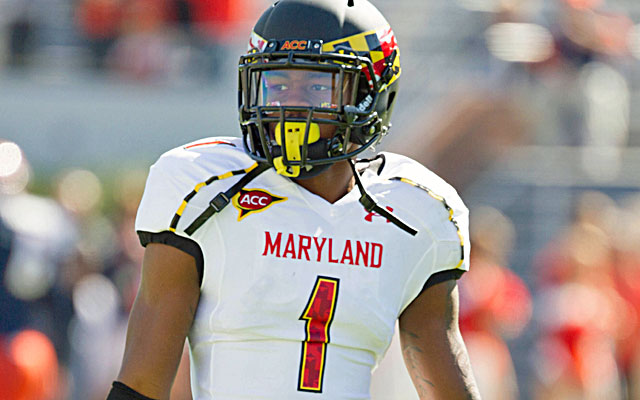 Here is this week's mailbag. As always, send your questions to me via Twitter to @BFeldmanCBS:
From @Armando_Steeler: How you see UCLABruins this upcoming season?
The Bruins are my pick to win the Pac-12 South. I like what Jim Mora has done cranking up the intensity in Westwood. He and his staff have also upgraded the physicality of this program. UCLA always had talent, but now there are even more studs. Look at what the Bruins have at QB: they have a gifted, 225-pound dual-threat sophomore in Brett Hundley, who is also--and this may be his best asset of all--a great leader. I spoke to UCLA OC Noel Mazzone Friday night and he's really excited about Hundley's development. "He's gone from being an 'athlete' playing quarterback to being a quarterback that's an athlete," Mazzone said, adding that the young QB's now displaying a great sense for play-making in the pocket.
And coming behind Hundley is uber-talented true freshman Asiantii Woulard, who QB experts I trust, say may be the most physically talented young quarterback in football--although the former Elite 11 quarterback is still quite raw at this stage.
UCLA's O-line which was so young last season, and has been so shaky for years now, finally is looking like it's got some big-time personnel. It is still a young group though, and probably will play three true freshmen (Kenny Lacy, Scott Quessenberry and Caleb Benenoch). Outside, Shaq Evans tends to get lost in the hype the great WRs at USC get, but he's a future NFL player. I like the D, as long as Anthony Barr is healthy. He is a true difference-maker.
My concerns with the Bruins is replacing the great Johnathan Franklin and how solid will the secondary be this fall? There is a real shot they may start three freshmen back there.
The schedule's also very rough for still a pretty young squad. They open against a capable Nevada team, then visit No. 18 Nebraska. Worse still, in mid-October, the Bruins have a back-to-back road double at Stanford and then at Oregon. The order's bad too because you play the most physical team on the west coast, which is like dealing with a bunch of body punches and they you have to cope with the fastest team in the nation. Good luck winning one of those, much less both. They also play at arch-rival USC, which'll be out for revenge this year. Nine wins to me seems about right before a bowl trip.
From @TimBishman: 13-0 Oregon. 13-0 OSU. 1 loss SEC. Who plays in NC?
Oregon and Ohio State would play for the BCS title. Even though it's essentially a given right now that the SEC is the No. 1 conference in the country (winning seven consecutive national titles will do that). However, a perfect season is still a perfect season, and if you're in one of the power conferences--SEC, Pac-12, Big 12, Big Ten and ACC--you're almost assured of being ahead of one-loss teams.
If the Ducks are 13-0, it'd mean they won at Stanford, in addition to defeated UCLA and Oregon State, and whomever comes out of the Pac-12 South. That'd mean a Top 5 road win and two other wins over ranked opponents in the Top 25 and maybe a fourth win over a ranked team in the Pac-12 title game.
If the Buckeyes are undefeated, it'd mean they won at Northwestern and at Michigan and also beat a third ranked ream in Wisconsin, plus whomever comes out of the Legends division.
Now just how strong their opponents are deemed to be as the season plays out remains to be seen, but let's say Alabama is the one-loss SEC champ. The Tide only plays two teams ranked in the preseason Top 25. My hunch is their opponent from the East division is more likely to be ranked in the top 10 than the opponent OSU or Oregon would face, it still seems likely the Tide wouldn't have more wins over ranked opponents AND would have a loss. In this case, that "L" would almost certainly be too much to overcome.
From @Goingfor16: would you consider manziel to even be the second best qb in the SEC?
Only if Cam Newton was still playing at Auburn. I know a lot of people can't stand Manziel for all the drama with his off-field behavior, but what the guy did in 2012 on the field for A&M was remarkable. Just ask Alabama how special he is. Manziel torched the No. 1 ranked Tide --in Tuscaloosa, no less. And, he's going to be even better this fall, his coaches believe. (Assuming of course, he is cleared to play this season.) All Manziel did in his debut season in the SEC was become the first player in league history to surpass 5,000 total yards and rush for 1,000 yards in a single season.
I was surprised the SEC coaches selected Aaron Murray above him as first-team all-SEC for the preseason. Murray's very good and extremely productive, but he hasn't been as sharp in big games.
If there were a QB in the league I would've guessed was the one Manziel was ranked behind, it would've been Alabama's AJ McCarron, who has been nearly flawless, throwing a 30-3 TD-INT ratio and has proven to be a stud in big games.
From @A_Emmer3030: Is Stefon Diggs the least talked-about great player in the country?
He's at the top of the list, although some of that is due to him being so young, so a lot of people just haven't had a chance to see him much yet and because the team he plays for has been so bad. Struggling to keep QBs healthy (the Terps had to play four quarterbacks including a linebacker in 2012) doesn't make the life of a wideout any easier too.
Despite all that, Diggs showed last fall that he is one of the most dynamic athletes in the game. He averaged 16 yards per touch and no freshman had more all-purpose yards. Word is, he's bulked up 10 pounds and matured quite a bit this off-season. All of that bodes well for him--and Maryland in 2013. I talked to one rival coach who said if Diggs was at a better program, he'd be a legit Heisman candidate in 2013. Then again, if Diggs can spark the Terps to run at the Top 25, he might be able to work his way to NYC for the Heisman ceremony.
Other guys who came to mind in the "overlooked star" discussion: Northwestern's Venric Mark; Stanford's Trent Murphy; Kent State's Roosevelt Nix; Toledo's Bernard Reedy; WVU's Charles Sims; UNC's Bryn Renner; Wisconsin's Jared Abbrederis; Oregon State's Scott Crichton; Fresno's Tyeler Davison; and Buffalo LB Khalil Mack. Put ASU RB Marion Grice (19 TDs) on that list too. One other guy I'd add to that is Utah State's Chuckie Keeton, who's in a conference, the MWC, with a bunch of other QBs getting a lot of buzz (David Fales, Derek Carr and Cody Fajardo).
From @JosephCDaniel: how do you see the Butch Jones era going at Tennessee?
I see the new Vols coach struggling in 2013. He inherited one of the worst collections of skill talent in the SEC, and a defense that was dreadful in 2012. His team also has to face five teams ranked in the preseason Top 10. That's brutal. Just getting UT to a bowl game this season sounds very, very optimistic. Probably too optimistic.
The good news is, by all accounts, he is recruiting very well. UT may end up with a top five recruiting class. (The Vols are ranked No. 3 at the moment.) Jones also did a nice job reeling in a good class in the short time after he got the job. Among the future impact guys in that group already turning heads in Knoxville: both QBs Josh Dobbs and Riley Ferguson and play-making wideout Marquez North. We had Jones on the Brando Show this week and he raved about North, and I know he's very high on the young QBs. Jones also gushed about O-lineman Dylan Weisman, a recruit from Cincinnati. Two rookie DBs he's also high on are Cameron Sutton who'll start at CB and Malik Foreman. Wideout Josh Smith is another newcomer they're excited about, he said. The bad news is the bulk, if not all, of Vols O-line --the strength of this year's team -- are likely to be gone after 2013.
I've seen some of the studs committed to UT. There is a lot of big-time talent bound for Knoxville. As I said on the show, I'm convinced UT finally got it right with the Jones hire. He knows exactly what he's doing in running a program. Remember, he has won four league titles in his six seasons as a head coach. The guy has a knack for unearthing unheralded recruits and developing talent. Weisman, a three-star guy, sounds like the latest one of his finds. My hunch is, by Jones' third season, UT will be a Top 15 team again and will get back to being a consensus elite team.
From @htowngator: never ceases to amaze how much the media props up FSU QBs before playing... Ponder, Manuel, now Winston
You left out Rix and Xavier the Savior. Actually, I'm not sure the media hyped Ponder much before he played. It's not like he came to Tallahassee with a huge rep.
I'm sticking with my prediction that Jameis Winston will be the best QB the Noles have had in the past decade. Too many really savvy QB experts have said things about Winston you just don't hear about other touted quarterbacks. (I know, eyes rolling on that one too.) It'll be fun to see how things develop over the next couple of years in Tallahassee. Winston has the benefit of playing behind perhaps the best O-line FSU has had since Jimbo's been the head coach, and the wideouts are very good and the Noles are deep at running back. (I'll stop here before I try and change my pick for the ACC title to the Noles.)
Everything you need to know to watch and pick the Las Vegas Bowl on Saturday

Everything you need to know to watch and pick the Camellia Bowl on Dec. 16

Everything you need to know to watch and pick the New Mexico Bowl on Dec. 16
Everything you need to know to watch and pick the Cure Bowl on Saturday

Everything you need to know to watch and pick the New Orleans Bowl on Dec. 16

Bowl games are unpredictable, which means teams need to be on upset alert