Mailbag: Sorting out the WR class in the NFL Draft
Sizing up a deep crop of WRs for this year's NFL Draft led by Clemson's Sammy Watkins and Texas A&M's Mike Evans. Plus reasons why Bama fans should be excited about Lane Kiffin.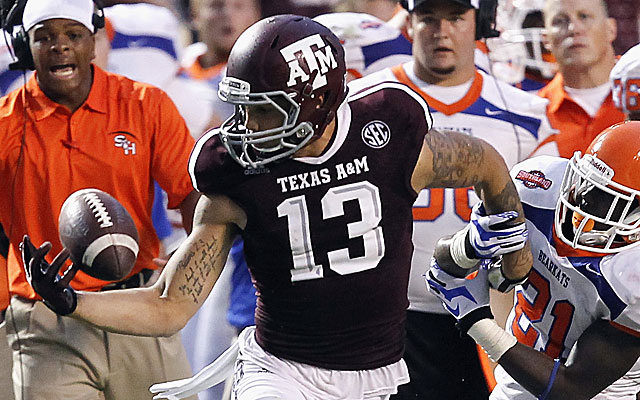 Here is this week's mailbag. As always, send questions to me via Twitter to @BFeldmanCBS:
From @JasonMcIntyre: if you're a GM & Watkins is off the board, and you NEED a WR, rank these: Evans, Matthews, Lee, Benjamin, Beckham, A Rob, Adams
I think this is a really intriguing crop of receivers for the 2014 Draft with an interesting mix of big, raw "freaky" talents and smaller, more polished playmakers in addition to the dynamic Sammy Watkins. The WR I suspect will emerge as the top overall prospect is the guy who would be at the No. 1 wideout on my board: Texas A&M's Mike Evans. I must preface this by saying that I've spent the most time around Evans because my new Quarterback book project has enabled me to be a fly-on-the-wall around him a lot at A&M and also here in Southern California where he's training with a great that includes Johnny Manziel and Logan Thomas.
Evans has great size at 6-4, 232 and underrated athleticism. He should vertical around 37-38 inches and clock in the high 4.4s, if not faster. He also has fantastic hands and toughness. He also was a dominant player in the toughest conference in college football. Evans, though, is still raw as a route runner. After all he was really just a basketball player till his senior year of high school. He is getting some expert coaching right now while doing one-on-one training with Hall of Famer James Lofton. Another thing to keep in mind: Evans is still only 20 and won't turn 21 till late August.
I'd rank Evans above Marqise Lee, who I also believe will be a terrific NFL player. Lee plays bigger than his actual size. He's only around 6-0, 195 and he plays faster too. He's also good in the return game. I just think NFL teams want to be wowed by a wideout's physical presence in either size or speed to consider taking them in the Top 10. It'll be fun to see whether Lee proves to be a better NFL player than Odell Beckham, who I think is underrated at least when I look at some of these mock drafts out there.
Beckham is a fantastic athlete. You're talking about a guy who is really explosive; could've been an elite soccer player, can throw the ball very well with either hand; has excellent return skills and some of the best hands in the Draft. The coaches I know at LSU say he could've played any position in their secondary and been a star there too. Brandin Cooks is another similarly sized, playmaker I'd put in this group, probably a hair behind Beckham and Lee.
I also like Vandy's Jordan Matthews quite a bit. He's got good size and decent speed, but don't think he has the burst of Lee or Beckham but I love that he makes big catches, and remember, this is a guy who was always being marked since he was clearly his team's top guy and he didn't have an NFL QB throwing him the ball like everyone else up here. I think Matthews is smoother than Allen Robinson.
The other WR who'll bring the Freak tag is FSU's Kelvin Benjamin, who is even taller than Evans. Benjamin will make personnel folks' chins hit the floor when they first see him. Thing is, he's even more raw than Evans and it took him a while to get a sense of FSU's routes/offense and he seems like more of a project. To me, he more boom-or-bust than any WR in the draft. For that, I'd be more leery.
Fresno's Davante Adams also came out early to get in this draft and he certainly is talented. He played in a system that threw more bubbles than probably anyone. Among this group I'd have him behind the others.
Three other receivers I think are being undervalued when I look at some mock drafts: Wisconsin's Jared Abrederris, who I bet plays 10 years in the NFL and catches at least 400 passes; Jarvis Landry who is like a shorter, faster Anquan Boldin in terms of his toughness and ball skills; and Wake Forest's Mike Campanaro who has good quickness and outstanding hands.
Ranking the guys you listed, I'd go: Evans, Beckham, Lee, Matthews, Benjamin, A Rob and Adams.
From @EEstaris: do you think UCLA can win the Pac-12 Championship next year? How about a natl. championship?
I definitely do. I haven't done an early preseason Top 25 yet, but I'd be tempted to have the Bruins in the Top 5 along with Oregon. So yeah, I'd say they have a legit national title shot. Having another season with Brett Hundley back is big for UCLA. Plus the nucleus of his O-line, which was so young the past two seasons, should be significantly better, especially when you add in former Miami starter Malcolm Bunche who provides even more depth. The D-line has some young difference-makers and even though the linebacker crew took some hits, especially without Anthony Barr, Myles Jack does return. The secondary, which was young last season, also figures to be improved. Keep in mind the Bruins were really young in 2013 and Jim Mora did play 18 true freshmen.
The schedule is more manageable than it was last season where you had that tricky Stanford-Oregon road double. They do have to face Oregon, USC and Stanford (the other three most talented teams in the conference) but all are home games.  The toughest road games in the Pac-12 should be at ASU and at Washington. The non-conference features a game against Texas (at AT&T Stadium) and at a rebuilding Virginia squad.
From @Brad2524: if Coker comes to Bama from FSU,what impact does he have?Had Clint tricket not transferred,he would've been 3rd string last yr
If you ask Jacob Coker's QB coach at FSU Randy Sanders or most of his teammates, they'll tell you the 6-5, 230-pounder has the tools to make a huge impact at Alabama. As I reported a few weeks ago, Sanders told me Coker has a better arm than Jameis Winston or any other QB he's been around--and that includes a bunch of future NFL QBs. Coker also has the intangibles coaches love too apparently.
The question is IF Coker does go to Alabama, how quickly will be adjust to a new system and the coaching of new Tide OC Lane Kiffin (yeah, that still seems weird to type) and mesh with his new teammates? The latter I doubt will be much of an issue for Coker, who was a team favorite with coaches and FSU players. Plus, he'd have the luxury of working with what should be the top 1-2 RB tandem in college football.
From @JohnProwell: is al golden really turning Miami around?  Does not feel like we are close to contending
After three seasons, you'd think we'd have a better handle on that, but I honestly don't have a feel for that. As for your second comment, I'd agree it doesn't feel like UM is close to contending under Golden. Certainly not with the way Miami looked in that bowl game or losing four of its last six games of 2013 with the closest margin of those defeats being by 18 points (against Duke and Va. Tech).
I do believe Golden has made it a much more stable program and shepherded it through brutal circumstances with that NCAA/Nevin Shapiro mess. And he deserves a ton of credit for that, but the product on the field simply hasn't been strong enough. I suspect he'd tell you that too. In his three seasons, UM is 22-15 and just 13-11 in ACC play. Worse still, Miami has been hammered by almost every ranked team it has faced the past two seasons. Take out the early season win over a soon to be free-falling Florida team and Golden's teams lost to ranked opponents since 2012 by a combined margin of about 40-10.
It's not like UM doesn't have some firepower either and the Canes had a big experienced O-line, but they just flopped. They got mauled by Louisville in their bowl game. The D has been horrible and doesn't have any real difference-makers in the front seven.
I've heard good things about some of the players Golden is expected to sign this winter, but it seems like he's going to need a few of those young DLs to step up in a hurry. Also, it seems a stretch to think one of his QBs is ready to lead UM to more than eight wins in 2014. Another 8-4 season would be tough for Miami fans to stomach, especially with FSU on top of the college football world.
From @ineck25: Name the QBs Kiffin has developed & explain why the USC offense took off after he left. Make me feel better as a Bama fan.
Best example to give Tide fans hope on Lane Kiffin is his work, along with Jim Chaney at Tennessee, helping turn Jonathan Crompton from a punchline among SEC fans into a solid QB. Crompton had a 9-9 TD-INT ratio and around 50 percent completion rate before Kiffin showed up, and jumped to 27-13 and over 58 percent with him. Kiffin's work with Matt Barkley was less impressive. Same for his managing of the QB situation with Cody Kessler this fall at USC. Prior to his time as a head coach, Kiffin shared in the credit of helping Matt Leinart win a Heisman.
Beyond the Crompton stuff, the biggest reason why Alabama fans should be optimistic about Lane Kiffin on their staff is Nick Saban hired him. Nick Saban knows more about football and personnel and coaching than just about anyone you'll read or hear from, and if he trusted him enough to hire him, that's a pretty strong endorsement.
From @AaronSchoening: No Ameer Abdullah (on the Heisman 2014 odds list)?

I have to admit the Nebraska star was the biggest omission I noticed too, especially since the folks at Bovada listed 15 guys and went all the way down to 66-1 longshots. Abdullah in my mind has a way better shot than Bowling Green QB Matt Johnson does. (And yes, I know that BG's stock may be tempting with the yards friendly attack Dino Babers is bringing in.)
I thought T.J. Yeldon's odds (5/1) were higher on the board than I expected given the depth of RB talent he'll be playing with. Maybe 15/1 seems more apt. I also thought Brett Hundley at 12/1 should've been more like 6/1.
From @ChrisSedenka: What's your take on the Twitter impact to recruiting?

It often makes a messy situation even more chaotic. Kids who already were getting their self-esteem twisted by the recruiting process from reading about themselves and their peers by online columnists and evaluators now have fans more engaged in the process, tweeting at them and about them. Also, having a "hot mic" on their smart phones at all times is a recipe for disaster in some cases. But for college coaches that also provides them another window to evaluate a prospect in terms of his maturity and focus.
From @optionleft:  If the NFL abolishes the PAT, will college soon follow?
I hope not. I like the structure of the college game (save for the "but let's still penalize 'em even though we blew the call" portion of the "Targeting" rule) .. In college the PAT also isn't as much a sure thing as it is in the NFL.
Rosen, a junior, will be eligible for the upcoming NFL draft

Find out which of your favorite team's players are among the nation's best entering the 2017...

Texas A&M has to be better defensively to stand a chance in the SEC West
A letter indicated that there is a growing awareness of the persistent problem in college...

The series will follow the Navy football program throughout the 2017 season

Should college football players still be tested and punished for using marijuana?