Mailbag: Stanford's Oregon mojo; one-loss SEC champ over unbeatens?
Stanford's impressive win over Oregon has got a lot of folks buzzing. So does the prospect of a one-loss SEC champ (Alabama? Auburn? Mizzou?) jumping an unbeaten Ohio State or Baylor. That, and Notre Dame QB talk and USC coaching speculation in this week's mailbag.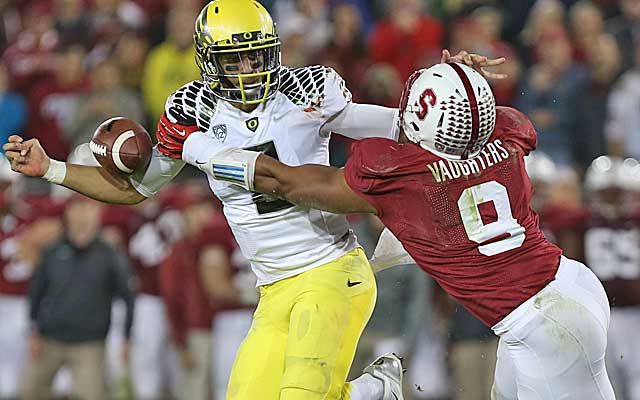 Here is this week's mailbag. As always, you can send me your questions via Twitter to @BFeldmanCBS:
From @mattplanet: What in the world does Stanford know that so many other teams don't about beating Oregon?
Stanford, unlike many other opponents that face Oregon, has zero fear of the Ducks explosive potential. Derek Mason's D plays without any hesitation. They're not tentative as most defenses are when facing Oregon. Most seem to be on their heels. Stanford is attacking, on both sides of the ball. They're also very sound. They rarely have assignment busts. Or missed tackles. Plus, they had proof that they could handle the Ducks. They did it last year. At Autzen. With a freshman QB making his first road start. They knew it. That's why I picked the Cardinal to beat Oregon.
Rich Rodriguez, the godfather of the spread running game, always said the hardest thing to do in football is making an open-field tackle. Well, Stanford does that about as well as anyone. Mason told me Friday morning he thought his team missed all of four tackles all night. Four. Many teams miss that many against the Ducks in a quarter.
Last spring I wrote about Mason. His top-down mantra is telling. Truth is, top-down also might as well be "starting from your head down," meaning if you have no fear and believe in your system -- and each other, you can do great things. Mason's stock has to be soaring in the wake of another Oregon shutdown.
And, of course, it helps to have the best O-line in college football, so Stanford mauled the Ducks, just like they do to most teams. Marcus Mariota is now 21-2 as a starter. Both losses are against Stanford, which was a three-TD and then a 10-point underdog. As one former Stanford coach texted me Thursday night when I asked what he thought was the biggest thing people don't get about Stanford: "People do not appreciate the nature of football. Power beats speed. Style points do not matter!"
Power -- with speed beats speed.
From @CrittendenAU: Can a 1 loss (Bama, AU, Mizzou) jump OSU and/or Baylor?
For as great as the SEC has been over the past decade, winning seven BCS titles in a row, I don't see a one-loss SEC champ getting ranked ahead of an unbeaten Baylor or Ohio State.
Let's say Bama loses at home to LSU this weekend, it's not like the Tide is going to have a long list of impressive wins of teams to offset a stumble. The Tide would have a win at A&M, at Auburn and then in the SEC title game. If Ohio State beats a one-loss Michigan State team to go along with a win over Wisconsin, it's still not quite as good but the Buckeyes don't have that blemish.
I don't think Auburn has that much respect outside of the state of Alabama -- even though the Tigers have only one loss. People know Gus Malzahn has done a terrific job there, but they've played two top-20 opponents so far. They lost by two TDs against LSU and beat A&M. They barely beat a mediocre Washington State team at home earlier this season and have a non-conference slate that commands no more respect than OSU's does.
Mizzou probably would have a little stronger case than Auburn (seeing as in your question each would've had to beat Bama -- and A&M.) But I just don't see voters buying into them ahead of an unbeaten OSU or Baylor.
The Bears nonconference schedule is awful but this month, they're probably going to have to beat three ranked teams (depending on if Tech wins this week to stay ranked) and then will face a Texas team that could be back in the top 20 as well.
Is there a great win for either OSU or Baylor on their resumes? No. But right now, the perception is this is a down year in the SEC... except Bama. And if someone topples the Tide, I'm not sure people outside of SEC country are going to give that much benefit of the double to offset a loss. And I'd say the same about a one-loss Stanford. I think David Shaw's team would beat Ohio State and Baylor, but "I think" shouldn't trump a loss to Utah.
From @JoMichael 2023: How has Brian Kelly, an offensive mind, been unable to sustain qb depth at ND?
Good question. Evaluating and developing quarterbacks is an interesting topic (I'll have a lot more on this soon). In Kelly's case, he showed he could have success with different style QBs in his time at Cincinnati and CMU. And, if you look at the quarterbacks he's signed at Notre Dame, they come in all different sizes and styles.
Kelly signed three QBs in his first class that came right after he took over from Charlie Weis. Tommy Rees has proven to be a solid QB. He's good at finding open receivers but is lacking in arm strength and athleticism. Andrew Hendrix, a good athlete with a strong arm, never seemed to really develop in South Bend. The Irish beat USC this season almost in spite of his passing. The third QB, Luke Massa, became a reserve wide receiver.
In Kelly's first full season recruiting, he landed Everett Golson, who had a strong first season on the field in 2012. However, Golson was suspended for cheating on a test and spent most of this season in San Diego training with private QB coach George Whitfield. Golson was a big loss for the Irish. He has a stronger arm than Rees and a much better ability to extend plays.
In 2012, Kelly signed Gunner Kiel. A 6-4, 220-pound QB with a lot of prep hype, Kiel's intangibles turned off a lot of folks inside college football circles. ND was the third program he committed to, and after his first season, he bolted for Cincinnati.
The jury's still out on Malik Zaire, Kelly's most recent signee.
The lack of depth you speak of isn't uncommon. Keep in mind most Top 25 schools would suffer sizable dropoff if they had to play their third-team guy (Hendrix in this case). Rees was actually a more capable No. 2 than what most teams would throw out there. Kelly rolled the dice on Kiel and came up with nothing. You'd have to think a redshirt freshman who came in with his hype would've seemed a viable option to challenge Rees/Hendrix, but obviously it didn't work out.
From @jportier: chance that's sumlin jumps ship for USC?
As I reported back in September after USC fired Lane Kiffin, Kevin Sumlin was high on the Trojans list of coaching candidates. USC brass knows Sumlin can handle a big job. He worked wonders at Texas A&M. I'm not sure at this point if he and his family are ready to make another move. They just moved into a big house that he built. A&M is upgrading facilities and the Aggies are on a tear in recruiting. He is the one grand slam hire out there for USC, not some coach who hasn't worked at the college level for years or ever.
Keep in mind, Sumlin turned down multiple opportunities to coach in the NFL last winter for considerably more money than he's making now in College Station. The NFL is always going to be an option for him. USC, with the chance to dominate a division that is much more open than the SEC West is, has to be tempting, especially in the biggest market in college sports. I feel like USC might be the only college job out there that he'd think about. But that doesn't mean he'd leave what he's building at A&M.
From @ChuckGamble1968: South Carolina, Mizzou or UGA?  Who's the most likely team to win the SEC East?
I picked South Carolina to come out of the East on our Inside the SEC show on CBS Sports Network this week. My hunch is that South Carolina beats UF and A&M beats Mizzou in Columbia.
Gyree Durante of Albright College was dismissed after he kneeled during the national anthe...

Penn State's star rusher loves to argue, just not about whether he's the nation's best pla...

The Fornelli 50 ranks teams based on nothing but their performance in 2017
Find out which of your favorite team's players are among the nation's best midway through...

Anybody can rank the best college football teams, only we rank the worst each week

The Badgers never get talked about, but that might change if they keep up their hot streak