Mailbag: Sun Devils on rise; chasing Holgorsen; remembering Beano
This week's mailbag remembers Beano Cook and the indelible image that he left for college football fans for years to come.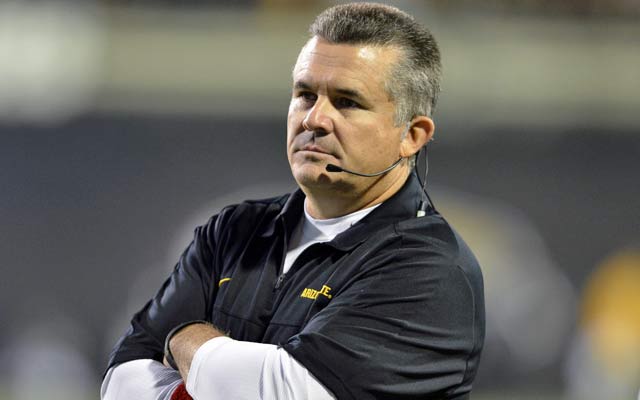 Todd Graham has the Sun Devils heading in the right direction.
(US Presswire)
Here is this week's mailbag. As always, send your questions to me via Twitter to @BFeldmanCBS:
From @pappafeez: How would you rate Todd Graham so far at ASU? How good are they this year and where can they go 3-5 years from now?
I'd give him a B+. Graham took over a program that was notorious for discipline issues and has made a dramatic difference in tightening things up. This doesn't look like a "rogue" team anymore that is out of control. The best barometer: ASU is No. 10 in the country in fewest penalties. Last season, the Sun Devils were last. And that focus is translating into wins because they're no longer beating themselves and compounding mistakes. Teammates can trust one another.
After Thursday night's dominant second-half showing at Colorado, they are 5-1. That means they're just one win short of last season's total. With all of that said, the first half of their 2012 schedule was really, really soft. Not one FBS team that they've played has a winning record. The loss was to a Mizzou squad that just lost at home to Vandy. Stuff like that certainly doesn't help the Pac-12's rep. We'll find out a lot more about ASU next Thursday night, when Oregon visits.
I was at the ASU-Oregon game last season when the Ducks beat the Sun Devils by two TDs and knocked them into something of a tailspin; The Sun Devils went on to lose four of their next five. I suspect this bunch is more resilient.
In terms of the upshot, Graham has a good young quarterback to build around in sophomore Taylor Kelly. D.J. Foster is an exciting freshman running back whose versatility makes him a special talent. It'll be interesting to see how well Graham recruits. Rich Rodriguez, at Arizona, has a lot of momentum, too, as do both USC and UCLA up the road. That's a lot of heat for one region to support four programs. I can see ASU as a 7-5, 8-4 and sometime 9-3 type of program, but I am not sold that Graham can lead the Sun Devils to the powerhouse level that Oregon is now at -- where the Sun Devils will consistently be a top 10 team.
From @JPWeatherly: If Dooley doesn't last at Tenn, who are some realistic replacement options? Feel like it would have to be an established stud.
Kirby Smart, Nick Saban's defensive coordinator at Alabama, is going to have a lot of options after this season. Plus, Tennessee athletic director Dave Hart came from Tuscaloosa. Sonny Dykes at Louisiana Tech has really elevated that program. His team has a good chance to win 11 or 12 games this season. Only thing is, Derek Dooley just came from Tech, too. That would seem like an odd double.
A few other intriguing names: Art Briles, who has done outstanding work at Houston and Baylor; Cincy's Butch Jones, Western Kentucky's Willie Taggart, San Jose State's Mike MacIntyre and Clemson offensive coordinator Chad Morris.
As for a big swing, Tennessee could chase Dana Holgorsen. His WVU program has created more buzz than any other school this season. His style would energize a fan base, which has suffered a lot over the past five seasons.
I realize Holgorsen has a good thing going there in Morgantown. They're in a major conference (Big 12) now and thriving. He can compete for BCS titles there. He has a great relationship with his athletic director, Oliver Luck. Holgorsen also just got a beefed-up new deal. Would Holgorsen risk a good situation for a different one, where he doesn't know if he'd have such a strong bond with his boss? Not so sure.
The Vols situation, though, will tempt a lot of people. Compared to WVU, Tennessee would offer a significant upgrade in facilities. Also, it'd likely improve Holgorsen's chances of landing elite defensive talent. (The way things have been going for the WVU coach, I think he's capable of going toe-to-toe with virtually anyone for elite offensive players.)
From @francred: Thoughts on Ellis Johnson at Southern Miss? Is this proof he should've never been a HC, or is USM opening schedule too tough?
It's proof that the first half of the season schedule was brutal. They opened with six teams that'll probably all play in bowl games this year. When you're facing that while breaking in a new quarterback and a first-time coach, you're likely headed for a very slow start.
The second half of the schedule is much, much easier. So we'll find out a lot more about Johnson as a coach in the next two months. Four of their last six games are against opponents that have only won one game so far. Beyond that, no Southern Miss opponent after this weekend's game at Central Florida has a winning record. It's way too soon for people to give up on Johnson.
From @FireGeneChizik: what's the odds on me being a commentator next season.
I'd set the odds of Auburn firing Chizik before 2013 at less than 25 percent. I realize pressure is mounting, especially after that embarrassing blowout loss to a hapless Arkansas team. But it's still less than two seasons ago that Chizik led Auburn to the BCS title. Yeah, I know Cam Newton carried that team, but it still takes a lot more than just one player, regardless of how great, to win a national title.
Barring losses at Ole Miss and at Vandy, I suspect Chizik will get another season. I'd say if the Tigers go 5-7, he's stays. At 4-8, it gets dicey. Anything south of 4-8, though, and all bets are off.
From @TheReal1BLong: what was your best Beano memory?
The first time that I ever spoke to him on the phone was a call that I figured would last five minutes. It lasted well over two hours. I had just gotten to San Antonio and walked into my hotel room. Before I knew it, I had unpacked my laptop and fired up a browser. We got to talking about Heisman winners and war heroes.
At some point, I told him I was a history major in college after starting as an art major. Hearing the history thing led him further in a direction that felt like deep waters for me. He was telling me stories about college football in the '30s and '40s while mixing in all these world history references. He'd practically punctuate sentences by quizzing me on historical facts as if he was segueing from one thing to the next.
I didn't want to disappoint Beano or interrupt his flow, so I was frantically Googling (or whatever search engine was the default in the early 2000s) facts about popes, queens and presidents just trying to keep up.
I think years later, I admitted to him that while I can probably tell you the name of the high school some backup linebacker went to, I'd struggle to name the fourth President. In truth, I was just shocked Beano Cook knew who I was or what I had written.
The best Beano story of all, and I mentioned this one on Twitter on Thursday morning, has to do with when he worked at Pitt as the sports information director. It has been retold a thousand times. We'll go with the version that ran in SI 30 years ago:
When Beano Cook, the newest member of ABC's college football announcing team, was the Pitt sports information director, he got a call one day from a woman asking for a copy of the Panthers' football roster. "But lady," Beano replied, "there are 120 guys out for the team right now. You really oughtta wait three weeks, till we make the cuts and are down to 75 or 80 kids. Otherwise, it's really a waste of your time."

The woman, however, was adamant. She needed the roster. Pronto. "But why?" Beano asked, dreading the hours it would take to round up the name of every tackling dummy cluttering up the practice field. "Because," she said, matter of factly, "I want to sleep with everybody on the Pitt football team."

Beano gasped. "Well," he said, clearing his throat, "in alphabetical order, starting at guard ... Cook, Beano."
The guy was a gem. No one loved college football more. Tim Brando, who was very close to Beano and goes way back with him, details just how big of a deal the man was in college football.
The more I thought about Beano on Thursday, it dawned on me that everyone who talks about college football on TV who either is not the host of a show, play-by-play person or a former coach or star player, owes Beano Cook a big debt of gratitude. His insight and personality helped pave the way for a lot of folks who, like me (a failed history major), never dreamed they could end up on TV talking about the sport that they love so much. Thanks, Beano.
These five teams have the best chance of being the Group of Five darling this coming year

Drevno had been running the Michigan offense for three seasons

Aaron was reportedly shot while trying to protect his girlfriend when a fight broke out at...
An assistant-by-assistant look at changes Saban made to the Tide's staff ahead of 2018

Find out when Nick Saban, Kirby Smart and the rest of the coaches will speak ahead of the...

It wasn't only the massive $75 million contract that got Fisher to depart for College Stat...