Mailbag: Talking Miami's sanctions, Heisman favorites and SEC East's best bet
Here is this week's mailbag. As always, if you have questions, send them to me via Twitter to @BFeldmanCBS.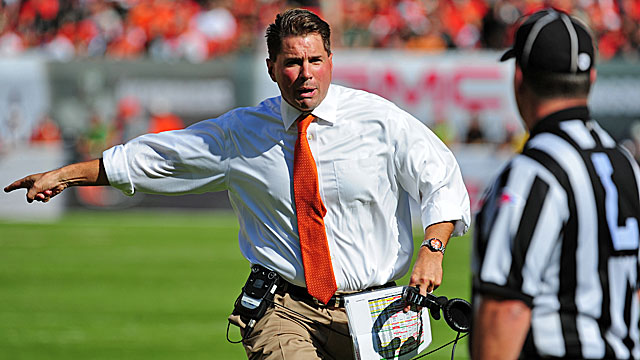 It's hard to get a clear picture of where Al Golden and Miami end up with the NCAA. (Getty Images)
Here is this week's mailbag. As always, if you have questions, send them to me via Twitter to @BFeldmanCBS.
From @akosnitzky: Can we speculate on the harshness of the NCAA penalties that may be placed on Miami the longer the matter is pending?
We're all just guessing on this stuff. Just like people are when they try and predict when the sanctions are going to be announced. It was the same way when people kept speculating when the Southern California sanctions were going to come down.
My hunch is that if the NCAA doesn't announce anything before December, Miami will self-impose another bowl unless the 'Canes are in line for a BCS bowl (which looks like a long shot at this point). Self-imposing a second postseason ban would be a shrewd move, since it would mean Miami already sat out two postseasons and it's also a sign that the school is taking these violations seriously. Keep in mind the NCAA immediately did punish all of the active players who were involved.
USC, which is going to be the barometer for modern NCAA sanctions, reportedly got hit as hard as it did (two-year postseason ban and losing 30 scholarships over three years) in part because the Trojans were uncooperative with the investigation and then-AD Mike Garrett had an arrogant attitude toward the process. We've since seen other schools getting seemingly more favorable sanctions because they were viewed as more cooperative.
In past cases we've heard from schools saying the sooner they learn their fate with the Committee on Infractions, the better off they'll be. In Miami's case, the 'Canes might be better off not hearing until after October, since at that point they'll probably know if the 2012 season is worth sacrificing. And, if the sanctions don't come down until after Signing Day, they still can try and do what Lane Kiffin did and stockpile recruits before the sanctions. You could say that the uncertainty could scare off some recruits, and it might, but it didn't cripple UM's signing class in 2012, and that was closer to the fire.
From @ThirsTSmith: Boise State/MSU each have new quarterbacks. Is there a decided advantage for one team heading into the opener?
The decided advantage goes to Michigan State. The reason: The Spartans return the much better defense. BSU has two starters returning on D. MSU has eight. The Spartans also are set up better to rely on their ground game with Le'Veon Bell and arguably the Big Ten's top O-line.
From @ccrowe1876: who is yur heisman Trophy top five favs, if u had to pic right now?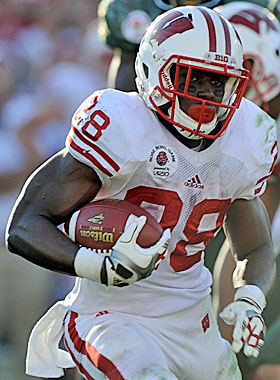 Montee Ball
(Getty Images)
My Top five Heisman list:
1. Matt Barkley, USC: Four-year starter at a glamour program. Has nation's top WR tandem and four O-line starters back.
2. Montee Ball, Wisconsin: Record-setting RB will pile up big stats again.
3. Tyler Wilson, Arkansas: Prolific QB with two marquee tests at home (LSU and Bama).
4. Geno Smith, WVU: Leader of a dynamic attack who'll put up huge stats in his second season in this system. Has a chance to build buzz if Mountaineers win the Big 12 in their first season in the league.
5 (tie). Landry Jones, Oklahoma/Denard Robinson, Michigan: Both play for storied programs and should pile up big stats, but need to get people excited about them again.
From @PaulPabst: The starting QB for ND will be....and for how long?
I'm going with Everett Golson. I know how Brian Kelly loves the redshirt freshman's intangibles -- his leadership, his charisma, his playmaking savvy -- and, quite frankly, those are things this Irish offense has been sorely lacking. Kelly gushed about Golson the last time we spoke.
Spring games tend to get overvalued, but it is worth noting that on a stage like the Blue-Gold Game, he was the lone Irish QB who didn't turn the ball over. That certainly doesn't hurt his cause.
Golson, though, is still a very inexperienced QB and against a stacked schedule, there are going to be several times where he looks shaky. I could see Kelly yanking him for Andrew Hendrix and Tommy Rees on occasion, but I suspect Golson keeps the job this year.
From @ParksGardiner: Who is your favorite to win the SEC East Division?
Georgia. The Dawgs have an experienced, skilled QB to lead the offense and they have the best defense in the SEC East coming back. Better still, they also have the easiest schedule in the conference since they avoid LSU, 'Bama and Arkansas, the league's three toughest teams.
From @dlund87: After a 5-7 record last year how much pressure is on Tommy Tuberville to get Texas Tech back to a bowl game?
Quite a bit. The Red Raiders hadn't missed out on the postseason since the '90s till last year. They also hadn't won fewer than eight games in a season in about a decade. Even though this is only Tuberville's third season at Tech, I can't imagine he can afford to miss a bowl game again.
Tuberville was a consistent winner at Auburn but the guy has struggled a lot more than I think most would've expected in Lubbock. Tech did sustain more than its share of injuries in 2011, but to see the Red Raiders get hammered by some of the teams like they did was surprising: Losing 41-7 at home to Iowa State?!? Losing by 60 at home to Oklahoma State? Losing by 24 to Baylor? That's never going to be good for a coach's job stability, especially at a program that had been a consistent winner.
Tuberville did walk into a toxic situation, but given all of his staff changes in a short time, he needs this team to show a lot of improvement in 2012. I doubt 6-6 will cut it. Tech's AD, Kirby Hocutt, wasn't the guy who hired Tuberville. On top of that, Sonny Dykes, a former Tech assistant on the Mike Leach staff and the son of longtime former Red Raiders coach Spike Dykes, has done a nice job at La. Tech. The younger Dykes sounds like a better option to many folks around Lubbock.
From @ChrisBrewer4: what is aj mccarron gonna have to do before people take him seriously? Guys getting no love from the national media.
I saw this question and immediately thought back to an exchange I had with someone via Twitter earlier this week after I tweeted about the trash-talking between McCarron and LSU's Tyrann Mathieu. I asked the question if this was the first time that two prominent college football players had ever gone at each other like that on Twitter? One Ole Miss fan took issue with me calling McCarron "prominent" and went on to say "Is McCarron really prominent? Mediocre at best ..."
I pointed out to him that not only was McCarron the QB of the defending national champs, which essentially makes him prominent to begin with, he was also the Offensive MVP of the BCS title game after he shredded the vaunted LSU defense.
As for the "love" from the national media, well, it's more "like" than "love" at this point. Is McCarron a true Heisman contender? He's probably in the third batch of candidates. He could end up in the discussion if he leads 'Bama to the SEC title, especially since the Tide have to overcome road trips to LSU and Arkansas. But if he's going to be talked about in the same sentences as Matt Barkley, Tyler Wilson, Geno Smith and Landry Jones and get to New York, McCarron is going to need to be more prolific since so many people feel like 'Bama wins with defense and a punishing running game. Greg McElroy was a really solid QB for 'Bama a few years back, but wasn't considered to be at the level of the elite quarterbacks in college football.
Here's a stat barometer to keep in mind: McCarron was No. 25 in the country in passing efficiency, which considering that he plays in the conference known for having the toughest defenses, is not bad, but he's going to need to move up some in that category before he's talked about with the best of the best. Other celebrated QBs play in more wide-open systems and will amass better stats. McCarron needs to catch people's eyes with his efficiency. Then again, he would probably be just fine with a second BCS title ring and leave the gaudy stat lines to the other guys.
From @abellwillring: What impact do you think the Auburn shooting has on recruiting? Would SEC coaches negative recruit w/ it? Or is it too callous?
It is callous, but it is recruiting, and nothing ever shocks me when it comes to recruiting. I don't see it scaring off any recruits because I think they'll understand that an incident like that tragedy could happen at any school. 
From @carnie_freese: will Mike McQueary have another opportunity to coach CFB at the FBS level again?
I went back and forth quite a bit on this one. The more I thought about it, I doubt McQueary gets another coaching opportunity at the FBS level. Fair or unfair, he is too closely associated with the Jerry Sandusky scandal at Penn State. I don't see any head coach willing to go through the scrutiny of explaining the particulars of McQueary's actual involvement once all has been established. That's the kind of publicity I doubt anyone is going to want to engage. The Sandusky story is so disturbing on so many levels and it is incredibly high profile. Being connected with it in any fashion is going to be a problem.
Will there eventually be a guy who has close ties to McQueary who eventually gets a head coaching job and wants to give him a shot? I don't know. No one came to mind.
Saban isn't going to win Alabama's special election, but the Crimson Tide coach got some l...

The Sooners' quarterback and Badgers' rusher stood out among their peers this season

Clark led UAB to an 8-4 overall record, 6-2 in conference this season
SportsLine simulated every bowl game 10,000 times for pick'em leagues and confidence pools

The Tigers are going worldwide for their next punter

Led by Heisman Trophy winner Baker Mayfield, the Big 12 finished with seven first-team sel...