Mailbag: Talking Sumlin's future, recruiting buzz at Tennessee, UK
This week's mailbag tackles the excitement new head coaches have generated at Kentucky and Tennessee; more FSU talk swirling around Jameis Winston and sizing up the future for Texas A&M coach Kevin Sumlin.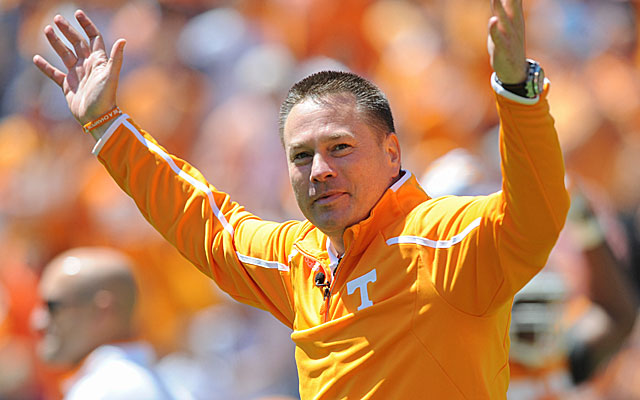 Here is the Weekend Mailbag. As always, send your questions to me via Twitter to @BFeldmanCBS:

From @K1rkmo: do you think Kentucky and Tennessee can keep up their recruiting level and which new HC will be more successful?

It's been very impressive what both new head coaches have done in pulling in blue-chip kids. In fact both guys are making a lot of noise nationally. The Vols are No. 4 in the last 2014 recruiting rankings while UK is No. 7. (Wait -- Kentucky is really in the top 10 in recruiting in football?!? Yep.) Stoops' staff beat just about everyone for Florida DE Denzel Ware, kept local stud QB Drew Barker at home and snagged a bunch of good Ohio prospects led by four-star WR Thaddeus Snodgrass and DB Darius West.

Jones' haul at UT has been equally eye-catching. A few weeks ago, when I was at the NIKE training camp at Ohio State, two of Jones' top recruits shined. Five-star RB Jalen Hurd won MVP honors among running backs while four-star DE Joe Henderson--not No. 1 overall recruit Da'Shawn Hand--took home MVP honors for the D-line group. Henderson, another Ohio kid, was unblockable at the camp. Afterward, he told me those camp MVP honors for the future Vols "show what's going to happen at Tennessee." I don't doubt it, although Jones needs to find his QB. Is brilliant incoming freshman Josh Dobbs that guy? We'll see. I do know right now there isn't much to work with skill talent wise in Knoxville.

Sustaining the recruiting momentum is always a challenge for any new staff. Quite frankly, it's not uncommon for new head coaches to generate buzz on the recruiting trail. There's energy and excitement, and kids (as well as fans and the media) feel that and get intrigued. I saw that when I was around the Ole Miss program under Ed Orgeron while working on Meat Market, but as Orgeron pointed out then, will kids stay with you when the season comes and you start losing some games? In his case, he kept some but lost some others. For Hugh Freeze, an Orgeron disciple, a big key to reeling in a Top 5 recruiting class with a bunch of blue-chippers was the fact that the Rebels went 7-6, beat their arch-rival and won a bowl game in his debut season. That gave his pitch much-needed credibility.
I'll be surprised if either the Vols or the Cats win more than seven games this fall. Neither coach was left with a lot in terms of personnel.

Both new coaches enter a league that has never been tougher. It is incredibly top heavy. Quite frankly, the SEC is a lot stronger now than when Phil Fulmer was in the midst of his great run in Knoxville. (I'll have a column that examines this in the new few weeks.) Back to Kentucky, the odds are really against Stoops winning big there. The program hasn't won an SEC football title in almost 40 years. It's been 29 years since they had a season where the Cats won more than eight games. That history, along with Jones' proven winning track record as a head coach at his two previous stops are why I'd say you have to say he's more likely to be successful. And, after having spent some time in Knoxville this spring, I'm convinced UT finally found the right guy to lead the Vols' program.
 
From @ChrisB_Lynch: How good will Winston be this year at #FSU? Sleeper Heisman?

I seem to be getting more Jameis Winston-related questions than any other player topic this off-season. I wrote about him last month and in more detail in April. The only thing I would add to that stuff now is something that I noticed in this Barrett Sallee article about inexperienced QBs leading their teams to success in the SEC. Thinking just beyond that scope comes this nugget: four of the past six BCS title teams were led by a QB who was a first-year starter. So, you're saying there's a chance? Yes, especially if the supporting cast (and that includes the revamped coaching staff) is up to it.

Of the schools expected to start a new QB with any shot of making a BCS run I'd list those contenders in this order: FSU, Oklahoma, USC, Baylor and K-State. And I'd say FSU and OU are the only ones that aren't actually the longest of long shots.

As for the Heisman, you have to go back to 2008 to find a winner who didn't come from off the radar before the season. So recent history bodes kinda well for someone like Winston. Speaking of ...

From @SugarShiv: Who is in your top 5 for the Heisman for this season?

My top five entering this season: Johnny Manziel, Jadeveon Clowney, Tajh Boyd, Braxton Miller and AJ McCarron. After that, I'd have Marqise Lee and Teddy Bridgewater although I wonder if the latter is playing such a weak schedule that it doesn't leave him that much of a shot. Of the darker horse odds guys (25-1 or more) that I'd keep an eye on: UCLA QB Brett Hundley 25-1; Miami QB Stephen Morris, 25-1 and Florida QB Jeff Driskel, 40-1.

From @E_ROCK12: do u think Kevin Sumlin would ever leave TAMU for the NFL? Already whoppin on Texas, plus he's in SEC, great set up if u ask me

I think we've learned you can never say never about anything with coaches. After leading A&M to its first Top 5 finish in 56 seasons, Sumlin's already had chances to go. As I reported back in January, he turned down opportunities with three NFL teams as well as another big-time school (Auburn) to stay at A&M this year after the Aggies sweetened his deal and committed to upgrading his staff's compensation and improving the facilities.

Keep in mind before that, he was at the bottom of the league's coaches in terms of compensation, and since then has gone from $2 million per year to around $3.1. I do know his family likes it there and I've seen the huge house that they're building that's probably only about a 10-minute drive from the stadium. Also, when I was in College Station last week, Sumlin showed me a five-minute video on the near half-BILLION DOLLAR Kyle Field renovation that is jaw-dropping. He is very excited about what they're building there. He knows even after a strong debut season at A&M and in the SEC that bigger things are coming for the Aggies. Recruiting, by all accounts, is going great. A&M is No. 1 in the updated 2014 recruiting rankings by 247Sports. Of course, it's likely that the program will be without star QB Johnny Manziel after this season with him planning on heading off to the NFL, but expectations are high for freshman Kenny Hill, and in Kyle Allen, a commit for the 2014 class, you have a guy who many recruiting experts believe is the best pure passer in the country. So yeah, it is a great set up.

Still, in Sumlin you may have the most attractive coaching candidate in college football right now because he, probably more than any other big-time coach has the personality to balance everything that could come at home whether it's players, administrators, boosters, recruiting and handling a hot media spotlight. And, it's not like he's in his 60s. He's 48. If Lane  Kiffin can't get USC back in the Top 20, if I'm Pat Haden my first call would be to Sumlin. Same deal at Texas if Mack Brown doesn't get the Longhorns cranked up again. Keep in mind there's some top coaches who couldn't (or wouldn't want to try and) handle the responsibilities and all the time/focus from the Longhorn Network deal with the UT head coaching job. Would he want to leave A&M for either job or for an NFL job because there if the Aggies are back in the Top 10 this season, there's likely to be more opportunities coming from that level too? We'll see. Just keep in mind, any great coach doing big things at a university is going have opportunities. If you're a fan of a team or an AD, you probably should be more worried if nobody else wants your coach.

From @ThereitisJake: which is ur favorite college stadium to watch game? Factors 2 include: school traditions, fans, food, sightlines, weather, etc

My list is going to be a lot different I suspect than most other national media. My favorite three places to see a college game are Autzen Stadium (Oregon), Lane Stadium (Va. Tech) and the Rose Bowl. I've been in Lane where it has been as loud and charged as any place I've ever seen a game. Something about my time there just resonates with me. I have a similar feel for Autzen and Eugene, Ore., although I wouldn't stay the place is quite as loud as what I've heard on a few trips to Blacksburg. The other places that rivaled Lane in my experience for noise were LSU and the old Orange Bowl.

Three other stadiums that offer spectacular vistas are Utah, Michie (Army) and the remodeling job at Cal, which I was blown away by when I toured the place in April. I am also very curious to see the renovated Husky Stadium (Washington). The old place, back in U-Dub's glory days, could also get really loud.

Favorite place to eat in a college town: Ajax in Oxford.


Josh Adams and Derrius Guice helped their teams to big wins in Week 8

The Eagles have started winless in Summers' second season and were 5-13 overall under him

The Fighting Irish are up to No. 9 in the latest edition of these college football ranking...
The Fighting Irish are getting more attention after throttling USC 49-14 Saturday night

Jerry Palm is back to look at where the bowl games stand after the midway point of 2017

The sophomore leads the SEC in total offense and passing