Mailbag: The mess at FIU, grading Graham and UM's NCAA battle
Here is this week's mailbag. As always, you can send questions to me via Twitter to @BFeldmanCBS: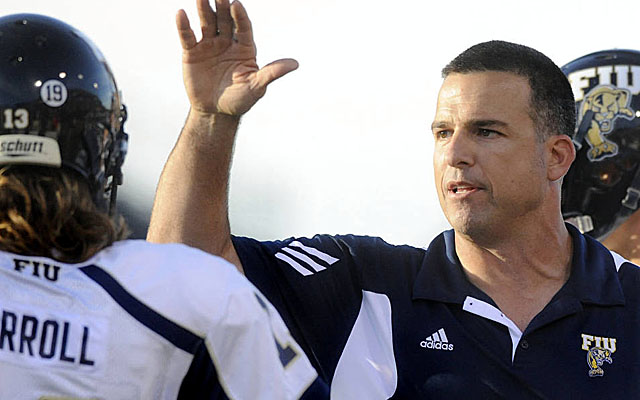 Mario Cristobal turned FIU into the Sun Belt champs within five years, but was fired after 2012's 3-9 season. (Getty)
Here is this week's mailbag. As always, you can send questions to me via Twitter to @BFeldmanCBS:
From @cfboutsider: Can you explain what happened at FIU?
You have an AD down there in Pete Garcia who has made a bunch of bad decisions after clashing with the head coach (Mario Cristobal), who inherited a program that had been the most dysfunctional in college football and was down almost 30 scholarships due to previous academic issues. Cristobal turned FIU into conference champions within five years but got fired in December after a down season -- and this was less than a year after he had turned down opportunities at Pitt and Rutgers to stay on with the Panthers. Then again, Garcia also was the same guy who hired Isiah Thomas as his basketball coach.
Multiple sources have told me that Garcia and Cristobal had a terrible relationship for years and when the AD had his first opportunity to get rid of the coach, he seized it after the Panthers' 3-9 season last fall.
Garcia tried to make a splashy hire, but he ended up getting 59-year-old Ron Turner, who was 35-57 at Illinois and hadn't coached in college for almost a decade. Turner is a good offensive coach, but this looks like a horrible fit. Worse still, Turner's staff has virtually no South Florida guys on it. One of the few coaches Turner had was Jeff Popovich, the DB coach who developed NFLer Tony Gaitor as well as Johnathan Cyprien, a likely second or third-rounder come April. Popovich, a former Miami player, was also one of the best recruiters FIU had. He was directly responsible for seven of the players FIU signed Wednesday. But a few minutes before Turner was going to announce that signing class, he informed Popovich he was firing him.
To say the assistant was blindsided by the news would be an understatement. The program's recruiting had been in disarray from the moment Garcia fired Cristobal. The school even had a JC recruit flying in from the Midwest that day and the kid landed and was told to just turn around and go back home. FIU ended up signing four three-star kids to highlight a class that was ranked No. 105 overall. Popovich was the guy who landed three of those three-stars. The Miami Herald reported that CB Willie Smith from Bradenton said Popovich was the reason he committed early to FIU and stayed with the Panthers.
A little after Turner broke the Signing Day surprise to Popovich, the assistant called some of the kids FIU had just signed to let them know he wasn't going to be there when they arrived.
"They were in shock more than anything," Popovich said Friday morning. "We had told them that we would be here."
That move seems to be par for the course these days at FIU.
From @PAPPAFEEZ: How would you grade Todd Graham's first year as ASU coach in terms of season, recruiting class and looking to the future?
I'd give Graham a B. The Sun Devils cut down significantly on the mental mistakes and the discipline problems that plagued them before he arrived. They went from dead last in the NCAA (No. 120) to No. 10 in fewest penalties committed. ASU's 8-5 record was solid, and it was topped off by a bowl win. The Sun Devils also rallied on the road to beat their arch-rival Arizona. They did have a four-game losing streak, where they were blown out in two of those games, but realistically all four of those opponents were among the strongest in the Pac-12 aside from the Stanford team the Sun Devils didn't have to face. Losing to a bad Mizzou team stings and as part of a five-loss season almost made me drop the grade to B-.
In terms of recruiting, the Sun Devils took a bit of a hit when four-star QB Josh Dobbs de-committed from ASU to sign at Tennessee. That left the program without a quarterback in this class. They also lost out to Washington State for four-star QB Tyler Bruggman, the top local quarterback. They had a big need for receivers and the Sun Devils addressed that pretty well. Rangy JC wideout Jaelen Strong, a highly coveted recruit, should help right away. DL Marcus Hardison, another touted JC guy, also is expected to make an impact in 2013. Chans Cox, the nation's No. 5 ranked ILB, was another good addition.
From @elyiggy: What is your take on the "self-imposed" scholarship reductions miami coach al golden spoke of this week? worth it?
We won't know the answer of that until the NCAA hands down its sanctions. At this point, Miami has been penalized by the NCAA with some hefty player suspensions in the 2011 season and, obviously, its own two years without a postseason, which included skipping its spot in the ACC title game.
What has complicated an already complex situation is NCAA's president Mark Emmert's edict to have an investigation of the investigation. Colleague Dennis Dodd broke the news of who approved the hiring of Nevin Shapiro's attorney to assist the NCAA in its case. The whole thing wreaks.
In the meantime, Al Golden has become more outspoken about the impact the NCAA's delayed process is having on his program and its' recruiting, as illustrated in this Dave George column Friday.
"I don't know where we are in the process," Golden said of a two-year investigation that has become so gummed up that the NCAA president recently called a timeout for a review of his own staff's shady practices. "All of us feel there's closure coming, that it's there. It's going to be a great day. I haven't had that experience yet at the University of Miami."

The "great day" he's talking about probably will bring more official punishment for Miami, but that won't stop the celebration for Golden when it comes.

At this point, he simply wants assurance that there will never be another national signing day like Wednesday, with rivals at Florida and FSU telling recruits that Miami is still radioactive in the eyes of the NCAA, and with Golden knowing that it's true. Miami signed just 16 players this time, half of last year's haul, and staged official visits with only 27. A voluntary ceiling was in place in each case, further concessions by the school to prove remorse for NCAA violations that occurred prior to Golden's hiring.
The NCAA's botching of this case has made predicting what it's going to do ultimately even harder to gauge. The more time passes, the more I suspect that Miami won't get hit with another post-season ban but will lose more scholarships. (Before word of this embarrassing NCAA screw-up, I figured UM would probably get one more post-season ban plus the scholarship hit.) As Golden has made the case, the dark cloud of uncertainty is also part of the punishment even if it technically is not.
"I'm looking forward to being able to go into homes and into the community and not have to answer that (NCAA) question," Golden said. "Usually the first question is 'How are you doing?' The second is 'What's going on with the NCAA?' It makes for short conversations."
From @JTshonk: Based on 3 years of recruiting and the recent 12-1 season, do you think Notre Dame is set for a return to relevance?
Can we please stop with all of this "relevance" nonsense? As I said a bunch of times last year, anyone who didn't think Notre Dame was relevant either doesn't understand how the business of college football works or is just someone trying to stir the pot and draw attention to themselves.
Notre Dame, despite getting throttled by Alabama on the BCS stage, still has good momentum coming off Year 3 for Brian Kelly. Would we feel stronger about ND as a Top Five kind of team had the Tide beaten Irish, 20-14 instead of 42-14? Probably, because it fuels the feeling a lot of folks had that the undefeated regular season may have been fluky with all of the best teams the Irish beat with the exception of Stanford having had down seasons. Even the win at Oklahoma in retrospect doesn't look as impressive after seeing how Texas A&M blasted the Sooners. That happens to a program that rises up to have a big season after not having finished in the Top 25 in five years.
Still, even if ND went 10-3 in 2012, you'd still have to buy that this program is on the upswing and should be seen as a top-15 caliber squad.
Even though the defense loses a few key guys (MLB Manti Te'o, among them) and a stellar tight end in Tyler Eifert, the Irish return two difference-makers on the D-line in Louis Nix and Stephon Tuitt and some promising young talent. QB Everett Golson also should continue to improve. In addition, ND got a lot of praise for the recruiting class it just signed. Of course, the Fighting Irish almost always get raves for their signing classes, and it remains to be seen just how good these kids will be. But what I would like if I was an Irish fan is that the most touted guys are a DT (Eddie Vanderdoes) and an LB Jaylon Smith.
In place of this "relevance" silliness, it seems more apt to define whether a program is at the powerhouse stage. I'd view that prism as one that is a consistent double-digit winning operation. For that, ND is going to need to keep piling up double-digit win seasons. And as long as Kelly's running the show in South Bend, I think they'll be able to do that.
From @JRT219: Do you think the current recruiting model has a deleterious effect on cfb culture and behavior? What would you change?
I wrote about a growing concern for many coaches about how these recruiting courtships turn into circuses and how that can cause so many problems for these kids.
I have heard from more and more coaches who have come around to the idea of an Early Signing Period for football. While it works with college hoops, I've always been against it for football because most of the coaching turnover happens late in the season and having recruits locked in after a coach they committed to either gets fired or leaves for another program is problematic. In addition, I've always felt that since coaches are so competitive and they keep pushing the recruiting cycle further and further up, pursuing kids with even less of their academic profile established is inviting more problems too. But some of that stuff is already happening.
Houston coach Tony Levine was on our Signing Day Central show Wednesday and made some good points about needed reform on this front.
"They're coming up with all these new rules, and I don't know that I'm really excited about the new ones that are gonna start on August 1 with the text messaging and phone calls," Levine said. "Kids are going now to Junior Days to get just a sample of your campus in the springtime. Then in the summer, they're taking a few unofficial visits. If they have the means, they're spending their own money and trying to take in the campus and then they commit. Well, what's happening is you get into January and all of a sudden, the mom calls or the coach calls or the kid calls and says 'We didn't really go through the recruiting process.'
'Well, what do you mean you didn't go through the recruiting process? You committed eight months ago.'
"And then they say, 'But we didn't really get to take visits to compare your school to another program.'
"I've always used the analogy of getting married. My wife and I were engaged for nine months before we got married. The weekend before we got married, she didn't call me and say, 'You know, I think I'm gonna go on a date with another guy just to compare you.' Once you make a decision, I think it's appropriate for that school and that young man and his high school coach to say he made his decision. In your junior year, the NCAA should let them have official visits so the schools pay for it."
I think if the NCAA can come up with some flexibility for a recruit to get out of a commitment if a head coach leaves the program he committed to before the final signing period that would solve some problems.
Freeman will not play in the New Mexico Bowl on Saturday

SportsLine simulated every bowl game 10,000 times for pick'em leagues and confidence pools

Grier will return to West Virginia for the 2018 season instead of entering the NFL Draft
The Chick-fil-A Peach Bowl just got spicy

Anderson had been under investigation for an incident at a bar in Cleveland County, Oklaho...

Between Arizona State and Tennessee, no one would have guessed how this coaching cycle turned...