Mailbag: The new hire with the best shot of succeeding in 2013
Which coach has the best shot at succeeding in 2013? If Notre Dame loses to Alabama, is its dream season a failure? Bruce Feldman answers those questions and more in this week's mailbag.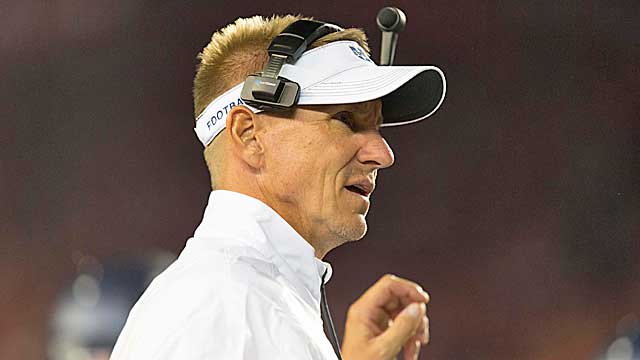 Gary Andersen takes over a Wisconsin program that's in great shape. (US Presswire)
Here is this week's mailbag. As always, send your questions to me via Twitter to @BFeldmanCBS:
From @ColemanESPN: Which new coach has the best chance of succeeding in 2013?
Gary Andersen is coming into a very good situation at Wisconsin. He inherits a program with an already well-defined personality of physical football, and all of the pieces will be in place in 2013 to build off that: Four offensive linemen will return, a terrific tight end (Jake Pedersen); a play-making wideout (Jared Abbrederis) and a potent group of running backs (led by James White and Melvin Gordon) along with the bulk of the front seven. And, I do like the hiring of Andersen. The new Badgers coach comes to Madison with impressive credentials.
I was told by a source close to the coach that just a few days before word spread that Andersen was the guy for Wisconsin, he was explaining to friends why he didn't take the Cal, Colorado or Kentucky vacancies because those places didn't "fit" him.
This one does, though.
More on college football
Columns

Related links
Video
More college football coverage
Andersen took over a Utah State program that had won nine games in the previous four seasons. By his fourth season (2012), Andersen's team went 11-2 with the two losses by a combined five points. Better still, as Barry Alvarez pointed out Friday, Andersen built the Utah State program on the same principles as what Alvarez (and Bret Bielema) did in Madison.
Two other new hires who really have a chance to hit the ground running in 2013: Rod Carey at Northern Illinois and Sonny Dykes at Cal. NIU staffers I know are convinced the Huskies will be more talented in 2013 than this Orange Bowl team is.
Dykes takes over a program with more talent than most in the Pac-12 have. His system also should be a good fit for the young QBs (keep an eye on freshman Zach Kline) and a promising collection of skill talent.
From @nando1287: If ND loses what have they accomplished? Serious question.
Interesting question. I guess it'd come back to how the Irish lost -- if they do, in fact, lose. If Alabama thumps Notre Dame the way the Tide smashed Michigan in the opener, it'll feed into many people's beliefs that the Fighting Irish are overrated and the beneficiary of most of the top teams on their schedule having down years in 2012: Michigan, Michigan State , Miami and USC. Despite that, the Irish did go into Oklahoma and beat a good Sooners team, and it wasn't flukish in how the Fighting Irish did it.
Still, this is the kind of matchup that will provide us a real gauge on whether this is an outstanding Notre Dame team or more a "really good" one. Keep in mind that in Charlie Weis' first season in South Bend, the Irish made a BCS bowl and lost two games by a combined six points. That Notre Dame team was certainly more explosive than this one, and it's no stretch to think the gap between these two isn't that wide if you factor in the closeness of the Stanford win or how a blown chip- shot field goal by Pitt could've also translated into a two-loss season. That Irish team went on to lose to Ohio State by two TDs in the Fiesta Bowl.
The difference that I see in this ND team compared to Weis' best squads is that this year's Fighting Irish are much more physical and formidable in the front seven. They look and play like an elite SEC defense. I expect ND to more than hold its own against Alabama, but we'll see just how good this team proves to be. The merits of a team, especially one that hasn't been anywhere near as good in previous seasons, gets defined by one game on a big stage played six weeks after the regular season. The Fighting Irish -- and the Crimson Tide -- will be the ones who determine just how far ND has come this season.
That said, no matter what happens in South Florida, it shouldn't take away from the fact that, for the first time in a generation, the Fighting Irish got to a national title game. Making it through a regular season unscathed is very, very hard. Brian Kelly proved that it can still be done at ND, and that is significant.
From @FakeBaldwin: What do you think of the staff building in Chestnut Hill? Retaining McGovern and bringing back Day?
I have to admit I was a bit surprised when I read Boston College was naming Steve Addazio as the new head coach given some of the other names I'd heard were up for the job, especially since he'd just come off his second season at Temple and gone 4-7, having dropped five of the last six games of 2012. But Addazio is well respected by the high school coaches in New England, and I really like what he has done in building his staff.
The most underrated assistant hire of the past month was BC snagging defensive coordinator Don Brown away from Connecticut. Just look at the improvements Brown has made at his last two stops, Maryland and UConn. He is excellent. I also like Addazio bringing back Ryan Day, who is one of the sharper offensive minds on the East Coast. (Any coach who gets the Chip Kelly Seal of Approval sounds like a good addition to me.) Bill McGovern's track record on D is excellent as both a communicator and recruiter in the Northeast. All reasons for BC fans to be optimistic.
From @abellwillring: Would love to hear your thoughts on the assistant coaching turnover at FSU and what you expect.
I've heard it's been a really rocky road inside the Florida State program under Jimbo Fisher of late. He's had significant turnover on the staff and lost several key assistants on both sides of the ball. It also wouldn't surprise me at all if FSU lost the team's top recruiter, James Coley, who has the title of offensive coordinator.
I was a bit surprised that Fisher didn't go with a proven defensive coordinator to replace Mark Stoops. I know there were some big-time DCs in consideration before Fisher opted for 38-year-old Jeremy Pruitt from Alabama. Clearly, Fisher wanted to add more "Saban guys" to his operation by bringing Pruitt and Sal Sunseri to FSU.
Fisher has become even more hands on in the past month with his staff, I'm told, and this comes in the wake of what has to be seen as a disappointing 2012 season. While FSU did make the Orange Bowl, the Noles, again, stubbed their toe against an unranked opponent (N.C. State) and then lost at home by 11 to rival Florida. And this was supposed to be the season in which FSU would make a run at the BCS title. At this point -- three seasons in the Jimbo Fisher tenure -- it's still hard to say whether he's the guy who can lead the Noles back to greatness. I feel like there are more reasons for skepticism about that than there were just three months ago.
From @bigbrahdeezie: if the four team playoff was this year what would be the four teams you would want to see in it?
Notre Dame, Alabama, Florida and Oregon. Based on the regular season, Florida's resume merits a spot in the final four. And despite losing at home to Stanford in overtime, I'd still like to see Oregon in there.
My hunch is we'd still get an ND-Bama final, but I would like to see the Ducks against one of these other three teams.
Florida's roster got a boost on Tuesday with the return of several key members of the prog...

Tom Hutton joins the ranks of former Aussie rules footballers joining the college football...

The freshman is already on Heisman lists after throwing the walk-off score in the national...
These seven teams should make the most noise down the homestretch towards signing day

Air Force was forced to cancel 11 athletic events because of the 69-hour government shutdo...

Olson has a lot of the tools offensive coordinators want in a quarterback