Mailbag: The Pac-12 favorite; a Gee thing and an SEC RB on the rise
This week's mailbag examines the battle between Stanford and Oregon; Georgia's budding star at RB; Baylor's Big 12 hopes, Miami's two backfield stars and much more.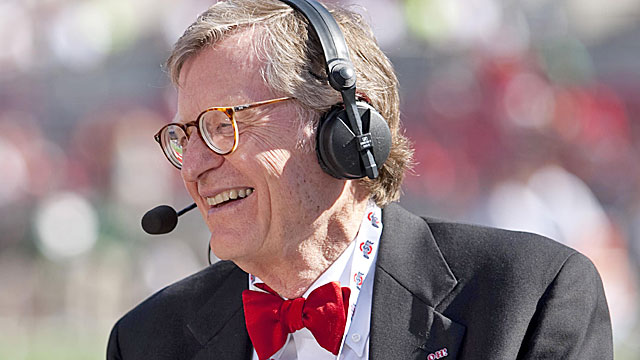 Here is the Friday Mailbag. As always, you can send your questions to me via Twitter to @BfeldmanCBS:

From @PC_Hiefield: You have to choose one: who's your favorite to win the PAC-12, Oregon or Stanford?

I'll go with Stanford. As talented as the Ducks are -- and I still think they'll be a top-10 team -- I'm leaning to the Cardinal. I expect Mark Helfrich to prove to be a good hire as the new head coach at Oregon, but I suspect there will be some adjustment to running the whole show with Chip Kelly gone.
Having visited Palo Alto in April, I'm convinced this Stanford team is more talented and more athletic than last year's team that went to Autzen and beat the Ducks in Kevin Hogan's first career road start. Stanford's two big strengths in the past, the O-line and the D, both should be even better in 2013. The challenge for the Ducks this season will be for Marcus Mariota to beat the Cardinal with his arm.

From @UAbamafan: how does G Gee keep his job after so many missteps??

Regardless of who the Ohio State president offends and how many times he puts his foot in his mouth or comes across as utterly tone deaf, keep in mind, the guy is a world-class fundraiser. That's his role, and for all of his bluster, he's very good at that. And he's reportedly in the midst of leading a $2.5 billion campaign at Ohio State. That's how.

From @Dougzerjal: Can Baylor win the wide open Big 12? QB Petty should be solid along with improved D.

The Bears are my sleeper pick to make a BCS Bowl this year. As I wrote a few weeks ago, Baylor is loaded with speed and I expect Bryce Petty, the new QB, to pick up where Nick Florence left off. On offense, with Art Briles' system and that kind of speed, this attack is as potent as anyone's. The key for them is on defense, though. If the defense can play like it did when Baylor won its final four games last season, including wins over three ranked teams, the Bears have a very good shot to win the Big 12 and to jump into the top 10. It also doesn't hurt that the Bears get Oklahoma and Texas, two of the other favorites in the league, at home this year.

From @traviskriens: 10 or 15 years ago, would there be a football mailbag in May or June? What has changed to make it a year around topic?

A few things: Start with the increased "connectivity" of the media climate. Stories that used to stay local now go national in minutes thanks to Twitter and 24-hour sports national coverage. That provides an almost constant source of college football fodder whether it relates to recruiting news, spring football or police blotter stuff. Then, there is the fact that more people are covering it in more ways, so that creates more opportunities to react to news, er, stuff in the offseason. Above all else, the demand is there. Fans crave college football coverage, so we're all feeding the beast.

From @drewh07: Todd Gurley. Will he become a household name as one of nations top running backs?

Yes, I think he will. I was surprised that Gurley wasn't one of the 23 players listed on the latest Heisman odds by Bovada earlier this week. No knock on the other six RBs, but I think with his explosiveness and combination of size and speed, he has the tools to be a 1600- or 1700-yard back this season. You're talking about a 234-pound man with sprinter's speed. (That kinda sound familiar, Georgia fans?) The tricky part is UGA has two good tests right out of the gate in Clemson and South Carolina, and if they open 0-2, it's a stretch to think he could overcome it and still be a Heisman contender. But if he and UGA can get off to a fast start and they can avenge that thumping they took against South Carolina last year, he -- or QB Aaron Murray -- will likely be in the mix.

From @pattyboy: do you agree that Ohio State is a year away from being a legit national championship contender?

Expectations are that Urban Meyer's team will be a legit national title contender this year, in his second season, which flows with his track record. Only Alabama is more of a favorite to win the 2014 BCS title than the Buckeyes, according to oddsmakers. Now, a part of that, I suspect, is due to Ohio State's favorable schedule, but it does seem like Meyer should have an even stronger team a year from now. But in regards to your question, I'm not ready to dismiss Ohio State's chances this year.
A big key to elite teams is having difference-makers in the front seven. The Buckeyes enter the 2013 season with a lot of hype, but little experience in the front seven. Word is, there is a lot of talent there, and it figures to be even better in 2014. Same for the offense, provided QB Braxton Miller doesn't jump to the NFL after this season. Same for standout LB Ryan Shazier. I'm in Columbus now for a few days and should have a lot better feel for the program by the time I fly out of here, so I'll have more on the Buckeyes in the coming weeks.

<strong>From @Lauzin: Where do you rank Stephen Morris among ACC QB's & Duke Johnson among ACC RB's</strong>

I'd rank Morris second or third among ACC QBs behind Clemson's Tajh Boyd. UNC's Bryn Renner had a better season last year than Morris, going for a 28-7 TD-INT ratio (compared to Morris' 21-7.) That said, Morris' arm is as strong as any QB in the country and he really emerged in the last month of the season, throwing 11 TDs against zero picks as a young receiving corps started to grow up. Earlier in the season, Morris and the Miami offense were really plagued by as many dropped passes. We'll see how well Morris adjusts to new offensive coordinator James Coley. The O-line in front of him should be among the best in the country.
That O-line should help Duke Johnson too. There isn't a better, more dynamic back in the ACC. If you're talking about the best running backs in the conference, you have to start with him. Another gifted RB to keep in mind when it comes to the ACC is newcomer Syracuse's Jerome Smith, a bigger back, who ran wild in the second half of 2012, especially in the upset win over Louisville.
The Nittany Lions came up huge when they needed to against Iowa

It just might have been the best game of the season so far

Projecting the new AP Top 25 poll college football rankings after Week 4
Stay with us all day Saturday for updates and highlights from Week 4 of the 2017 season

Georgia dismantles Mississippi State between the hedges Saturday night

The Horned Frogs looked a lot like their old selves on Saturday afternoon in Stillwater