Mailbag: Weighing in on the Elite 11 and The Opening
After a week in Portland to see many of the top recruits in the 2014 class, we have some observations that'll interest fans at Oregon, Kentucky, Texas A&M, Miami, Notre Dame, Cincy, Alabama, Michigan and many other places.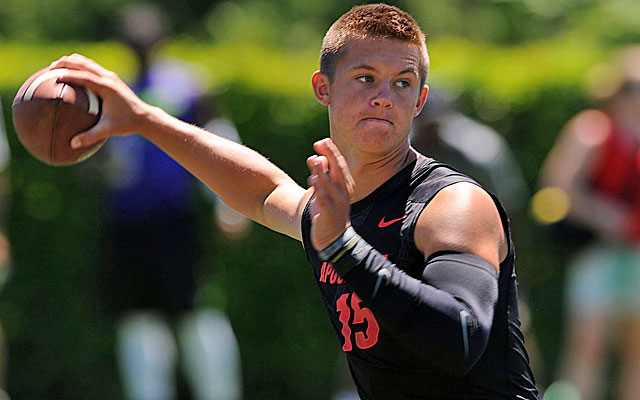 After a week spent up in Oregon for the Elite 11 camp and The Opening, time to get to the Friday Mailbag. As always, send your questions to me via Twitter to @BFeldmanCBS.

From @ScottColeBCS: who was honestly the best QB there, over the course of the 6 days? I'm hearing one name in particular a lot. Your opinion?

From what I saw (and I was around for the whole week including most of the meetings) the two guys who had the best weeks overall were Sean White and Kyle Allen, the Texas A&M commit.

As we've said several times before, you can never say anyone, especially a QB, is a "can't miss" guy in terms of projecting to the NFL. To me, Kyle Allen would be the closest thing to a sure hit in college of the entire Elite 11 group. He has a very good arm, good temperament, focus and size. When the Elite 11 staff was watching film of all his throws of the first day of the 7-on-7 games, their jaws were on the floor. I'll be surprised if he's not a star in college for the Aggies in a few years.

White, who is still uncommitted, was a star every day and rose to the challenge in the 7-on-7 competition to win the MVP honors on Wednesday, the final day of the Elite 11. He overtook everybody, including Allen. I get that White's not 6-4, 220. He's around 6-1, 200, but this kid is a shark. There's a lot of successful college QBs around his size, and White has a better arm than many of those guys. He made quick decisions while also proving time and time again, he's extremely accurate and great at anticipating throws.

If I'm a Cincinnati fan, I'm hoping the big schools get hung up on him not being 6-4 because when I spoke to White over the weekend, he seemed high on UC. Another intriguing subplot in his recruitment: He told me he grew up a Notre Dame fan. I know the Irish already have a commitment from DeShone Kizer, but considering how important the position in--and that in the past six month ND lost two of the young QBs in the program with Gunner Kiel transferring and Everett Golson getting booted for his academic issues and his return to South Bend is still up in the air, maybe they take two.

I know there were many other QBs who came into the Elite 11 with more hype, but White delivered. Now, this doesn't mean he'll prove to be the best college quarterback down the road. It just means he was the most impressive this week. That said, there isn't anyone out there with a better, more developed picture of the 2014 QB recruits in the country than former NFLer Trent Dilfer and his staff. The Elite 11 crew spent an intensive week with these kids in all sorts of scenarios, saw how they responded and saw how they measured up to the other top quarterbacks around the country. I realize that many college staffs have had a few of these kids in for their camps and have gotten to work them out in their drills and see how they take coaching, but just in terms of the depth of the evaluation in Oregon and the perspective measured with the other top kids is unique.

One more QB to factor in, and this is more of a wildcard guy: Jarrod Heard, who will head to Texas as the top "zone-read" guy in the class. Thing is, Heard showed to everyone at the Elite 11, he's a lot better passer than most give him credit for. The zone-read component isn't a big element in the Elite 11, so you're basically taking away the thing the kid is most known for. Yet, even without that component, Heard was still one of the best QBs this week up there and that was done through his arm and his savvy.

From @WILDCATCOREY: How did Drew Barker do and what are your thoughts of him?

The big Kentucky commit struggled early in the Elite 11's first two days, but by the end of the week, he went from way back in the pack to becoming one of the top guys. I don't know if that was more of a function of him adjusting to being on the other side of the country with all these other top guys or maybe there was a bit of awe since you had a star group of college counselors around (Johnny Manziel, Tajh Boyd, Teddy Bridgewater, Devin Gardner and David Fales), but by the time the college guys left (midway through the Elite 11), Barker's play took a big jump forward and it was easy to see why UK fans are so excited about the future.

Barker had one of the better arms at the Elite 11, but what really resonated was how he took command of the team he was put on. (There were six 7-on-7 teams at The Opening with three QBs on each. Barker's fellow QBs on the "Landsharks" were Kizer and Vandy commit K.J. Carta-Samuels.) Barker was also very decisive cutting loose on big throws. Given the caliber of the program he's going into at UK and his size and presence, I could see him playing early for the Cats.

From @MatWhitNBE: What did you think of Da'Shawn Hand?

I didn't get to see that much of the line play because I was focused on the QBs and the 7-on-7, but this is the second time in two months I've seen Hand and there's no doubt he's an elite talent. He looks like a future impact guy. However, the D-lineman who seemed the most impressive at The Opening was Chad Thomas, a Miami native who took camp MVP honors. Thomas is a long kid who showed he was really explosive and slippery. Thomas' stock among recruiting analysts figures to be soaring after this week.

From @DrewPap85: biggest surprise in Oregon?

Just how good Seattle-area WR-DB Budda Baker is. The kid's not very big (around 5-10, 175) but he's just a playmaking machine. He's really quick and seems to have great instincts. The other two-way CB-WR I was wowed by was Texan Tony Brown, who I suspect will be a difference-maker for someone in college pretty early, but the track star from Texas had more hype coming into The Opening--and he more than lived up to it. Brown wasn't just a fast guy, but he was extremely physical with wideouts and showed how competitive he was.

From @DaU_Canes: Thoughts on Brad Kaaya and does he have the tools to win a National Championship in Coley's offense?

He was one of the better QBs at the Elite 11. He's very smooth. Kaaya makes everything look pretty easy. He's also got the kind of frame where you could see him as a 6-4, 235-pound quarterback by the time he's in his second year at UM. He's already about 220. He had some stretches this week where he looked like the top quarterback at the Elite 11, but there were also some moments where he wasn't so sharp. One of the QB coaches working the camp said he thought it wouldn't surprise him at all to see Kaaya as a Top 10 draft pick in four or five years.

Having the tools to win a national championship actually goes well beyond just what Kaaya brings, but the talent around him. We'll see if Miami can upgrade the defense enough to make another run.

From @BCJ79: Did you make it to UO? Are their facilities as good as I've heard?

I did get to UO last Thursday. The Ducks set-up is truly awesome. I'd been there a lot for games but ended up touring the place with Clemson's Tajh Boyd and Michigan's Devin Gardner and it was interesting to see how those two guys who are at these powerhouse programs were blown away by what the Ducks have, and really the whole vibe of the place. The Ducks treatment center where the training staff is, looks a World Class spa, which I guess it actually is. Everything around the UO facilities looks like its state-of-the-art.

From @BryanDFischer: best part of the trip? (Besides the employee store…)

Seeing the camaraderie of the Elite 11 crew between high school QBs, college QBs and their staff.
CBS Sports HQ Daily Newsletter
Get the best highlights and stories - yeah, just the good stuff handpicked by our team to start your day.
Please check the opt-in box to acknowledge that you would like to subscribe.
Thanks for signing up!
Keep an eye on your inbox for the latest sports news.
Sorry!
There was an error processing your subscription.
Matt Womack re-injured a broken foot he suffered earlier in the offseason

These coaches do everything completely above board, according to their peers

A former mob boss explains how to influence a college football game's final score with relative...
These QBs could be 2018's 'Next Big Thing'

Urban Meyer has been on paid administrative leave since Aug. 1

Ohio State players broke up the monotony of fall camp in a big way