Mailbag: What's different about OU this time around, talking about the Miami probe
Here is this week's mailbag. As always, send your questions to me via Twitter @BFeldmanCBS: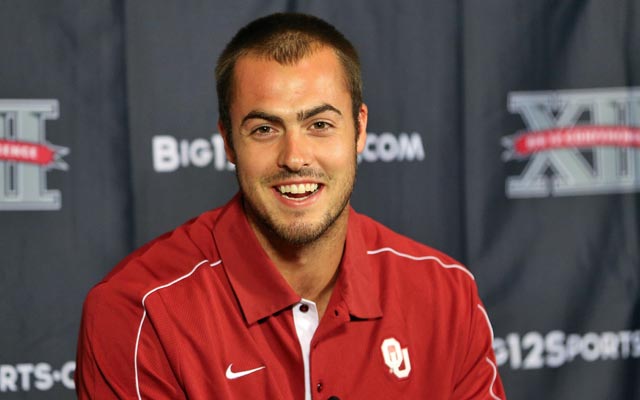 Landry Jones has worked on tightening up his mechanics and improving his presence in the pocket.
(US Presswire)
Here is this week's mailbag. As always send your questions to me via Twitter @BFeldmanCBS:
From @Ahltrain: Obviously, OU looks lk a contender. But its the same team that lost at home to TT and no showed bedlam. Can they really win 13?
The defense looked lost that day against Texas Tech, and quite frankly, the Sooners D seemed to be shaky (by their standards) a lot in 2011. They were No. 79 in pass D and No. 43 in run defense in a league that doesn't run the ball all that well. So what will be different this time around? Mike Stoops is back to run the show. He made a big impact when he was coaching OU years ago and he was missed. That discipline and focus especially now that he doesn't have to worry about all of the other stuff head coaches have to deal with, is going to help his brother's program.
Landry Jones should have a bounce-back season. I know from talking to George Whitfield, the private QB coach he worked with this off-season, Jones has tightened up his mechanics and improved his pocket presence. There's also some time in September for the receivers to get sorted out. I'll stop short of saying I like the Sooners chances of playing for the BCS national title, but they are my No. 5 team coming into the season.
From @ChadDutcher: Michigan State returns 8 or 9 from last years top 5 defense. Is it enough to make up for the inexperience at QB and WR?
Yes, I think so. I have Michigan State in my Top 10, ranked No. 9 thanks in large part to that defense.
When I visited MSU in the late spring, the staff was very high on Andrew Maxwell. He has a firm grasp of the system, is very poised and an even better athlete than Kirk Cousins, Mark Dantonio told me. The best thing Maxwell has going for him is Le'Veon Bell, a 240-pound bruiser, and a really experienced O-line.
The Spartans ground game really got cranked up in the second half of the season as the big guys up front jelled. Look for Bell to have a huge season in 2012.
From @The_Reid: how bad are the sanctions Miami could be looking at? Penn State territory?
At this point, no one really knows exactly how severe the sanctions will be. As I wrote in the spring, I've heard that Miami is likely to self-sanction another post-season this year at some point in the fall. I suspect that'll happen no later than after Miami loses for the second time this fall, which realistically could be by late September/early October. It might happen sooner than that. That'd mean, technically, that UM would've self-sanctioned two post-season bowl bans.
Given the severity of what actually happened at Penn State, I don't see the NCAA coming down with a punishment equal to what Mark Emmert just dropped on PSU. Penn State re-defined what we think of as a scandal as it relates to college sports, especially in regards to a cover-up and abuse of power, and all of the harm that it led to.
I could see the NCAA going with something along the lines of a three-year post-season ban and 10 scholarship hits per year on Miami though—adding to what the school already had imposed on itself. It'd be worse than USC's punishment but not at the level of what Penn State just got.
UM people will also point out that the school has cooperated with the NCAA. Back when USC got hammered a few years back, we heard plenty about how AD Mike Garrett handled the NCAA investigation only inflamed the situation, and it's no stretch to think that attitude only added to level of punishment. Still, with the USC case, the NCAA was essentially going after one player, albeit as then COI chairman Paul Dee (yeah, the same former Miami AD linked to this Nevin Shapiro mess ironically enough) said a "high-profile" athlete, whereas there have been dozens of UM players allegedly involved, and many of them were punished by the NCAA in 2011.
Beyond USC and Penn State, we've also seen recent NCAA justice as it relates to UNC, Ohio State and UCF. The Miami case that it seems to be most similar to of those five is UCF. (The Knights were "cited" for a Lack of Institutional Control and have to sit out a post-season in both football and basketball, were fined $50,000 and will be limited to 20 scholarships and 80 total for football over the next three years, among other punishments. Miami certainly appears to be headed for a LOIC charge, but who knows exactly what the NCAA can prove from the litany of things Nevin Shapiro detailed in the Yahoo report? It looks worse than UCF.
How much, if anything, will be connected to Al Golden? I'd expect Golden would make the case that whatever the assistant equipment guy (Pee Wee Allen) may have done wasn't something he would've had any knowledge of. Is that viable? How many new head coaches know what the backgrounds and involvements of staffers who aren't full-time assistant coaches are in such a quick transition?
"What I wonder with Golden and others is with this new proposed presumption of knowledge will COI members be looking to make an example out coaches in this case?" Dr. David Ridpath, Assistant Professor of Sports Administration at Ohio University told me Friday morning.
From @Scottiemo1: you think Hurtt resigns? Penalties possible for cards?
This is another fascinating subplot in the scandal. I'd be surprised if Clint Hurtt is a Louisville coach for the 2013 season. Friday morning brought the news that Florida receivers coach Aubrey Hill, a former UM assistant also mentioned in the Nevin Shapiro scandal, was stepping down for "personal reasons." I've been told by multiple sources that the Miami coach that was most tied to Shapiro was Hurtt. Eventually, when the NCAA sanctions Miami and who knows exactly when that is, there is going to be fallout felt at some other programs. Whether he "resigns" or Charlie Strong is left with no choice by the NCAA to get rid of him because of sanctions placed on Hurtt, my hunch is Louisville will have to hire a new defensive line coach.
Even if Hurtt is now helping the NCAA in its' investigation here, it creates an intriguing dynamic given that he's recruiting against his former school, a program he can finger, yet he could continue on with his career, especially since he and his new program are benefitting from what he was reportedly heavily involved with at the previous place? That doesn't seem plausible.
As for Louisville being penalized for hiring Hurtt, I don't see how that could happen, but I'm sure the NCAA is going to examine very closely his recruiting tactics from his days at Miami to everything he has done at U of L. 
From BlurryOSU: what would buckeyes be in coaches poll if they were eligible? Braxton for heisman!?!?
I have the Buckeyes in my pre-season Top 25 at 16 because I expect their defense to be that good this fall—although I did submit that ranking before I knew one of their top skill guys Jordan Hall would miss a chunk of the season. We'll see how much of that load those big backs of Carlos Hyde, Rod Smith and Zach Boren can pick up. Hall was expected to provide more of a spark and he'll be missed.
I like the fit of Braxton Miller in Urban Meyer's scheme, but the young QB is still pretty raw. He also doesn't have great skill guys to support him, especially with Hall sidelined. Remember, this was an awful offense last year and there are still a lot of question marks surrounding the personnel. Braxton for Heisman? In 2014? Sure. 2013? Maybe. This fall, I don't see it.
Jerry Palm is back to look at where the bowl games stand after the midway point of 2017

The sophomore leads the SEC in total offense and passing

The Nittany Lions want the Crimson Tide after dismantling the Wolverines
The Nittany Lions and Fighting Irish are storied programs but newbies as CFP contenders

Plus, people need to start paying attention to Matt Campbell and Iowa State

Barkley scored three touchdowns and made some big plays in Penn State's massive win