Malik McDowell signs NLI with Michigan State
Malik McDowell, the five-star defensive end, has finally ended his roller-coaster recruitment by signing with Michigan State.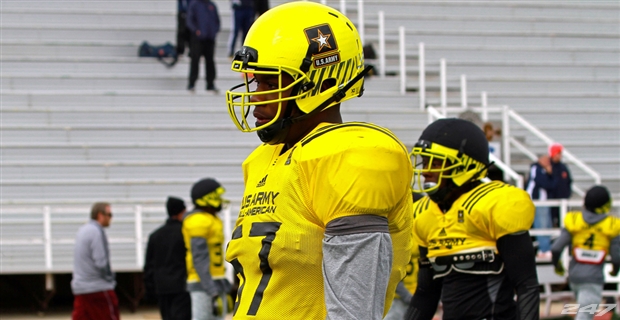 Five-star defensive lineman Malik McDowell will be a Spartan after all.
The Detroit native's highly scrutinized and highly public recruitment finally ended Tuesday night, when McDowell tweeted that his letter of intent had been delivered to Michigan State and mlive.com cited sources "with knowledge of the situation" in reporting McDowell's paperwork had indeed arrived.
The Spartans later confirmed that the letter of intent was in, with Mark Dantonio scheduled to appear at a press conference at 1 p.m. ET Wednesday. 
From McDowell's Twitter feed:
My LOI was sighed and faxed in at 11:12 last night I'm official a Spartan Dawg!!! #GoGreen #GoWhite

— FAT LEEK (@D1_LEEK) April 2, 2014
And from Mark Dantonio's:
Congrats to Malik McDowell and his family on his NLI to MSU. Big decision for family and all involved. #SpartansWill https://t.co/gg5iyCo6FZ

— Mark Dantonio (@DantonioMark) April 2, 2014
McDowell declared his intent to sign with the Spartans on Signing Day, but could not persuade his mother, Joya Crowe, to sign the letter of intent. Both of McDowell's parents said they wanted McDowell to leave the state, though his father eventually said he supported Malik's decision to head to East Lansing. 
Even after McDowell declared in mid-February he would not be taking any visits to other programs, his letter of intent remained unsigned, with the April 1 deadline looming. Even as of Tuesday afternoon, it appeared that it would not arrive in time, before an apparent change of heart on Crowe's part.
A 6-foot-7, 290-pound strongside defensive end or defensive tackle, McDowell was rated a five-star recruit and the No. 32 overall prospect at any position in the 247Sports composite Top 247. He chose Michigan State over Michigan, Ohio State and Florida State.
A Signing Day video report from CBS 62 Detroit:
The Alabama QB has a new look after the Tide claimed another national title

Young was injured during Miami's Orange Bowl loss to Wisconsin

The movie will zero in on former Penn State coach Joe Paterno during the Jerry Sandusky sc...
Bidding for Salaam's trophy, which the auction house says was obtained legally, ends Satur...

Locksley has been the offensive coordinator at Illinois and Maryland during his coaching c...

Many NFL-eligible juniors ignore advice provided by the league and risk going undrafted each...