Manti Te'o denies being a part of girlfriend hoax in interview
The Notre Dame linebacker did an off-camera interview with ESPN's Jeremy Schaap on Friday night.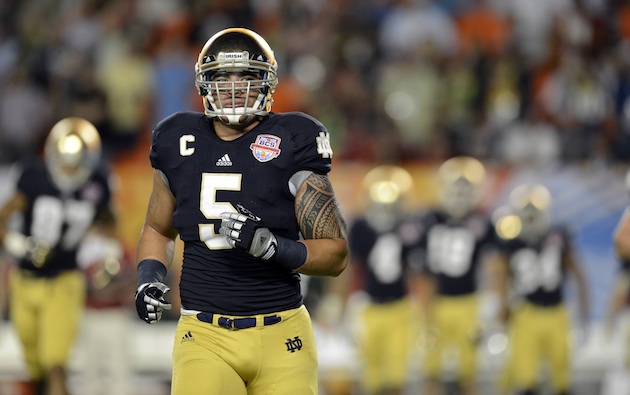 "I wasn't part of this." (US Presswire)
"I wasn't faking it. I wasn't part of this."
That's what Manti Te'o told ESPN's Jeremy Schaap on Friday night as the Notre Dame linebacker agreed to do an interview for the first time since a Deadspin report stating that Te'o's deceased girlfriend never existed. The interview was conducted off-camera at the IMG Training Academy in Bradenton, Fla., where Te'o is preparing for the NFL Draft.
Aside from just denying his involvement in the hoax, Te'o said he did not make anything up to help with his Heisman Trophy candidacy.
More on Manti Te'o

---

Stories
"When [people] hear the facts, they'll know," Te'o said in the interview. "They'll know that there is no way that I could be part of this."
Te'o admitted that he lied to his father, Brian Te'o, about meeting Lennay Kekua, which led to his father telling the media that the two had met. He also confirmed reports that he tried to speak to Kekua via Skype multiple times, but the only thing he ever saw on the other end of the camera was what he called a "black box."
"I even knew that it was crazy that I was with somebody that I didn't meet," Te'o told Schaap.
"So I kind of tailored my stories to have people think that, 'Yeah, he met her before she passed away.' "
The linebacker admitted that the entire ordeal affected his performance in the BCS National Championship Game against Alabama. Te'o even said there was a group of people, including somebody claiming to be Kekua, who showed up at Notre Dame's team hotel before the game, taking photos in the lobby.
Te'o was asked why he never visited Kekua in the hospital. He said it "never really crossed my mind. I don't know. I was in school."
Te'o explained the relationship that he had with Kekua as one that featured "blocks and times and periods in which we would talk" but that it wasn't "a four-year relationship."
He said the last conversation that he had with Kekua was when called to console him after his grandmother had died.
"I was angry. I didn't want to be bothered," he said. "So Lennay was just trying to be there for me. I just, I just -- I just wanted my own space. We got in an argument. She was saying, 'You know, I'm trying to be here for you.' I didn't want to be bothered. I wanted to be left alone. I just wanted to be by myself.

"Last thing she told me was 'Just know I love you.' "
Te'o said later that day, he was told Kekua died.
As for Ronaiah Tuiasosopo, Te'o told Schaap that Tuiasosopo called him on Wednesday to apologize to Te'o for executing the Kekua hoax. Te'o admitted to having met Tuiasosopo for the first time following Notre Dame's win against USC on Nov. 24.
In spite of the cruel nature of the prank, Te'o said he doesn't wish any ill will on Tuiasosopo.
"I hope he learns," Te'o said. "I hope he understands what he's done. I don't wish an ill thing to somebody. I just hope he learns. I think embarrassment is big enough."
For more college football news, rumors and analysis, follow @EyeOnCFB on Twitter, subscribe to our RSS Feed, college football newsletter, and get the Eye On College Football Podcast from iTunes. You can follow Tom Fornelli on Twitter here: @TomFornelli.
Saban isn't going to win Alabama's special election, but the Crimson Tide coach got some l...

The Tigers are going worldwide for their next punter

Led by Heisman Trophy winner Baker Mayfield, the Big 12 finished with seven first-team sel...
Schiano would have made $4.4 million in Year 1 with annual raises as part of a six-year de...

Dykes spent this season as an offensive analyst at TCU

The 'Wyoming Wild Man' notched six tackles for loss as a junior in 2017