Manziel leaves game, then returns after apparent shoulder injury
Johnny Manziel left the game for a series after injuring his right arm and shoulder.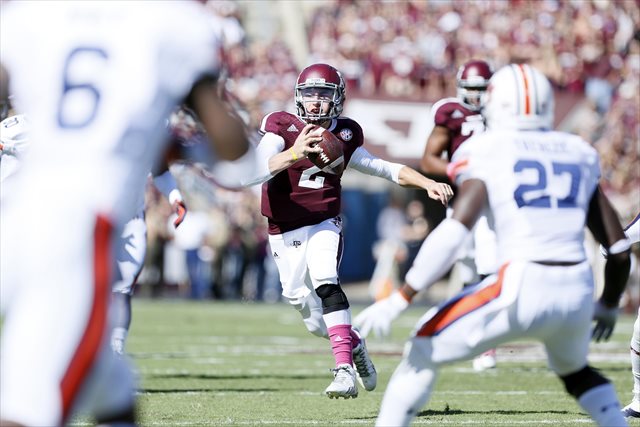 Johnny Manziel suffered his second injury scare in two weeks, and this one forced the Heisman winner to miss snaps -- snaps that might have cost his team its second loss of the season.
With Texas A&M leading Auburn 31-24 in the fourth quarter, Manziel was tackled at the Auburn 2 and landed hard on his right shoulder. He grabbed as the shoulder as he got up, attempted to leave the field, and was forced to lie down for medical treatment. 
While backup Matt Joeckel threw incomplete on third down and led an ineffective three-and-out on A&M's next series, Manziel received more treatment on the bench and attempted to throw. When he could not, he left to what CBS's Tracy Wolfson described as a special training area under the stadium.
He returned to the field and went back into the game to start the next drive ... a drive that went 75 yards as Manziel completed 7 passes on 7 attempts and rushed for a 1-yard touchdown to restore the Aggies' lead.
It proved short-lived as Auburn drove 75 yards for what would prove to be the game-winning touchdown. Manziel led the Aggies to Auburn's 18, but two sacks -- including the clincher by Dee Ford on 4th-and-13 -- gave Auburn the 45-41 victory.
For the game, Manziel finished 28-of-48 for 454 yards, 4 touchdowns, and 2 interceptions, with 48 yards and a touchdown rushing.
A corruption scandal involving assistant coaches and a shoe company is only going to get w...

Our computer model simulated every Week 5 college football game 10,000 times with surprising...

Conferences have been out to the West Coast to speak with Google, Amazon, Facebook and oth...
Rimington takes of the athletic department after Shawn Eichorst was fired

The Penn State running back was unstoppable in a win over Iowa

The Bottom 25 ranks the 25 worst teams in college football every week