Manziel makes A&M's final salvo of 2012 a mission statement for 2013
"We talked before this game, this is the last game of this year and first game of next year," said first-year coach Kevin Sumlin. "It sets the bar."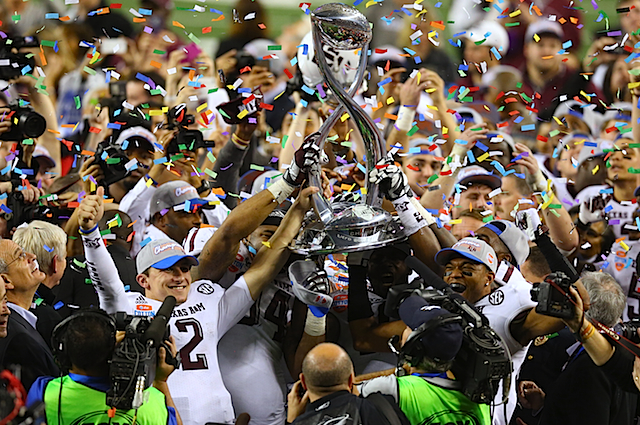 Texas A&M wrapped up its first 11-win season since 1998 in resounding fashion. (US Presswire)
ARLINGTON, Texas – There was no record in 2012 that Texas A&M's offense and its unlikely superstar, Johnny Manziel, couldn't break. In their first game of new year, the Aggies served notice to anyone who suspected a hangover that there will be no slowing down in 2013, and no limit to the expectations over the next eight months.
In his first game with the title of Heisman Trophy winner, Manziel set a Cotton Bowl record for total offense, passing for 287 yards, rushing for 229 more and accounting for four touchdowns in a resounding, 41-13 rout at the expense of the Aggies' former Big 12 foil. As a team, A&M piled up 600-plus yards for the seventh time this season, torching Oklahoma for touchdown drives covering 75, 48, 91, 89, 71 and 73 yards in just ten offensive possessions. None of them took more than eight plays or three minutes off the clock.
"[Manziel] was what you've seen on tape all year," said Oklahoma coach Bob Stoops after the loss, his team's third in three attempts this season against teams ranked in the current Associated Press poll. "Then you could see how with a month of preparation, they're adding wrinkles with the option and different plays with him, so that you play him in a one safety high, I'll say it the right way, you're out of luck. Then you play him with a two safety look, you're out of luck another way. It's difficult with what they're doing with him to handle it.
"What he does with his feet is just incredibly difficult to handle," Stoops said. "Even when guys are in position, he is so quick and strong running, he's just hard to get to."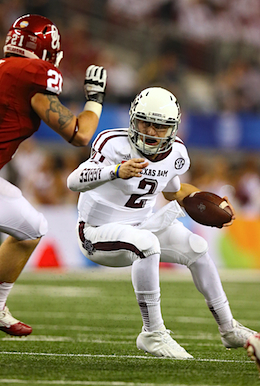 Manziel set a bowl record for rushing yards by a quarterback. (US Presswire)
After a month on the awards circuit, Manziel put the "Heisman hangover" to rest immediately. On the third play of the game, facing third-and-three, he escaped for 24 yards. Later on the same drive, facing third-and-nine, Manziel broke contain, tightroped down the sideline and skipped untouched into the end zone – literally skipped – from 23 yards. In the second quarter, he wheeled through the secondary on a winding, 44-yard gain that may have covered twice that distance in all. He went over 100 yards on the ground early in the second quarter, scored his second touchdown late in the quarter and proceeded to rack up another 100 yards rushing in the second half. If not for a would-be touchdown pass that caromed off the hands of receiver Malcome Kennedy in the end zone, resulting in an interception, he would have finished with the most efficient night of any opposing passer against Oklahoma this season.
Defensively, the Aggies bent early but didn't break, forcing the Sooners to settle for two field goals at the end of long, time-consuming drives on their first two chances with the ball. From there, they barely bent: On six second-half possessions, OU punted five times, turned it over on downs once and never threatened to score.
"There is too much talk about how you perform after the Heisman and about the layoff and all that. There wasn't anything holding us back. No rust, there was nothing," Manziel said. "To come in and go out against a Big 12 rival and do everything we wanted as a team, we couldn't feel any better."
The Aggies' record-breaking night is only the latest in a season full of superlatives, beginning with the victory itself, A&M's first January bowl win in twenty-five years. A year after winning six games in the regular season, they finish with six wins in a row, the longest winning streak at A&M since 1998. That was also the last year any Aggie team finished with as many as eleven wins. If they finish in the top ten when the final polls are released next week (they came into the night ranked ninth in the most recent Associated Press poll), it will be for the first time since 1994.
The offense as a whole obliterated records for yards and points in a season, and became the first SEC team ever to surpass 7,000 yards of total offense. Manziel set conference marks for yards in a game (twice) and a season. In each of those respects, the expectation is that this is only the beginning.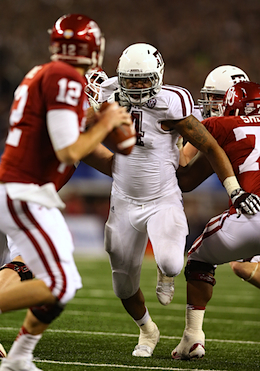 DE Damontre Moore, a key piece of A&M's run in 2012, is moving on to the NFL. (US Presswire)
"We talked before this game, this is the last game of this year and first game of next year," said first-year coach Kevin Sumlin. "For everybody [returning] next year, this is the first game of the new year. It sets the bar. It's a heck of a lot easier to get in that weight room after that confetti is down on you than to walk out of it like, 'What is going on' ?"
That also applies to the advance hype as well as the winter conditioning regime. Besides Manziel, the sun around which everything in the Aggie solar system now revolves, A&M will return their leading rusher (Ben Malena), leading receiver (Mike Evans) and their most dynamic all-purpose threat, true freshman Trey Williams, who added to his stellar debut on Friday night with a 30-yard touchdown run in the third quarter.
If junior linemen Luke Joeckel and Jake Matthews manage to resist the lure of the NFL Draft – both are projected as certain first-rounders in April, possibly even the first two offensive tackles off the board – they'll return four of five starters from what was already one of the best fronts in college football. If either one of the towering bookends passes on the next level, A&M will be regarded as a legitimate threat to Alabama's stranglehold atop of the SEC West. They've beaten the Tide head-to-head. The next step is to surpass them in the standings.
With expectations, of course, come an entirely new set of challenges. After taking defenses by surprise this year (even most A&M watchers had him pegged as a backup coming out spring practice), how will Manziel respond to having a target on his back over an entire season? How much will he miss his offensive coordinator, Kliff Kingsbury, already on the job as the new head coach at Texas Tech? How will he react when things go awry against one of the league's blue-chip defenses, as they did earlier this year in losses to Florida and LSU, and headlines are ready and willing to trumpet his frustration? If one or both of his top-shelf tackles leave, how adept will be at reading and reacting with less time in the pocket? If he has to deal with an injury? How heavily will he be able to lean on a defense that's losing six starters, including NFL-bound All-American Damontre Moore? If the season is billed as a "championship or bust" campaign, what is the mood if it's bust?
Once the glow of the final triumph of 2012 begins to fade into visions of grandeur in 2013, A&M fans and pundits alike will have months to chew on each of those questions in minute detail, until they've congealed into a kind of meta-narrative of their own by the time the season rolls around to provide a few definitive answers. If tonight proves to be as much preview as finale, though, there is no more doubt about the Aggies' staying power, nor its young star's.
Elsewhere, the top 12 remains the same in this week's college football rankings

Lane Kiffin turned around FAU remarkably fast and has the Owls in the C-USA title game

NCAA football scoreboard, highlights and updates from the biggest Week 12 games
The junior injured his finger diving for the pylon late in the first quarter of the loss to...

Projecting the changes in the new AP Top 25 poll college football rankings after Week 12

There's only one true Turnover Chain in college football, and it belongs to The U