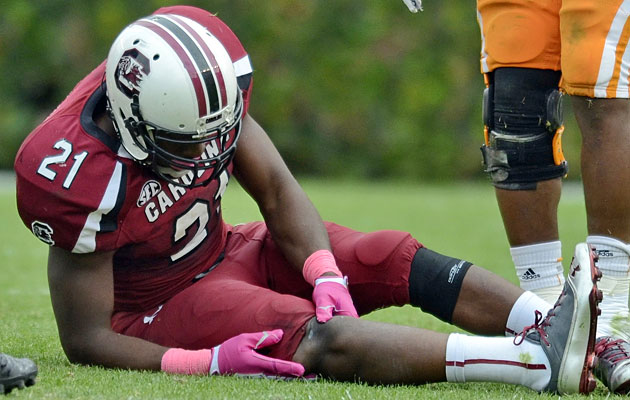 Lattimore examines the damage on the field immediately after his injury vs. Tennessee. (AP)
South Carolina All-American Marcus Lattimore suffered a season-ending injury for the second straight year when his a knee was injured against Tennessee.
With his Gamecocks up 21-14 and 4:45 remaining in the second quarter, Lattimore carried off left tackle and was met by Volunteer defenders Herman Lathers and Eric Gordon. Gordon's helmet appeared to make direct contact with Lattimore's right knee, which buckled in stomach-turning fashion.
The school announced after No. 17 South Carolina's 38-35 win that Lattimore was out indefinitely.
Lattimore missed the final six games of last season after tearing ligaments in his leftt knee against Mississippi State. He needed surgery and about six months of rehab before he was cleared to return to practice.
Video of the play, with the caution that you may not want to watch it:
Lattimore lay on the ground in obvious distress before being carted off the field. In a touching gesture, players from both sidelines emptied onto the field to wish the junior the best as he departed the field.
Lattimore was taken off the field on a cart and went to the hospital for further evaluation. Gamecocks coach Steve Spurrier didn't give details of the injury, only that it was every bit as devastating as the one to Lattimore's left knee last fall at Mississippi State. Lattimore had surgery to repair ligaments and cartilage, then needed six months of rehabilitation and recovery before he was cleared to return to action.

From local WATE sports anchor Fallon Smith, here's a photo of teams wishing Lattimore luck:
Lattimore had been enjoying one of his best games of the season, having rushed for 65 yards and a touchdown on 11 carries. He entered the contest with 597 rushing yards and 165 receiving yards, the SEC's second-highest total in yards-from-scrimmage.
 This injury looked as devastating as in 2011 and could keep Lattimore off the field the rest of this year, too.
After several minutes lying on the field, Tennessee's players came out to wish Lattimore well. South Carolina's entire team followed as the crowd at Williams-Brice Stadium chanted Lattimore's name.
 "I told him we loved him and to hang in there," Spurrier said.
 Spurrier sent Lattimore a game ball through the team chaplain.
 Lattimore's mother, Yolanda Smith, joined her son in the locker room.
 Lattimore started the season strongly, but he and the Gamecocks ran into problems the past two weeks at LSU and Florida. Lattimore rushed for 48 yards combined in those games because of a hip bruise.
 Coming into this game, Spurrier had said Lattimore was 100 percent and would carry the load for the Gamecocks. Lattimore rushed for 65 yards, including a breakaway 28-yard TD run, in the first half against Tennessee after coming in with 597 yards rushing and 10 touchdowns this season.
Photo by Richard Shiro, AP.