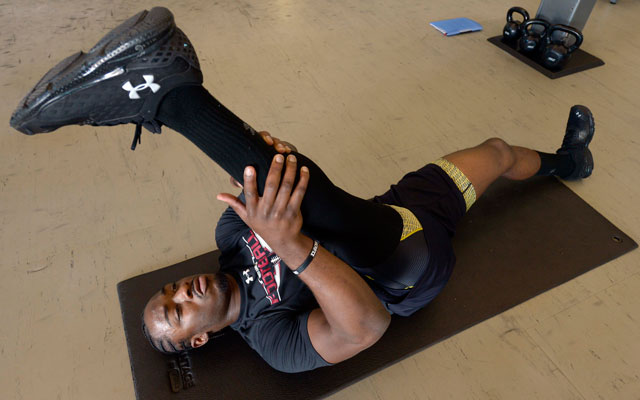 WASHINGTON, D.C. -- Former South Carolina running back Marcus Lattimore, who suffered major injuries that derailed his promising career, questioned the quality of some strength and conditioning coaches in college football.
Speaking Tuesday as a panelist at the annual Knight Commission on Intercollegiate Athletics meeting, Lattimore said some strength and conditioning staff members get hired with very little experience simply because they know the head coach. That's dangerous because players spend about 260 days a year with these staff members, more than any other person on campus, Lattimore said.
"Some are brilliant," Lattimore said in an interview after his panel. "The ones I had in college were pretty good, but there were some on staff that, embarrassingly enough, I knew more than. I wouldn't say the head guy, but he has a staff of about five or six guys who I knew more about correct technique, running and lifting weights. At other universities, players expressed the same concerns, which I guess was shocking to me because these are the guys you're entrusting to get them faster, get them stronger. It was definitely a concern I wanted to express."
Lattimore said nine out of 15 former college football players he knows from different universities sustained injuries in summer workouts. Six of the injuries occurred in the weight room and three came on the field during summer conditioning, he said.
"I was surprised because that statistic should not be high if you know the science behind the body and you're doing the correct things in the weight room and on the field," Lattimore said. "The strength coach and his staff have to know the science behind the body just like an athletic trainer does."
Lattimore's informal figure of summer conditioning injuries is "absolutely a typical number," said former Florida State All-American safety Myron Rolle, a Knight Commission member. "I think it's a combination of players pushing themselves too far because they want to compete. They see the NFL right in front of their face. And I also think sometimes the strength staff -- the head guy or girl is very experienced, but they can't oversee every single person. So their additional staffers need to be better vetted."
Lattimore played at South Carolina from 2010-12, and Rolle was at Florida State from 2006-08. Last year, the NCAA began requiring that Division I strength and conditioning coaches be certified by a nationally accredited certification body. The NCAA defines an accrediting body as one that is accredited by the National Commission for Certifying Agencies, and requires an undergraduate college degree, continuing education, and first aid/CPR certification. The NCAA cited the National Strength and Conditioning Association and Collegiate Strength and Conditioning Coaches Association as accredited organizations, but schools can select their own accrediting agency.
For a period of time, Lattimore was arguably the best running back in college football, running for 1,200 yards and 17 touchdowns as a freshman in 2010. He tore the MCL and ACL in his knee in 2011 and after rehabbing, dislocated his knee and tore four ligaments in 2012. Lattimore briefly played for the San Francisco 49ers before retiring in 2014.
"I rarely reminisce and ask why because I have a great life and a beautiful family," Lattimore told the Knight Commission. "It does force me to ask the question for my colleagues and I: Could some injuries be prevented if there was someone else in charge and decides who's part of the strength and conditioning staff?"
Lattimore also suggested that if universities send players to sports psychologists, they should be independent from the team. Lattimore said he felt uncomfortable during his first rehab process meeting with a sports psychologist, who was part of the Gamecocks' program.
"I did not feel comfortable going to see him because I knew the guys on the team would see me going to it," Lattimore said. "I wouldn't say embarrassing, but uncomfortable. You know word can get back. If it was maybe an independent contractor in a neighboring city where I could go to myself, I definitely would have felt a little bit more comfortable. … If the head coach asks (the team psychologist) a question about me, he's going to tell the head coach. That's his job. I just did not feel comfortable with that process."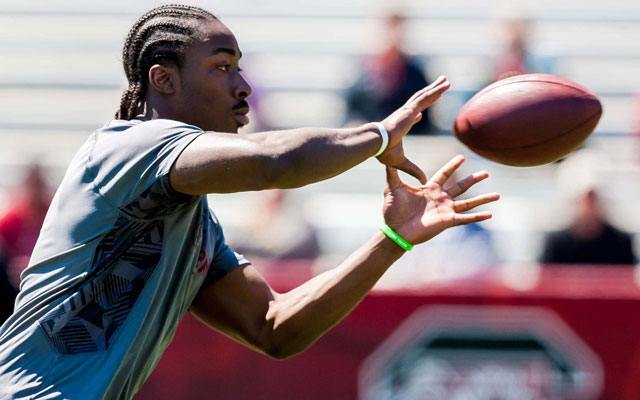 Lattimore urged college athletes to learn about their bodies and take control of their rehab process. He said he was "naive" during his first rehab at South Carolina and followed whatever protocol the athletic director and doctor suggested. When the second injury came, Lattimore researched where to rehab himself and worked with prominent sports surgeon James Andrews and his team in Pensacola, Fla., an experience that Lattimore said left him in a "good place" mentally for his shot at the NFL.
"I'm glad Marcus expanded on that," Rolle said. "If he didn't have those two issues, I'm not sure he would have been on top of his care the second time. One, you're dealing with 18-year-olds and they don't know. And two, when you submit yourself to that (college) program, the submission doesn't just stop with how many gassers do I run? It exists with medical therapy and medical treatment as well."
Lattimore graduated from South Carolina last week with a degree in public health. The Gamecocks recently tried to hire him on new football coach Will Muschamp's staff, but NCAA rules don't allow it. Lattimore runs football camps across South Carolina -- he didn't want to give up that part of his life -- and football camp organizers aren't permitted to be on college coaching staffs due to potential recruiting advantages.
Lattimore said there are days his knee is still painful but it feels good enough for workouts. If he ran for distance, he could run about two miles before the pain would kick in.
The injury caused Lattimore to fall from a consensus first-round pick to a fourth-round selection. That meant a loss of about $5 million in signing bonuses and guaranteed salary.
Lattimore said he received about 10 percent of his $1.85 future-earnings insurance policy he took out while in college to protect against a devastating injury. Because of Lattimore's injuries, his highest value ended up coming while he was in college, when NCAA rules prevented him from being paid.
"It's a hard topic to discuss because if we're going to pay student-athletes, there will be arguments that it should be for every sport," Lattimore said. "But it does make sense if your Heisman Trophy quarterback doesn't have a car or he doesn't have enough money and he's making you millions of dollars. It just doesn't add up logically (not allowing the player to be paid). It doesn't make sense."