Marcus Mariota gets 2014 Heisman campaign underway vs. Texas
The redshirt sophomore reminded voters who may have forgotten about him how good he can be vs. Texas.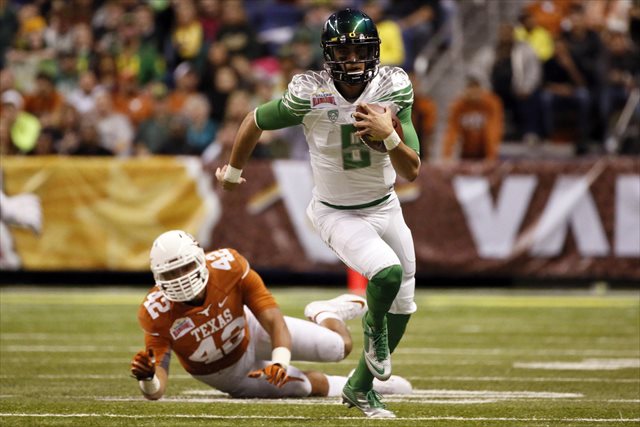 There were reasons -- not necessarily good reasons, but reasons -- that Marcus Mariota didn't earn an invite to New York as a 2013 Heisman finalist.
He was OK at best in the Ducks' season-defining loss at Stanford. He was worse than that in the blowout loss to Arizona that knocked Oregon out of the Pac-12 and national title races for good. And in general, Mariota's nagging left leg injuries kept him from being the same electrifying force late in the season he was earlier in the year -- and fair or not, how you look then is more important than how you looked before.
But Monday night in San Antonio, Mariota made those reasons look silly ... and made an argument that no reasons are going to be convincing to keep him home come December of 2014. Looking more healthy than he had since before the Stanford game, Mariota -- still ninth in the FBS in total offense, third in yards-per-play, and sixth in passing efficiency entering the game -- was more-or-less unstoppable, slicing and dicing Texas to the tune of 253 yards passing, 133 yards rushing, one touchdown and no turnovers. Mariota averaged 8.9 yards per rushing attempt, 9.7 yards per passing attempt, and 2.7 jaws dropped per-play.
Oh, right. This guy can do this.
Or at least, he can do "this" -- throw lasers, dash through seams, and generally look like a player capable of doing Jordan Lynch things to a league much stronger than Jordan Lynch's (no offense to the MAC star) -- when he's healthy. As the second half progressed, Mariota noticeably slowed down, pulling up noticeably on one late third-quarter play and restricting himself to handoffs and pocket throws after that.
"I'm just out of shape," he said in his postgame interview.
By that point, though, the message was sent. Assuming Mariota sticks to his announcement of a 2014 return, he will return as one of the best players in college football, and assuming his leg and the rest of his health cooperates, he stands an excellent chance of earning that trip to New York that eluded him in 2013.
Oh, and more importantly? Oregon stands an excellent chance of finding the trips -- to the Pac-12 title game, and a spot in the national title game -- that eluded them in 2013, too. 
The movie will zero in on former Penn State coach Joe Paterno during the Jerry Sandusky sc...

Bidding for Salaam's trophy, which the auction house says was obtained legally, ends Satur...

Locksley has been the offensive coordinator at Illinois and Maryland during his coaching c...
Many NFL-eligible juniors ignore advice provided by the league and risk going undrafted each...

Snyder died in Manhattan, Kansas, on Wednesday

Locksley joined Alabama's staff in 2016