Mariota helps legitimize Oregon glitz with record Heisman win
Quarterback Marcus Mariota validated all those Oregon uniform combinations and facilities with the result of hard work from the field. The redshirt junior won the 80th Heisman Saturday night.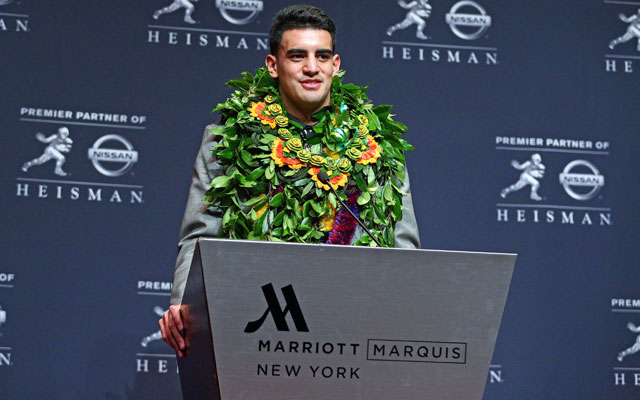 NEW YORK -- Oregon still isn't there yet. Not after Rich Brooks lifted the program out of the gutter. Not after Mike Bellotti and 12 bowls in 14 years. Not after a BCS bowl breakthrough in 2001. Not after Chip Kelly and four more BCS bowls, all in a row. Not after a second national championship shot in five years.
Not even after the first Heisman in the program's history.
But there is that too now, following quarterback Marcus Mariota's record win here Saturday night. The Stiff Arm was further validation that a program rich with Death Star facilities and Nike money is new to this sort of thing.
Just ask its caretakers.
"Somebody asked me yesterday what it's like to be with the bluebloods," Oregon AD Rob Mullens said. "We're very proud to be competing with the bluebloods.
"Someday maybe we'll be a blueblood."
That isn't so much a complaint as an admission. Uniform combinations don't win championships. Look at that College Football Playoff bracket. Florida State, Alabama and Ohio State have a combined 18 national championships. Oregon would be the first, first-time national title winner since Florida in 1996.
Oregon, fully arrived? Hardly.
"We want to be a lot more blue collar than blueblood," coach Mark Helfrich said.
But a Heisman helps in the validation department. The school has had two finalists -- Joey Harrington and LaMichael James -- finish no higher than third. This time, the Heisman voters fell in like with a soft-spoken Hawaiian who spoke louder with his arm and legs.
When the accolades starting coming, Oregon's quarterback didn't play along. He just … played. Just like when Helfrich recruited him out of St. Louis High in Hawaii, considering Mariota too good to be true.
"It was almost mythical," Oregon's second-year coach said. "It was a joke. It's like a movie. The headmaster said this, the teacher said this. You're thinking … there's got to be something [bad] here. He's a felon or something."
No, he was just a guy. A 21-year old guy who won the school's first Heisman Saturday night. A native son who became the state of Hawaii's first Heisman winner. An armed assassin who lifted the Ducks to the first College Football Playoff.
Mariota -- still innocent to how his life is going to change -- handled the last ball Babe Ruth ever signed during a tour of Camden Yards during a visit to Baltimore for the Johnny Unitas Golden Arm ceremony. He even took his first train trip ever to get here, traveling from that stop. 
"We went through like four different states," Mariota said the kid raised on a 600 square-mile island. "That's always cool."
In his acceptance speech, Mariota's voice cracked. This was about more than himself or Oregon. This was for Hawaii and it spirit of Aloha and Ohana (family).
"In Hawaii, if one person is successful, the entire state is successful," he explained. "So many times in Hawaii we're told we don't have some of the same opportunities as kids on the mainland do."
Helfrich on recruiting Hawaii: "It's a coin flip between guys who are tried and true want to stay on the island and then there's guys [with] island fever who want to leave. But they absolutely 100 percent never forget their culture, their family."
Four years ago, Helfrich went to Honolulu to scout Mariota during the spring. He arrived just in time to see the high school team running gassers.
"He won every single one," the coach said. "That was part of the lore. [I was thinking], 'This guy can't throw or something.' and then they brought out the ball."
The rest was history made whole Saturday night. Mariota was named on a record 95 percent of the ballots. That leads to the question: Who didn't vote for him?
In the short term, sure, Oregon is elite. Helfrich is 23-3, among the winningest active coaches. He was elevated from offensive coordinator when Chip Kelly left for the Philadelphia Eagles. Kelly got his shot only when Mike Bellotti decided to call New Hampshire's offensive coordinator. Brooks hand-picked Bellotti -- now in the College Football Hall of Fame -- to succeed him in 1995.
But long before all those Air Jordans paid for the weight room, Oregon went 19 years with one winning season (1966-1984). During that span Alabama won three of its national championships.
Yes, Oregon is relatively new to the tradition-bound college football scene. But none of it really mattered until the there was the payoff on the field.
There have been three Pac-10/12 titles since 2009. This season marks the fourth 12-win season since 2010. The seventh season of at least 10 wins since 2008 have been overseen by three different coaches.
The Heisman, then, is the next step.
"You can't buy this award, and you can't buy performance," said Mullens who arrived from Kentucky in 2010. "You can invest in a lot of different ways but when the opportunity presents itself you still have deliver between the lines."
The low-key Mariota has been a silent assassin on the way to that next level after his redshirt junior season. Go back to last season, he has thrown at least two touchdowns in 17 of his last 18 games. The touchdown-to-interception ratio since the beginning of 2013: 69-6.
"All the facilities and all the stuff they give us, it won't mean much if we don't produce on the field," Mariota said.
Yes, Oregon has a ways to go. There are more championships to be won. More history to be made. Yes, even more Heismans to corral. 
"We're kind of new to the scene," Mullens said.  "A lot of those of programs have relied on tradition. We've relied on innovation."
Phil Knight doesn't get all the credit. The facilities can't pick up first downs. The uniforms themselves can't run sub-4.3 40s. Sooner or later, Oregon had to win, big, to make it all legit.
Oregon isn't there yet but Marcus Mariota is a heck of a milestone in an ongoing journey.
CBS Sports HQ Daily Newsletter
Get the best highlights and stories - yeah, just the good stuff handpicked by our team to start your day.
Please check the opt-in box to acknowledge that you would like to subscribe.
Thanks for signing up!
Keep an eye on your inbox for the latest sports news.
Sorry!
There was an error processing your subscription.
The former Alabama quarterback was the victim of 'brutal' hazing while in college that left...

Bramblett and his wife, Paula, died Saturday from injuries suffered in a car accident

Bramblett was the primary radio voice of Auburn athletics
Briles was dismissed by Baylor in 2016 amid a sexual assault scandal

D'Wan Mathis had been experiencing severe headaches brought on by sinus pain

Braden Galloway and Zach Giella missed the College Football Playoff for failing a drug tes...