Mark Emmert and Jim Delany on NCAA witness list for trial
NCAA produces its anticipated live witness list for the Ed O'Bannon trial, which starts next week.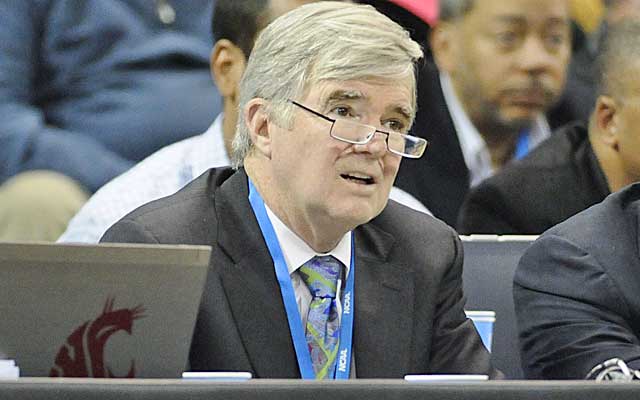 More: NCAA critics offer pay-for-play options | Latest news
NCAA president Mark Emmert and Big Ten commissioner Jim Delany are among the people on the NCAA's revised live witness list for the Ed O'Bannon trial that starts next week, according to a court filing Wednesday.
The O'Bannon plaintiffs wanted to call Emmert during their arguments that lead off the case. But U.S. District Judge Claudia Wilken ruled last week that each live witness will testify only once and that Emmert will be available to the plaintiffs during cross-examination of the NCAA's defense.
"We believe that he would be better testifying in the defense because we want him to be able to respond to things that happen in the plaintiffs' case," NCAA attorney Glenn Pomerantz told Wilken at a pretrial hearing last week. "He's our witness. ... We would agree that even if I don't question Dr. Emmert about a certain subject matter when he testifies in our case, that they are free to go beyond the subject matter because that's their examination in the case."
Replied Wilken: "That goes without saying."
Wilken told the NCAA that its witness list needs to err on the side of caution. "You will be taking your chances if you say we are not going to call somebody because I'll hold you to that and you won't be able to call them," Wilken said.
At last week's hearing, Wilken also cautioned the plaintiffs against withholding their witnesses for rebuttal after NCAA witnesses testify. Rebuttal witnesses shouldn't be for issues the plaintiffs could have anticipated, Wilken said. "I am just worried that you are holding back some witnesses, and they (NCAA lawyers) are going to go crazy when they hear about it," she said.
The NCAA's entire 20-person list of anticipated live witnesses:
* Britton Banowsky, Conference USA commissioner
* David Brandon, Michigan athletic director
* Mary Sue Coleman, Michigan president
* Jim Delany, Big Ten commissioner
* Michael Dennis, market research expert
* Diane Dickman, NCAA managing director of academic and membership affairs
* Mark Emmert, NCAA president
* James Heckman, economic expert
* Mark Hollis, Michigan State athletic director
* Jonathan LeCrone, Horizon League commissioner
* Kevin Lennon, NCAA vice president of academic and membership affairs
* Mark Lewis, NCAA executive vice president for championships and alliances
* Bernard Muir, Stanford athletic director
* Harris Pastides, South Carolina president
* Todd Petr, NCAA managing director of research
* Neal Pilson, sports TV consultant and former CBS Sports president
* Christine Plonsky, Texas women's athletic director
* Daniel Rubinfield, economic expert
* Greg Sankey, SEC executive associate commissioner
* Lauren Stiroh, economic expert
The movie will zero in on former Penn State coach Joe Paterno during the Jerry Sandusky sc...

Bidding for Salaam's trophy, which the auction house says was obtained legally, ends Satur...

Locksley has been the offensive coordinator at Illinois and Maryland during his coaching c...
Many NFL-eligible juniors ignore advice provided by the league and risk going undrafted each...

Snyder died in Manhattan, Kansas, on Wednesday

Locksley joined Alabama's staff in 2016