Mark Mangino named Iowa State offensive coordinator
One of the Big 12's most notable coaches of the previous decade is returning to the conference as Iowa State's new play-caller.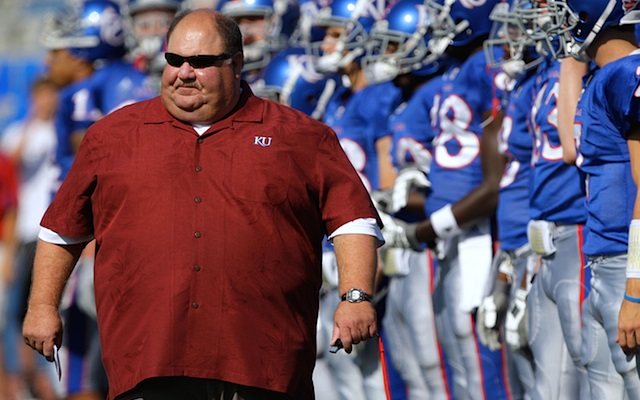 He's back.
After four seasons away from the Big 12, former Kansas head coach Mark Mangino has returned to the league his offenses helped define in the Aughts, accepting a job as Iowa State offensive coordinator under Paul Rhoads.
"I am beyond thrilled to welcome Coach Mangino to the Cyclone football family," Rhoads said in a statement announcing Mangino's hire. "He has an imaginative offensive mind, an ability to play to his players' strengths, a track record of winning and a tremendous familiarity with the Big 12 Conference. In terms of calling plays and executing a game plan, he is top shelf. He has learned from a 'Who's Who' of college coaches, effectively led his own championship program and is respected throughout the coaching ranks."
It's hard to argue with Rhoads' description, given Mangino's results both as Oklahoma offensive coordinator -- where he called plays for the explosive 2000 national champions and won the Broyles Award -- and the Jayhawks' head coach. His Kansas teams consistently ranked among the top 25 in the FBS in total offense, with the 2007 Jayhawks ranking No. 8 on their way to a stunning 11-0 start, school-record No. 2 ranking, and Orange Bowl victory.
But Mangino also arrives with more than a little baggage, given his 2009 resignation in Lawrence amid accusations of verbal abuse against his players. Mangino spent three years out of coaching before serving as FCS Youngstown State's tight ends coach in 2013.
Rhoads' reputation as one of the biggest players' coaches in college football will no doubt make Mangino's hire more palatable, though, and there's no arguing that Mangino both knows the conference and his X's-and-O's inside and out.
After three bowls in four seasons under Rhoads, the Cyclones' 3-9 2013 season -- one fueled by a 109th-place finish in FBS yards per-play -- signaled the need for a shot in the arm. It's tough to think Mangino can't offer exactly that if he can remain on good terms with the players under his command.
The Bottom 25 ranks the 25 worst teams in college football every week

LSU at Florida has been picked as the SEC on CBS Game of the Week

The Michigan coach had quite a few things to say on Monday after their visit to West Lafay...
Injuries are ravaging an LSU team that is searching for an identity

Jones started answering an injury question and then went off about 'fake news'

The full ranking of all 130 college football teams includes TCU up and a major drop for Florida...