Mark Stoops hired as Kentucky head coach
Florida State defensive coordinator Mark Stoops becomes the third Stoops brother to take the helm at a BCS school.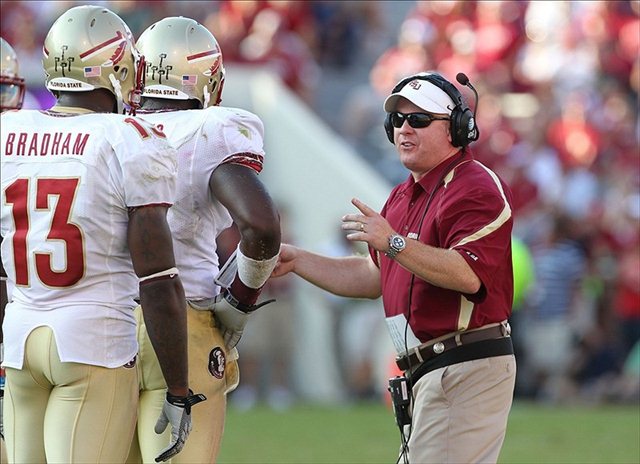 Mark Stoops is on his way to Lexington as Kentucky's new head coach. (US Presswire)
Kentucky football has its man -- a man with a name that even the most casual of college football fans will recognize.
As first reported by Kentucky Sports Radio and confirmed by a source speaking to CBSSports.com's Bruce Feldman, Florida State defensive coordinator Mark Stoops has accepted an offer to become the Wildcats' new head coach. He replaces Joker Phillips, fired Nov. 4 after a 1-9 start.  
Kentucky made the hire official in a statement issued Tuesday afternoon on its website.
"Mark's passion has been evident in the way he coaches and in his love for the game of football," said Kentucky athletic director Mitch Barnhart. "That passion carried over into our process and his desire to wear the Blue and White. 
"Our desire to get better defensively and continue to expand our recruiting base helped guide us to Mark.  He comes from a coaching family and has been in big games and big atmospheres throughout his career.  That has prepared him for this opportunity to become head coach at Kentucky."
Stoops, 45, is now the third Stoops brother to take over a BCS conference program, following in the footsteps of both older brother Bob Stoops, Oklahoma's head coach, and former Arizona head coach Mike Stoops. Mark spent six seasons on Mike's staff in Tucson before joining Jimbo Fisher's staff at Florida State as defensive coordinator in 2010.
"I am thrilled to be named the head football coach at the University of Kentucky," Stoops said in the statement. "My family and I are excited and looking forward to becoming a part of the Big Blue Nation.

"First of all, I want to thank Jimbo Fisher and Florida State University for allowing me to be the defensive coordinator at Florida State. It has been three of the greatest years of my life. I am grateful for the support of all Seminole fans as we focus on the ACC Championship."
According to the Orlando Sentinel, Stoops is on campus at Florida State and expected to be at practice Tuesday afternoon. Seminole fans might have actually preferred Stoops to wait until that championship matchup with Georgia Tech (and its option offense) was behind the Seminoles, but FSU coach Jimbo Fisher was enthusiastic.
"I am extremely happy for Mark and his family," Fisher said.  "He has done a tremendous job for us here as a defensive coordinator and he is a vital part of our staff. I always say you want the people who work for you to advance and reach their goals and aspirations and I couldn't be happier. He has done a super job for us and this opportunity is well deserved. He is very well prepared and I think he will do one heck of a job for the University of Kentucky." 
Stoops' success in Tallahassee will see him welcomed as a highly positive hire in defense-starved Lexington. Taking over a unit ranked a mind-blowing 108th in total defense in 2009, Stoops oversaw an improvement to 42nd in 2010, fourth in 2011 and second in 2012.
Under Phillips, meanwhile, the Wildcat defense dropped from sixth in the SEC in total defense in 2010 to 10th in 2011 to 11th this season. Likewise, Kentucky's record dipped from 6-7 to 5-7 to this year's 2-10 collapse.
Stoops played college football for Hayden Fry at Iowa from 1986 to 1988 before embarking on a coaching career that saw stops at South Florida, Wyoming and Miami before his move alongside his brother to Arizona.
Aaron was reportedly shot while trying to protect his girlfriend when a fight broke out at...

An assistant-by-assistant look at changes Saban made to the Tide's staff ahead of 2018

Find out when Nick Saban, Kirby Smart and the rest of the coaches will speak ahead of the...
It wasn't only the massive $75 million contract that got Fisher to depart for College Stat...

Weinke was injured when Florida State lost to Tennessee in the 1999 BCS title game

It was one of the busiest offseasons for the assistant coaching ranks