Marqise Lee, Jadeveon Clowney headline AFCA All-America Team
The American Football Coaches Association announced its 2012 FBS Coaches' All-America Team on Wednesday.
• 1 min read
Marqise Lee headlines what will likely be one of many All-America team appearances.(US Presswire)
The American Football Coaches Association announced its 2012 All-America Team on Wednesday, leading the charge in what will be a widespread practice of congratulating the best performers of the 2012 college football season.

The AFCA All-America Team is notable not only for its release before the completion of the regular season but also for a few good head-scratchers for fans. There are many picks -- like USC wide receiver Marqise Lee or South Carolina defensive end Jadeveon Clowney -- who will make every single All-America team you see. But I'm not entirely sure that Clemson's Tajh Boyd will be a first-team selection at quarterback for the rest of the organizations and publications that determine such honors.

That's not to take anything away from Boyd's fantastic season. After all, he was named the ACC Player of the Year on Wednesday. But with two likely Heisman finalists (Texas A&M's Johnny Manziel and Kansas State's Collin Klein) also in the running, the pick will raise some eyebrows.

It is not my job to tell the coaches how to vote, but it is your job to argue about who got snubbed. You can do that in the comment section below or come complain on Twitter.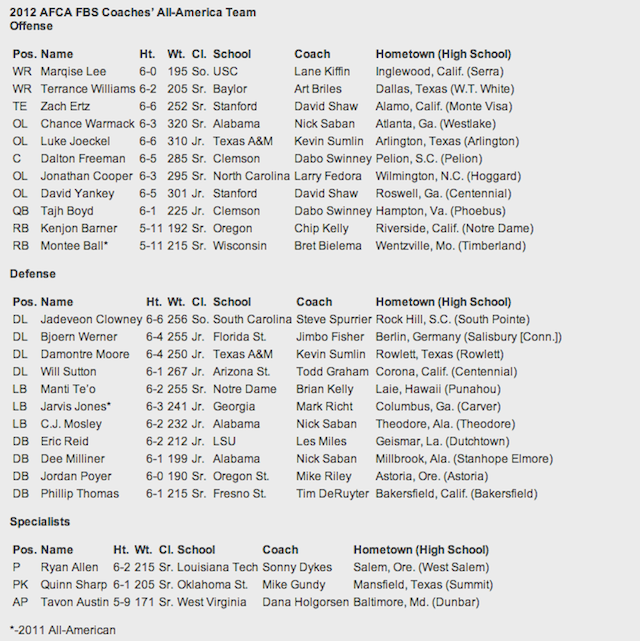 Keep up with the latest college football news from around the country. From the opening kick of the year all the way through the offseason, CBSSports.com has you covered with this daily newsletter. View a preview.

Get CBSSports.com College Football updates on Facebook
A concert is a nice way to break up preseason camp

Mills was arguably Georgia Tech's most important player coming into the season

Hugh Freeze's phone records reportedly show another troubling pattern for Ole Miss
They aren't necessarily great teams, but they're teams I'm really interested in following this...

The Irish will wear them on Nov. 18 against Navy

The fourth-year coach of the Nittany Lions led the program to the 2016 Big Ten Championshi...