Marshall's path from Georgia castoff to possible title has familiar ring
Kicked off his first SEC team. Stars at the juco level before leading Auburn to the title game. Sound familiar? Nick Marshall is poised to pull off a Cam Newton special for the Tigers.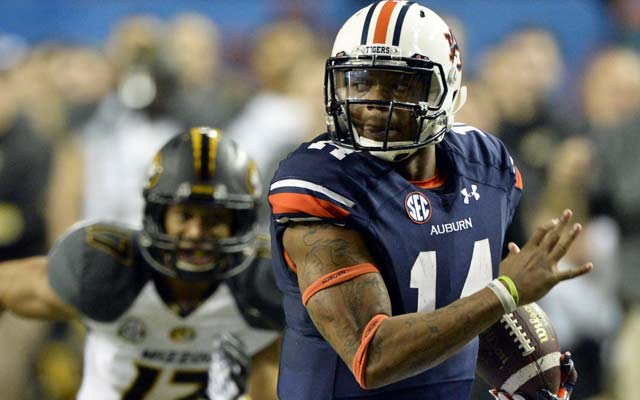 NEWPORT BEACH, Calif. -- There's a lot of things you can do in a van traveling 14 hours cross-country. Nick Marshall slept.
"Five or six times," Auburn's quarterback said recalling the ride that changed his football and personal life. "Every time I'd wake up I'd ask, 'Are we there yet?'
Jeff Tatum would tell him, no. And the kid who would become the firestarter for the Tigers' national championship run would doze off oblivious to what was happening ... to himself, to a juco in the middle of nowhere, and eventually to Auburn.
"Me going and getting him in the middle of the night," says Tatum, the 52-year old former Garden City Community College coach, "was like a kidnapping."
In January 2012 Tatum crossed several state lines in one of the school's Chevy Astro vans -- "A mom van," he called it -- for an intervention. If it helped Tatum's Broncbusters back in Kansas get Marshall for one season to win some games, that was fine too.
You know him now as Auburn's quarterback chasing a national championship, becoming a 2014 Heisman favorite. Back then, it was merely a fallen star and a juco coach in that Astro van.
There had been a previous relationship. Tatum, an Alabama native, had known Marshall's high school coach (Mark Ledford) at Wilcox County (Ga.) High School. Tatum had recruited Marshall out of high school for juco "just in case he didn't qualify."
Following a 2011 season at Georgia where he played cornerback, Marshall was thrown off the team for what was reported to be a theft of teammates' money.
The details don't matter. In fact, Mark Richt still speaks highly, but the kid had to get out of Georgia, way the hell out, to sort out his life.
So he took Tatum up on his offer to play juco ball for a year in Kansas. Talk about a getaway. The distance between Marshall's native Pineview, Ga. and Garden City is 1,300 miles.
"When I got him in the van he was very, very embarrassed about what had happened," Tatum said. "I did most of the talking.
"Now this is the plan ..."
We're going to get you back to the SEC, Tatum told his new quarterback. You have to clear your name, concentrate on academics. You can't get in any trouble. You have to be better than everybody else.
"You really can't get in any trouble out there in Garden City," Marshall admitted to reporters here on Thursday. "There's nowhere really to party."
"Five miles outside of town," said Matt Miller, Marshall's offensive coordinator at Garden City, "you're fighting tumbleweeds."
At some point, Marshall woke up both figuratively and literally.
The story, the quarterback, Auburn, its offense and its perceived destiny almost have taken over the season. Florida State is No. 1, the only undefeated left, and it seems to be a secondary narrative in this final BCS title game.
We're all wondering how a team without a quarterback in 2012 (to speak of) has one of the nation's most difficult to contain in 2013. It has to do two quick studies -- Gus Malzahn a high school veteran who spent his career adjusting his offense to his personnel -- and Marshall.
The kid grew up in a hurry after one prosperous season in Garden City. Marshall now is in charge of a unit that has averaged the most rushing yards by an FBS school in 13 years (337.5).
Malzahn gets credit because he sees things other coaches don't. Most of his career has still been spent playing with what the Good Lord laid on his doorstep as a high school coach.
"When you're going out there with a 12-year old and you're teaching him how to get in a stance, teaching him how to block, teaching how to tackle," FSU defensive coordinator Jeremy Pruitt said, "it's kind of like when you have a child. You teach them how to walk. You teach them how to ride a bike. They say their name for the first time."
Or in this case, oversee a tie for the biggest one-season turnaround (8 1/2 games) in college football history. The jump from 3-9 to 12-1 couldn't have happened without Marshall. Veteran football observers have spoken of how even they can't tell what Marshall does with the ball once it is snapped.
"The best description I've heard of their offense is, it's a shell game," said former Colorado and Northwestern coach Gary Barnett. "It's hide-the-pea."
Teammate Tre Mason speaks glowingly of Marshall's mastery of the zone read. The tailback will have the ball stuck in his gut by his quarterback, only to have it ripped out at the last second.
On instinct.
"If I know I can beat [the defensive end] with my legs, I pull it sometimes," Marshall said.
There's stunning video of the quarterback's meticulously carrying out of his fakes. On Auburn's first touchdown in this season's Iron Bowl, Alabama All-America linebacker C.J. Mosley bites on Marshall's fake to Tre Mason. 
Marshall runs untouched 44 yards.
***
 So how did the Georgia state high school record holder for touchdown passes (103) end up at Georgia as a defensive back?
"One of Nick's weaknesses is he wants to please everybody," said Tatum, now the coach at Mississippi Delta Community College. "He went to Georgia because he felt like that's what everybody wanted him to do."
The decision came despite Aaron Murray being on the premises. They told Marshall if he wanted to play QB at Georgia, he was going to have to redshirt. He didn't want to redshirt.
"He just wanted to go there and play," Tatum said. "He's not an ego type."
No, he's not that. Marshall ran a passing offense at Garden City. The same might have been said of Auburn this season until a decision was made after the season's only loss at LSU.
With a physical front line, a deep set of tailbacks and Marshall's deft ball-handling, Malzahn and staff decided this was going to be a punishing running team.
"It was like catching a rhythm," Mason said. "Once we started to catch our rhythm, it's hard to stop."
The Tigers upset Texas A&M with Marshall accounting for four touchdowns -- two running, two passing. They threw only seven times against Tennessee while running for 444.
Mason has run for 868 yards in the last five games. Missouri, a team that gave up only 11 rushing touchdowns all season, was torched for seven in the SEC title game.
For a portion of the season, Auburn runners led the SEC averaging 4.5 yards before being hit.
It became a running team whose biggest play from scrimmage was a pass. Munday Tatum, Jeff's 21-year daughter, was in the stands that day at Auburn and actually predicted the Prayer at Jordan-Hare.
Munday reminded her daddy that Marshall had completed a similar pass for Garden City the previous season against Co-Lin in the Mississippi Bowl.
"Dad," she said, "Don't worry. He's going to complete the pass."
One fourth-and-18 pass later she turned to her father and said, "I told you so."
"That kind of typifies Auburn's season," Jeff Tatum said. "They expect to win. To them it's not surprising. Something good is going to happen along the way. He has that presence. He makes everybody around him feel better."
***
Kansas State's Bill Snyder is only 2 1/2 hours down the road from Garden City. He wanted Marshall so badly Snyder was willing to hand him the keys to the offense in 2013, according to Matt Miller, now Garden City's head coach.
"Kansas State fans got on me about how I didn't try," harder to steer Marshall to Manhattan, Kan.  Miller played quarterback for Snyder in the 1990s.
"I only tried about 300 times."
At Auburn, there was a battle. In August, there was still a question who would start. That's when Marshall took his first reps. He hadn't been around in the spring.
"He was going to be like a Michael Vick kind of guy," Mason said, "but I never knew he was going to run like this."
Forget an unlikely trek from Astro van to Pasadena. It dawned on Marshall how fortune has smiled on him in another way. Like Cam Newton he left his first school after a legal dust-up. Like Cam Newton, he went to juco for a year to rehab himself and his game. Like Cam Newton, he changed SEC schools and became a star at Auburn.
"It's fun how that worked out," he said. "Both of us back to play in the national championship."
Lane Kiffin turned around FAU remarkably fast and has the Owls in the C-USA title game

NCAA football scoreboard, highlights and updates from the biggest Week 12 games

The junior injured his finger diving for the pylon late in the first quarter of the loss to...
Projecting the changes in the new AP Top 25 poll college football rankings after Week 12

There's only one true Turnover Chain in college football, and it belongs to The U

The 72-yard punt return was perfectly executed by the Trojans