Marshall's Rakeem Cato: Great Heisman hope for forgotten leagues
Rakeem Cato is the best college QB you haven't seen, a 190-pound TD machine. But can the Marshall big-play man win the Heisman? Or is it time for a new award for non-Power 5 schools?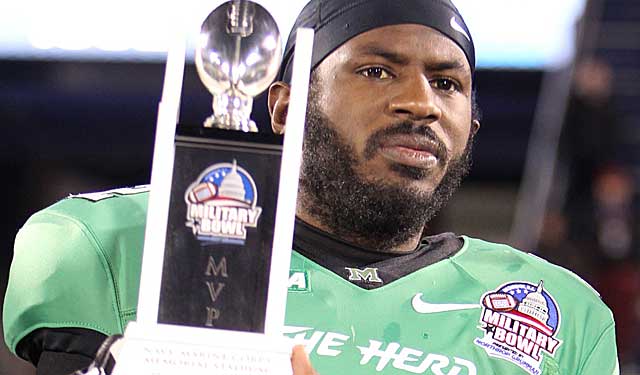 More college football: Jon Solomon | Dennis Dodd | Jeremy Fowler | Latest news
Rakeem Cato doesn't want help.
You come up through the blight of Liberty City in South Florida. You endure the death of your mother at age 13. Your dad has been in jail. You show up at Marshall 155 pounds sopping wet. You might deserve a break.
Cato doesn't want one, at least in the comparatively tiny world of football awards.
"I like the way it is now. Gives me a chance to compete at the highest level. It gives our players that much energy to go even harder," says the Thundering Herd's quarterback.
Cato is responding to a reshaped Heisman question. As in, should there be a separate category for his level of competition? The query is half insult, half reality. We're talking about a big-play inspiration in green who was 84 yards short of throwing for 4,000 yards in back-to-back seasons. No returning FBS quarterback has thrown more touchdown passes (76) since 2012.
This is a guy who can call Marshall greats Chad Pennington, Randy Moss and Byron Leftwich anytime for advice. This is a talent who carries the hopes and dreams of a community and program, a kid more modest than a full-length skirt on the average co-ed.
But the glass ceiling has turned to cement. A player from a non-BCS school hasn't won the Heisman since BYU's Ty Detmer in 1990. Conference USA -- Marshall's league -- Sun Belt, MAC, Mountain West and American have been financially, perceptually separated from the Power 5.
Why not make it official? Create a separate Heisman-like award to recognize the best player of those 55 schools below that Mendoza Line. Don't blame this messenger. The commissioners created the BCS/non-BCS label years ago. The fear is Cato, or someone like him, will be lost in the postseason award shuffle.
Since 1998, only two players from a non-BCS school have finished higher than fourth in Heisman voting (Hawaii's Colt Brennan in 2007 and Northern Illinois' Jordan Lynch in 2013 were third).
Cato doesn't want any of it. Heisman races have acted as early indicators of emerging programs. Oregon's Joey Harrington finished fourth in 2001. Boise State's Kellen Moore was fourth in 2010, Cam Newton's year.
This is supposed to be Marshall's year. A powerhouse offense and a favorable schedule make the Herd a favorite get to a New Year's Six bowl in the first year of the playoff era. The top-ranked team among the Group of Five make it to the Peach, Fiesta or Cotton bowls.
But the heck with separate categories. Cato's never wanted help, playing the position from the time he was six at Miami's Gwen Cherry Park. Cato didn't ask for a leg up when only schools recruiting out of Liberty City were Marshall and Florida International. Certainly not when Juannese Cato died suddenly of pneumonia nine years ago.
"It was damaging, it was heartbreaking," Cato said in a private moment. "I realized I had lost the queen of my household. Knowing I can't touch her again hurt a lot."
Life has changed, and more than spiritually. Cato's being mentioned for that Heisman. Marshall has a significant pitch-and-catch tradition. (Pennington and Moss were Heisman finalists.) The school just launched a Cato-for-Heisman website.
Rakeem Cato's Career Stats
Year
Comp-Att
Yards
TD
INT
2013
298-of-499
3,916
39
9
2012
406-of-584
4,201
37
11
2011
182-of-304
2,059
15
11
Tot.
886-of-1,387
10,176
91
31
He is their hope -- Marshall, Conference USA, the disenfranchised both in football and in society. You wonder if his story will make it to Gameday. You know it won't make it to the SEC Network. Let's hope he makes it to New York, at least.
"It's a great feeling knowing I'm doing something right, something positive," Cato said.
Off the field, the kid has a Braxton Miller quality to him. There's an aura of inner strength, but he's quiet, almost too quiet for a quarterback. He wears a Military Bowl jacket to an interview. The bowl ring gleaming off a finger.
But it was that game -- a 31-20 win over Maryland -- that allowed the Herd to win 10 for the first time in 11 years. Cato torched the Terps with the last of his 39 touchdown passes (three that day) for the season.
Marshall offensive coordinator Bill Legg helped recruit Cato in the same role at Florida International. He saw something in the 155-pound kid that FIU would have loved. But when Legg changed jobs, "I felt awkward in recruiting him because I had been at FIU. I let a sleeping dog lie."
A connection occurred when Cato's best friend/receiver Tommy Shuler went to Huntington. The pair had grown up playing in Gwen Cherry. Pitch-and-catch before they knew Marshall University from Marshall Dillon.
Forget football, they already considered themselves brothers. Shuler's back-to-back 1,100-yard receiving seasons make the pair one of the more lethal in the country.
"It was very different, very hard," Cato said. "Coming from high school seeing base coverage -- Cover 1, Cover 3. When I got to college it was way different, seeing things I never saw before."
There were fits and starts. Cato lost the starting job as a freshman. Former Purdue coach Joe Tiller stopped by during the quarterback's sophomore year. Legg had worked for five years under Tiller, the man who shook up the Big Ten with smart, mobile quarterbacks.
"You got yourself one, there, don't you?" Tiller said.
Then one day in last year's season opener, Legg saw what set his quarterback apart. Marshall was struggling against a bad Miami (Ohio) team. On a third-and-eight, Cato surveyed the field, bolted out of the pocket and ran for 15 yards. The Herd trailed 7-0 at the time. They won 52-14.
"That was the catalyst that got us going," Legg said. "From that point on we found our rhythm. Every game there's always something like that that occurs."
Below the surface Cato admits to having a suppressed anger. It's not so much that life owed him, it was a bitterness that Juannese wasn't there to share it all.
"Like on Mother's Day," he said. "I could be out at a friend's house seeing them bond with parents. It would just bubble up."
It would be too simplistic to the say that an extended family in and around Liberty "saved" Cato. Let's look at it, then, as something bigger. The skinny kid has rounded out to 190 pounds. His is a leader. He is hope to more than just a football program.
"At the end of the day, when you go through a traumatic life experience, one of two things happen," Legg said. "You pick yourself up and dust yourself off or kind of sit back and wait. Every time it was get-up-and-dust-yourself-off and go harder.
"Somebody did something right with that kid along the way."
Saban isn't going to win Alabama's special election, but the Crimson Tide coach got some l...

The Sooners' quarterback and Badgers' rusher stood out among their peers this season

Clark led UAB to an 8-4 overall record, 6-2 in conference this season
SportsLine simulated every bowl game 10,000 times for pick'em leagues and confidence pools

The Tigers are going worldwide for their next punter

Led by Heisman Trophy winner Baker Mayfield, the Big 12 finished with seven first-team sel...