Maryland keeps LB's game ball for now over fear of NCAA rule
Terp linebacker Marcus Whitfield was awarded a game ball after his team's win over FIU, but won't get it until after he leaves school.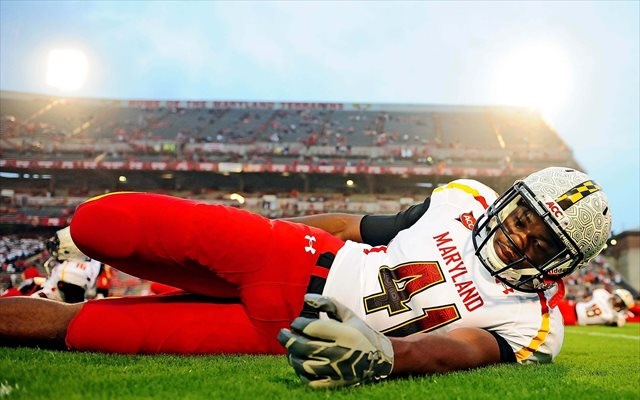 Good things come to those who wait, they say. But what about those forced to wait because of their school's fear of running afoul of another confusing NCAA regulation?
That's the question being posed to Maryland linebacker Marcus Whitfield. Per the Baltimore Sun, Whitfield was awarded the team's defensive game ball this week for the Terps' 43-10 win over FIU. The senior collected five tackles and one-and-a-half sacks.
But Whitfield won't actually receive that ball until after he leaves school. According to the Sun, Maryland will keep the ball, for now, in order to comply with an NCAA rule forbidding schools from awarding more than $425 in gifts to senior players.
Though the Terps could give Whitfield the ball -- as an NCAA spokesperson confirmed to the Sun -- the program appears to want to preserve the $425 allotment for other purposes. The Sun reports the school has previously awarded seniors a framed jersey that would count against the limit.
Bizarre though the situation seems, this isn't cause for outrage. Whitfield didn't seem overly fazed by the school's decision and will get the ball eventually; it seems entirely sensible for the NCAA to impose a monetary limit on gifts, for obvious arms-race reasons; if Maryland would rather use its $425 on items other than game balls, that's its decision. But that doesn't mean it's not common sense for the rule to make certain exceptions, with game balls near the top of the list -- and so, outrageous or not, it is one more way in which common sense and the NCAA's bylaws continue their lifetime policy of never speaking to each other.
Josh Adams and Derrius Guice helped their teams to big wins in Week 8

The Eagles have started winless in Summers' second season and were 5-13 overall under him

The Fighting Irish are up to No. 9 in the latest edition of these college football ranking...
The Fighting Irish are getting more attention after throttling USC 49-14 Saturday night

Jerry Palm is back to look at where the bowl games stand after the midway point of 2017

The sophomore leads the SEC in total offense and passing