Maryland OL coach returns to NFL after six days on the job
Dave DeGuglielmo worked on Randy Edsall's staff for less than a week, but at least Edsall seems OK with it.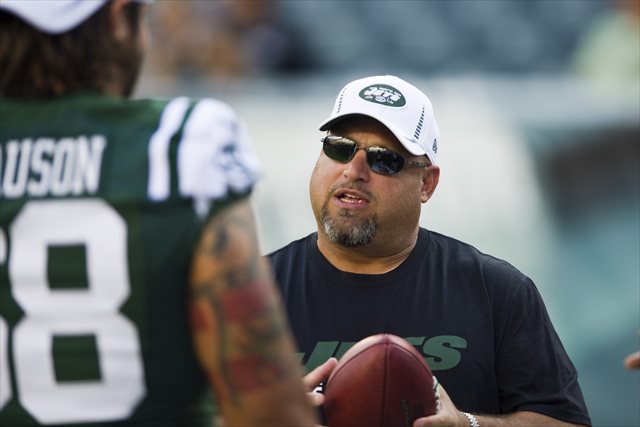 No one will ever be able to accuse Randy Edsall of not being able to look on the bright side of the situation.
Take, for instance, the case of Dave DeGuglielmo -- the NFL coaching veteran and former New York Jets offensive line coach who accepted Edsall's offer to become Maryland's new line coach six days ago. But even before DeGuglielmo had formally met with the media in College Park, he left the Terps to return to the NFL with an as-yet-unidentified team, Maryland confirmed in an announcement Wednesday. 
From the statement, here's Edsall's response to losing a member of his coaching staff who'd served for less than a week:
"I would like to congratulate Dave on this exciting opportunity for his career," said Edsall. "Dave is a great coach who brings a wealth of experience and will be a valued asset at the next level. We are honored that NFL teams pursue members of our coaching staff as we feel this is a compliment to our program. I will immediately begin the search for Dave's replacement in an effort to assemble the best possible coaching staff to lead our student-athletes."
That frankly sounds more like a send-off for an assistant Edsall had groomed for years rather than one who potentially hadn't even signed his lease yet. But give Edsall this: it is a good thing he is this uncommonly gracious, and he could easily be forgiven for being the polar opposite in this case. Not only does DeGuglielmo's decision mean he must start the hiring process all over again, but it's only days until five-star offensive tackle recruit Damian Prince -- an in-state product of District Heights, Md., and the biggest recruit on the Terps' board -- makes his decision, and Edsall still can't tell Prince who his position coach will be.
It's a tough situation for all involved; it's hard to fault DeGuglielmo for wanting a return to the NFL after spending 2013 out of coaching. But at least Edsall seems poised to make the best of it.
Florida's roster got a boost on Tuesday with the return of several key members of the prog...

Tom Hutton joins the ranks of former Aussie rules footballers joining the college football...

The freshman is already on Heisman lists after throwing the walk-off score in the national...
These seven teams should make the most noise down the homestretch towards signing day

Air Force was forced to cancel 11 athletic events because of the 69-hour government shutdo...

Olson has a lot of the tools offensive coordinators want in a quarterback