Massive gap on display in latest Florida-Florida State chapter
The gap is massive between Florida, which hobbled to a 4-8 finish under Will Muschamp, and Florida State, which is thriving with Jimbo Fisher
• 3 min read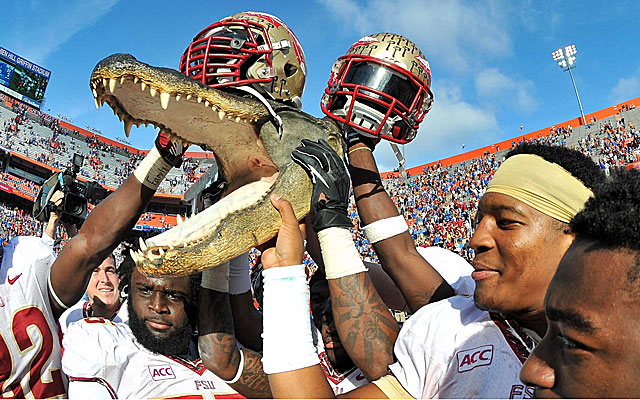 GAINESVILLE, Fla. -- The Florida Gators could watch the Seminoles parade into the end zone Saturday and see themselves, only the younger, less-haggard version.
Twelve months ago, Florida was the national title contender. Florida had the defense that rattled its top rival all night. Florida had the coach with the upside.
Florida then was, in some ways, Florida State now.
That's why the contrast of the postgame scenes between both schools was so jarring after the Seminoles' 37-7 win in Ben Hill Griffin Stadium.
The Seminoles (12-0) were brimming with the confidence you'd expect from a team that hasn't been tested since coughing up four turnovers to the Gators on Nov. 24, 2012. The Seminoles are on their way to next week's ACC Championship Game against Duke. A win should clinch a BCS title shot.
"We're not even playing in our prime yet," said quarterback Jameis Winston, whose well-publicized legal cloud hasn't produced a drop of rain on the team's public persona.
The Gators -- who are 4-9 since that heady night in Tallahassee -- are left with the somber task of explaining the program's worst season in 34 years with an offense allergic to first downs. Before the game, athletic director Jeremy Foley had to explain -- again -- why Muschamp is the right coach Florida.
The Gators' rash of injuries can't mask a seven-game skid. Nothing can.  
"I felt like we hit rock bottom this year," left tackle Max Garcia said.
That's about right. Rock bottom might be losing 37-7, while playing better than most weeks. Rock bottom is fans in the Swamp eschewing their normal apathetic routine in favor of compassion for a beaten-down team. And, hey, Tim Tebow was on the sideline. His pregame speech to the team, which Garcia said "penetrated my soul" -- a message about getting back up, or something -- might have been the day's highlight.
Rock bottom is drawing up 30-35 plays for Trey Burton -- essentially the fourth-stringer and not a full-time quarterback -- and that quarterback hurts his shoulder on his first drive, which included the promise of a 47-yard run up the middle.
At least Florida forced Winston to play in the fourth quarter.
And to think Florida's defense mixed up blitz schemes well enough to frazzle Winston, the Heisman contender who was 4 of 6 for 35 yards after one quarter. Perhaps no team got after Winston better than Florida did early. A six-man pressure to sack Winston on a third-and-5 was especially impressive.
It didn't last. When the Gators offense goes punt, missed field goal, punt, punt, punt, end of half, fumble, punt before scoring, that energetic defense eventually will deflate.
"We will have a good football team next year," Muschamp vowed after the game.
He knows that process starts with the offense, and not just improving yardage totals. Florida needs an identity. What's the plan? Jimbo Fisher has a plan. Winston makes any plan look awfully good. But FSU has recruited well enough in his first four years that his skill positions are oozing with depth.
Winston touched on most of them in his postgame press conference.
"We've got so many great guys out there," said Winston (19 of 31 passing, 327 yards and three touchdowns), who colorfully added the Seminoles offense "Ma-Tri-Cu-Lates down the field."
Florida's problems stretch beyond injuries or schemes or offensive coordinator Brent Pease.
Right now, FSU just has better players, especially playmakers.
Maybe Muschamp will find the depth he needs in year four, which will include serious offensive changes, though to what degree is still uncertain.
When asked about how much he's willing to change from his perceived conservative approach to offense, Muschamp, a defensive guy, didn't seem tied to his clock-milking ways.
Could Florida go no-huddle?
"I'm willing to do what we need to do to score points and win games," Muschamp said.
Juast a year ago, Muschamp had an ear-to-ear smile while embracing Foley on the Doak Campbell Field, an 11-1 regular season secured.
But a few missed recruits, a few injuries or edgeless performances and the college football beast can swallow even the proudest programs.
Having a capable quarterback can stave off the beast. The Gators likely will give the ball back to injured Jeff Driskel in 2014, but they might quietly hope incoming freshman Will Grier has the same qualities coaches use to describe Winston's play on the field.
"The guy [Winston] has a Howitzer for a right arm," Muschamp said.
"The more heated it becomes, the better he gets," Fisher said. "Competitiveness is ridiculous."
The only thing that might stop Winston's on-field rhythm is, well, you know, the legal stuff. But that's a different beast.
McElwain will coach receivers and help coordinate the offense for the Wolverines

Nathaniel Watson Jr. was involved in a car accident that injured a passenger in early Febr...

The honorable Tom Fornelli presides over the ASU vs. UM case
Arkansas State is seeking $650,000 for a canceled home game last September due to Hurricane...

Friday Five is tackling the big questions this week

Two unnamed players are being investigated for an incident at an off-campus apartment