Matt Sandusky, six other Sandusky victims settle with Penn State
Jerry Sandusky's adopted son is among seven men who have reached settlements with Penn State over Sandusky's abuse.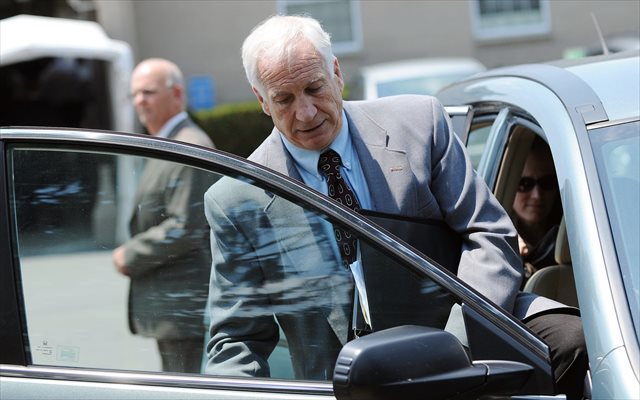 Seven men have finalized settlement agreements with Penn State University over the Jerry Sandusky sexual abuse case, their lawyer said Friday -- and among those men is Matt Sandusky, Sandusky's adopted son.
"To say they're relieved, I think, is a fair statement," Philadelphia attorney Matt Casey said, per the Associated Press. "But it's also accurate to say that while we've closed this chapter, there's a whole lot of this that's necessarily inadequate."
Matt Sandusky had been scheduled to appear as a witness for the defense in his adopted father's trial before then telling investigators he had also been a victim of Jerry Sandusky's abuse. He has recently filed to change his family's last name.  
Also reaching settlements were the men known as Victims 2, 3, 7 and 10 in the Sandusky trial court documents. Victim 2 has said he was the boy being attacked in then-graduate Mike McQueary's account of Sandusky abusing a boy in a Penn State locker room in 2001. 
Victims 3, 7 and 10 issued statements through their attorneys Saturday, the AP reported, with all three expressing their continuing bitterness towards their abuser and Victim 3 also pointing an angry finger at the university which employed him.
"Penn State is not great for settling something that could have been stopped years ago," Victim 3 said. "What makes a school great is stopping these things no matter what negative effect it has on their reputation or what bad press it might bring."
Per the AP, Penn State has not yet confirmed the settlements, with a spokesperson saying only that discussions are progressing.
The first settlement with a Sandusky victim to be made public came on Aug. 17, with this weekend's seven bringing the total figure to 8 out of 31. Penn State is reportedly set to ultimately pay out a total of $60 million to victims -- a figure that, per the AP, comes in addition to a $50 million sum already spent by the unversity on the scandal.
But Victim 10 said no amount of cash would repair the damage done by Sandusky.
"It's not about the money. It's about holding people accountable for the things that they have done," he said. 
"Despite the settlements, my life will never feel 'back to normal,' " Victim 7 said in his statement. "If I had the power to go back in time and not ever meet Jerry Sandusky, I wouldn't hesitate."
Sandusky is serving a 30-to-60-year prison sentence after being found guilty of 45 counts of sexual abuse in June 2012. More settlements are expected to be reached in the near future.
The biggest game in the AAC this season takes place Friday between USF and UCF

Alabama should be vigilant against an inspired Auburn team with playoff hopes on the line

SportsLine's computer model simulated every Week 13 game 10,000 times with surprising resu...
Miami looks to cap an undefeated regular season at Pitt on Black Friday

Fitzgerald was injured while running during the first quarter of the Egg Bowl

D.K. Metcalf certainly had an interesting spin on his touchdown celebration