McCarron needs to zip it before his mouth stains his Bama legacy
Former Alabama great AJ McCarron continues to point fingers at 'young guys' for not buying into the 'system.' Whatever the code is for governing such things, McCarron violated it. And if Nick Saban wasn't angry, he should be.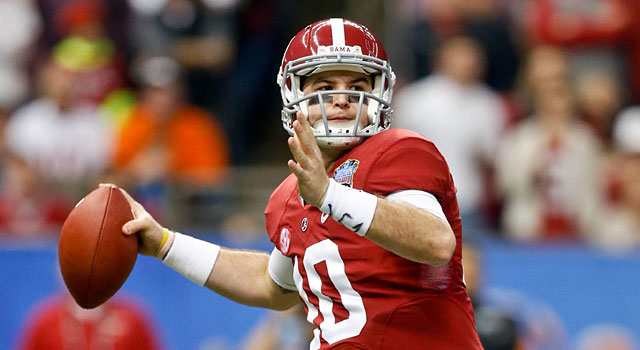 More college football: Jon Solomon | Dennis Dodd | Jeremy Fowler | Latest news
DESTIN, Fla. -- Nick Saban doesn't tolerate losers. The great coach has made that plural noun a semantic challenge in Tuscaloosa. In his ultra-successful world, there are national championships and everything else.
Even inside his own program.
That's why a nerve was struck Tuesday at the SEC spring meetings. Bama was agonizingly close last season to that third consecutive title. The only regular-season loss came in the final game on the final play, on the road on a missed field goal return. You may have read about it.
Thing was, team leader and minor god AJ McCarron -- in his own way -- has let everyone know how agonizingly close in the past few months. It wasn't just the Auburn loss, it was how it happened. Inevitably, over time -- AJ suggested -- as he watched a solid foundation erode.
McCarron told The Jim Rome Show prior to the Super Bowl that "success was our killer." He went on to blame "young guys" for not buying into "one system."
You may have read about that too. Saban certainly had when asked about it Tuesday.
"A senior player -- and I love AJ -- has a responsibility as a leader on the team," Saban said. "To understand that when younger players come into the program they are not going to necessarily have all the right stuff. There has to be a tolerance and a commitment on the older players to sort of embrace the younger players to get them where they need to be."
In Saban's structured, ordered world that response ranks somewhere between "Check yourself, AJ" and "Shut your freakin' yap, AJ."
The age's most successful coach is tough enough on his players. Saban famously questioned the work ethic of the 2010 team that had the audacity to go 10-3 following the 2009 national title.
It's another thing for the quarterback of a team on the brink of history to backstab his former teammates.
Whatever happened to win together, lose together? Whatever happened to keeping it inside the lockeroom? Whatever happened to -- hackneyed as it sounds -- family?
Whatever code out there governing such things, McCarron violated it. If Saban wasn't angry, he should have been.
And just in case you/he didn't get the message …
"[The issue] should not be something that upsets an older player," the coach said. "It should not be an issue with an older player. I can take some of these older players and tell you about them when they were a freshman. They needed older players to get them where they needed to be."
McCarron apparently forgot he was a redshirt in 2009 needing help from those older players. He needed a punishing defense to make him one of the winningest quarterbacks in school history. He needed a coach to defend him each time the term "game manager" came up.
He needed All-American center Barrett Jones who may have summed up McCarron's petulance 18 months ago against Notre Dame.
Going into that magic night at Auburn six months ago, the 2013 team had won 15 in a row and three of the last four titles. Bama was coasting, up 21-7 in the second quarter, before becoming the other side in the biggest win in Auburn history.
It was one of the best games, statistically, of the McCarron's career. The meltdown in the Sugar Bowl against Oklahoma was one of his worst.
AJ left with his head held high until for some reason he felt compelled to become an after-the-fact analyst. It's one thing for the coach to question his team's resolve. It's another for a quarterback passing through the system to blast his teammates.
One guy has 40 years in the game and four national championships on his résumé. The other broke ranks, forever staining his brothers and perhaps himself.
Sure, AJ will be remembered as one of the Bama greats. But it would be nice if the story ended there. He needs to shut up before his mouth gets out ahead of his college legacy.
"I think we obviously didn't have the right stuff to finish the season the way we needed to finish it …," Saban said. "There's some real lessons to be learned for our future teams and certainly this years teams, we may be able to do it better in the future."
And that was about it. With class, Saban left the subject alone.
The quarterback and coach do agree on one thing. Entitlement. Recruits, players sometimes have too much of it. It pervades the game. Urban Meyers says he has to "de-recruit" his five stars after loving them up during recruiting.
"[Young players] still have to go through a transition period of becoming a college player," Saban said. "The older players have to understand it's part of their responsibility to help those guys."
Whether that happened at Alabama in 2013 remains up for offseason discussion. Remember, this wasn't a team that crashed and burned or was ripped apart by dissension. It was basically shocked by Chris Davis.
Until it was shredded by AJ McCarron.
Find out which of your favorite team's players are among the nation's best entering the 2017...

Rosen, a junior, will be eligible for the upcoming NFL draft

Texas A&M has to be better defensively to stand a chance in the SEC West
A letter indicated that there is a growing awareness of the persistent problem in college...

The series will follow the Navy football program throughout the 2017 season

Should college football players still be tested and punished for using marijuana?