McNeese State confirms meeting with Tyrann Mathieu, but denies final decision
"To McNeese*s knowledge, Mathieu has not made a decision on his intentions."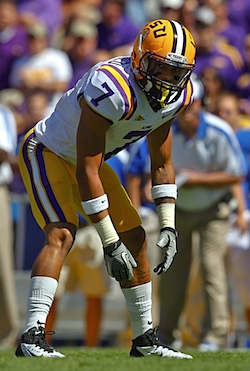 McNeese State has confirmed that All-American cornerback Tyrann Mathieu was on the McNeese campus on Friday night, discussing a potential transfer with Cowboy coaches just hours after being dismissed from LSU on Friday morning. However, a final decision about Mathieu's next stop has not been reached.
After multiple reports emerged Friday linking the "Honey Badger" to McNeese, the university issued a statement Saturday to diffuse the speculation:
LAKE CHARLES – After receiving permission from LSU, McNeese State head football coach Matt Viator met with former Tiger All-American cornerback and 2011 Heisman Trophy finalist Tyrann Mathieu late Friday evening at the Jack V. Doland Athletic Field House. Mathieu then returned to his hometown of New Orleans late Friday night.
"I received a call from Tyrann after practice on Friday that he wanted to come and meet with us," said Viator. "We contacted LSU to get permission to talk to him and he arrived on campus later that night. We visited for an hour-and-a-half and then he went back home to New Orleans."
To McNeese's knowledge, Mathieu has not made a decision on his intentions and there will be no other comments from McNeese about the issue at this time.
Viator also told ESPN Saturday that he and Mathieu agreed not to make a decision on Friday because "it was a long day" and both sides "needed to back off a bit." One of Mathieu's former LSU teammates, kicker Josh Jasper, sparked rumors Friday afternoon when he posted on Twitter that Mathieu had "already transferred" to McNeese; a few hours later, a grainy photo of Mathieu's visit began making the rounds online. The Times-Picayune in New Orleans, Matheu's hometown, also cited his interest in Jackson State and Prairie View A&M.
McNeese State is an FCS school in Lake Charles, La., about a two-hour drive from Baton Rouge and three hours from New Orleans. Last year, the Cowboys welcomed another blue-chip local who'd run out of lives in the SEC, safety Janzen Jackson, who joined McNeese in August after being dismissed from Tennessee and subsequently played the entire 2011 season there. Jackson went unselected in April's NFL Draft and his currently trying to catch on with the New York Giants.
Assuming he remains eligible under standard NCAA rules (there is no indication he does not), Mathieu will be allowed to play immediately at an FCS or Division II school this season, and will have a final year of eligibility remaining in 2013. But he will also be eligible for the 2013 draft next spring, where he had been widely projected as a first or second-round pick. His dismissal from LSU may drop his stock into the middle rounds, but probably will not keep him from being picked barring an injury or further mishap that adds to his reputation as a potential character risk.
Citing a "source close to Mathieu," the Times-Picayune reported Friday that Mathieu was dismissed for failing a drug test, the same offense that reportedly resulted in a one-game suspension against Auburn last October.
For the season, he finished as the leading tackler for the No. 2 defense in the nation in both yards and points allowed, including 7.5 tackles for loss, and forced more takeaways — two interceptions, six fumbles — than anyone else on a team that finished second in the nation in turnover margin. He was also fourth nationally in punt return yards, and led the nation with four non-offensive touchdowns. He finished fifth in Heisman voting, won the Bednarik Award as the best defensive player in the nation and was a unanimous All-American.
Many NFL-eligible juniors ignore advice provided by the league and risk going undrafted each...

Snyder died in Manhattan, Kansas, on Wednesday

Locksley joined Alabama's staff in 2016
Saban reportedly wants to hire Freeze, but there may be things keeping that from happening

Florida State-Miami will be on Oct. 6, and the Seminoles will play Clemson on Oct. 27

Weis Jr. was an offensive assistant for the Atlanta Falcons in 2017