McQueary: Joe Paterno admitted PSU's failure in Sandusky scandal
Former Penn State assistant coach Mike McQueary testified in a hearing for three former school officials on Monday. He revealed that Joe Paterno believed the school failed in the cover-up of the Jerry Sandusky sex abuse scandal.
• 1 min read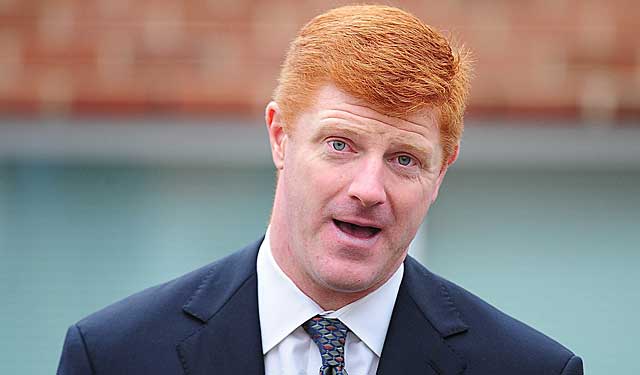 Mike McQueary, the former Penn State assistant coach who reported an instance of Jerry Sandusky's abuse, was called as a witness in a hearing of three former Penn State officials accused in a cover-up of the Sandusky sex abuse scandal. 
According to the Associated Press, McQueary testified Monday that Joe Paterno told him "Old Main screwed up" -- likely a reference to the school's administration.
The hearing in Harrisburg is to determine if there's enough evidence against former Penn State president Graham Spanier, retired university vice president Gary Shultz and ex-athletic director Tim Curley to be tried on charges of covering up Sandusky's abuse. The charges include perjury, obstruction, endangering the welfare of children, failure to properly report suspected abuse and conspiracy.
In McQueary's testimony, according to The Patriot-News, the former assistant coach detailed a warning from Joe Paterno regarding the Sandusky scandal.
"He said the university is going to come down hard on you," McQueary said. "'Don't worry about me. They're going to try to scapegoat you. Trust your lawyers. Don't trust Cynthia Baldwin. Don't trust Old Main.' I'm sorry, but that's what he said."
McQueary previously testified that he saw Sandusky and a boy engage in a sexual act in the locker room shower in 2001. Curley and Shultz said McQueary never reported that the encounter was sexual, instead believing that Sandusky and the boy were "engaged in nothing more than horseplay." 
Curley and Shultz were initially charged with perjury and failure to report in November 2011, when Sandusky was arrested. The former defensive coordinator is currently serving a 30-to-60-year prson sentence after being convicted last year of sexually abusing 10 boys.
The administrators, like Sandusky, have maintained their innocence through the process.
Olson has a lot of the tools offensive coordinators want in a quarterback

The Tigers have a wealth of talent at their biggest position

Pineiro received the award for stopping an attack the morning of Oct. 15, 2017
The first opening weekend lines for college football in 2018 have been posted

A year-end wrap-up of college football statistics you need to know from 2017

Stanford produces apps and Super Bowl participants