Melvin Gordon over 2,000 yards in 2014; Sanders' mark within reach
Wisconsin running back Melvin Gordon eclipsed the 2,000-yard mark quicker than any other running back in college football history.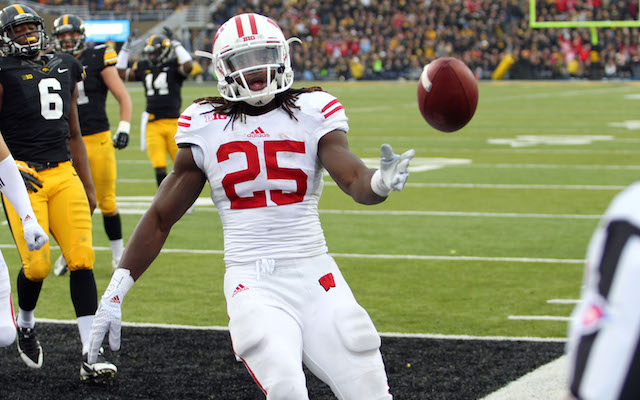 Wisconsin's Melvin Gordon may have seen his single-game rushing record erased after only a week by Oklahoma's Samaje Perine, but he responded to that loss with another milestone.
NCAA: Most Rushing Yards in Season
Player, Team
Yards
Year
Barry Sanders, Oklahoma St.
2,628
1988
Kevin Smith, UCF
2,567
2007
Marcus Allen, USC
2,342
1981
Troy Davis, Iowa St.
2,185
1996
Andre Williams, Boston College
2,177
2013
LaDainian Tomlinson, TCU
2,158
2000
Mike Rozier, Nebraska
2,148
1983
Matt Forte, Tulane
2,127
2007
Ricky Williams, Texas
2,124
1998
Melvin Gordon, Wisconsin
2,109
2014
Larry Johnson, Penn St.
2,087
2002
Gordon broke free for an 88-yard run during the third quarter of Saturday's game against Iowa, and though he didn't score a touchdown on that play, he did eclipse the 2,000-yard mark on the season. While rushing for 2,000 yards in a season is a major accomplishment by any running back, Gordon just happened to do it quicker than any other back.
Gordon passed the 2,000-yard mark on his 242nd carry this season.
The 88-yard run gave Gordon 2,050 yards, and he finished the day at 2,109 yards. That means that it's possible Gordon could set the single-season NCAA FBS rushing mark. That record is held by Oklahoma State's Barry Sanders, who rushed for 2,628 yards in 1988. Gordon would need another 520 yards to break that mark, which is entirely possible.
Gordon still has next week's regular-season finale against Minnesota, and if Wisconsin wins that game it'll play in the Big Ten Championship before going to a bowl game. If Gordon plays three more games, he'll need to average 173.3 yards per game to do so.
Including Saturday, Gordon is averaging 191.7 yards.
The team at TheMichiganInsider.com have an exclusive look at Michigan's spring practice

The 'Conference of Champions' won't be in the Round of 32 for the time since 1986

Everything you need to know about Colorado's spring game
Gundy spoke at a Stillwater Public Schools Board of Education meeting

Diaco is the former DC at Notre Dame and Nebraska, and also coached UConn for three season...

Russell passed up on the NFL to return to Auburn to play his senior season in 2018