Message to Longhorns, others: Stop throwing money away
Texas paid a search firm $267,000 to hire Charlie Strong, Ohio State's AD got a $18,000 bonus because of the wrestling team -- tone-deaf money.
• 2 min read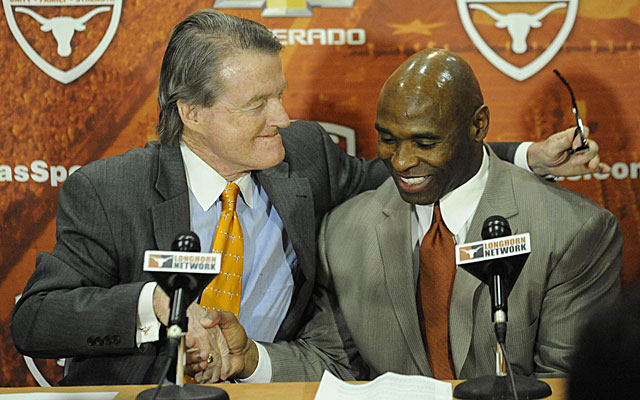 At least some level of college football opulence might be tolerable, but since we've reached the golden-giraffes-dancing segment of the show, it's time for my second shower today.
This is also a chance to reset a few rules of engagement.
• Search firm bills should not surpass $100,000 or else somebody should probably be reprimanded.
• Athletic director bonuses off wrestling performance must be offset by a tone-deaf financial withdrawal of equal or greater value.
• NCAA Tournament t-shirts that say "Net Worthy" belong to all the great net manufacturers out there, not a college hoops star that gains no net worth for his labor.
• If South Florida or any other school is using a search firm to hire a college basketball coach, don't offer him the job until after the background check is complete and his college degree is confirmed.
• And, oh yeah, put the word "branding" back in its cage.
The frivolous collegiate spending of late has reached such a tipping point that it surpasses the tired pay-for-play argument
Rich people are getting offended now.
I can't imagine what the hourly rate is for Korn/Ferry, which milked Texas a reported $267,000 to hire Charlie Strong, who was a phone call and a background check away the whole time.
He was ready to come. Hi, Charlie, this is Steve Patterson. Let's meet at a neutral airport. Done.
The questionable practice of hiring search firms has been debated for awhile -- firm gets AD hired, AD hires same firm to hire coach, rinse and repeat -- but at least the lump sums were reasonable. Perhaps spending $50,000 or even $75,000 isn't outlandish when providing ADs with plausible deniability and delving into coaching backgrounds.
But the USA Today report on Texas and Korn/Ferry is college football's new version of the $11 movie theater Coke.
Could stories like this not come at a worse time? Players are unionizing, O'Bannon stumps toward trial with the NCAA and Ohio State AD Gene Smith gets an $18,000 bonus for an Ohio State wrestler winning a match.
That's not on Smith. That's on the agent or lawyer that did his deal. After talking with an attorney that does contracts for prominent coaches and ADs, he said you always put money like that elsewhere. Maybe a football or hoops bonus, but not wrestling. Put the money away.
Patterson had a huge job replacing Mack Brown, the kind of job that can't be fouled up.
But no way that job should cost $267,000 off the top.
And you wonder why players are unionizing. They pay attention to all of this.
It's time athletic departments did the same. 
These three Pac-12 teams could surprise in 2017

Maybe this wasn't the use of social media considering the circumstances

Saban has thoughts on conference schedules, changing bowl requirements and expanding the p...
Chip and Barton pick win totals for Ohio State, Penn State, Michigan and more

These three teams could surprise quite a few people in 2017

With the Chargers moving to Los Angeles, the Aztecs now need to find a new home -- fast