Miami boots embattled safety Ray-Ray Armstrong, this time for good
Former blue-chip recruit dismissed amid speculation over an ongoing NCAA investigation.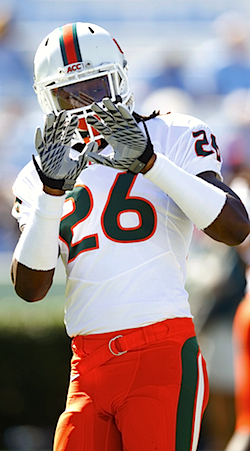 In March, Miami coach Al Golden had nothing but good things to say about the improved maturity of senior Ray-Ray Armstrong, going out of his way to assure reporters that the erratic safety "got the message" and "had the best offseason of anybody" on the team. "He's leading by example right now," Golden said. "I'm real proud of his approach so far."
That was then. A little less than five months later, Armstrong got another message: He's off the team. Per a statement from the school:
The University of Miami has dismissed senior Ray-Ray Armstrong from the football team. Armstrong can continue to be enrolled as a scholarship student at UM to complete his degree or the University will grant him a full release should he elect to transfer to another institution.
The news comes as a disappointment, but certainly not as a surprise. At 6-foot-4, 215 pounds, Armstrong was a versatile, two-way prep star in Sanford, Fla., and a no-brainer pick for five-star status by every major recruiting site in 2009; at Miami, he looked like a natural heir to the likes of Ed Reed and Sean Taylor. Through three years, though, he was suspended for as many games (5) as he started, and spent almost all of 2011 as a glorified backup. First, he was one of a dozen 'Cane players benched by the NCAA last September for their alleged connections to Nevin Shapiro, the former booster turned convicted Ponzi-schemer who remotely detonated hundreds of possible NCAA violations from his jail cell. (In Armstrong's case, he reportedly toured Shapiro's mansion with a pair of high school teammates during a recruiting trip, and spent the night partying on Shapiro's dime.) Later, after he'd worked his way back into the starting lineup, Armstrong was hit with a second suspension in November following an expensive dinner with a potential agent; he was left at home for a subsequent trip to Florida State, a 23-19 Miami loss, and came off the bench in the 'Canes' last two games.
The school didn't supply a reason for Armstrong's departure, but it does happen to follow weeks of speculation that the NCAA is looking more closely into the dinner that got him suspended in November. Said probe has not been specifically confirmed amid the wider investigation inspired by Shapiro, but his absence may now speak for itself.
But it is not the end of the story: Armstrong still has a redshirt, a fourth year of eligibility and plenty of potential to burn. Before the Shapiro grenade exploded last August, Armstrong's name was all over preseason All-ACC (and even a few All-America) teams, based largely on the strength of a sophomore campaign in which he'd finished third on the team in tackles, returned one of his three interceptions for a touchdown and picked up a second-team all-conference nod. Miami's secondary as a whole led the ACC against the pass that year in terms of both yards and efficiency, and Armstrong still looked every bit the rising star. Lingering NCAA issues may make him radioactive to other schools, but not to the NFL, where the rare specimen who can coax safety speed from a would-be linebacker's frame is always welcome.
Leach wants a rally outside Texas Tech's stadium for $2.5 million he believes he is owed

It's the beginning of the end for a number of teams with College Football Playoff hopes

Every season has early surprises, but which ones are most capable of finishing the job?
Our computer model simulated every Week 8 college football game 10,000 times with surprising...

The bye weeks means there's more time for Smart to hit the recruiting trail

The Cowboys and Longhorns look to stay in the Big 12 title hunt on Saturday