Miami, Golden eyeing NCAA closure in next two weeks
The NCAA is almost done with its investigations into the Miami Hurricanes, and Al Golden is thrilled. UM is the preseason ACC Coastal favorite.
• 1 min read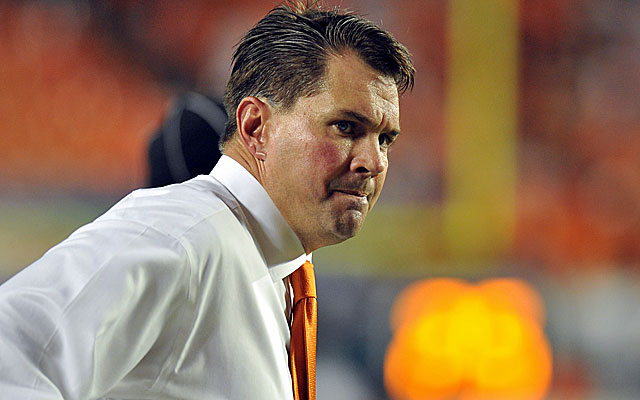 GREENSBORO, N.C. -- Al Golden's black-on-black suit and tie combination at ACC media days didn't dampen the Miami coach's mood about his Hurricanes, who are preseason Coastal Division favorites and grasping for closure on the highly publicized, nearly two-year-long NCAA investigation.
Golden finally sees daylight on the case. He was informed through the NCAA process in June that sanctions would surface in six to eight weeks. This Friday marks six weeks. 
"I'm looking forward to the day we have closure on the NCAA," Golden said.
After fielding questions about Nevin Shapiro's overzealous relationship with Miami to watching the NCAA fumble the case when plans to pay Shapiro's lawyer for subpoena power became public, Golden sounds exhausted. He couldn't muster enough strength to speak about the looming college football playoff, which is "the last thing on my mind."
The Canes "paid a dear price" for self-imposing a postseason ban last year and a second consecutive bowl ban as a way to lessen the NCAA punishment.
The case could enter an appeals process -- or possibly devolve into a lawsuit -- if the NCAA's punishment is severe, but Golden isn't worried about that.
He just wants the results before his team opens camp in two weeks. Stretching the case into August would be distracting for his team, Golden said.
"This is the most normal six weeks, seven weeks that we've had since I've been at the University of Miami, period," Golden said. "We're really not answering questions about extraneous circumstances."
Quarterback Stephen Morris is garnering NFL attention, running back Duke Johnson is the reigning ACC Rookie of the Year and the Hurricanes return 19 starters.
The chance to resurrect Miami is why Golden stayed at UM instead of pursuing another job this offseason, the third-year Canes coach said.
"I would put our brand against anybody's," he said.
The Alabama QB has a new look after the Tide claimed another national title

Young was injured during Miami's Orange Bowl loss to Wisconsin

The movie will zero in on former Penn State coach Joe Paterno during the Jerry Sandusky sc...
Bidding for Salaam's trophy, which the auction house says was obtained legally, ends Satur...

Locksley has been the offensive coordinator at Illinois and Maryland during his coaching c...

Many NFL-eligible juniors ignore advice provided by the league and risk going undrafted each...