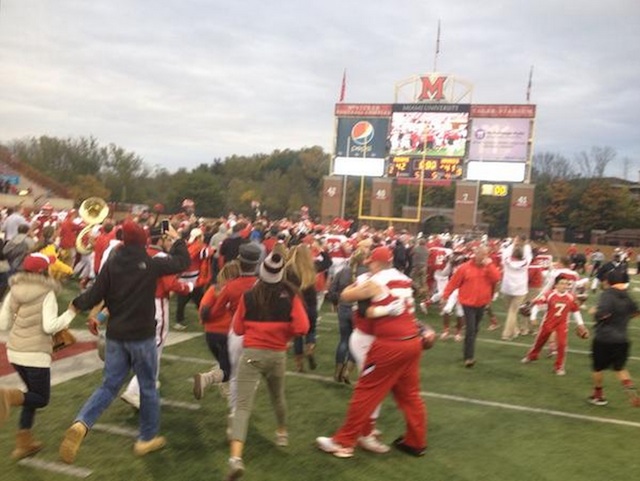 Coming back from a 41-14 deficit to win a game in any circumstance is a great story in and of itself, but what about coming back from that same deficit to end a 21-game losing streak?
That's what the Miami (OH) RedHawks did Saturday against UMass. 
The RedHawks, who hadn't won a game since Oct. 27, 2012, battled back from a 41-14 deficit in the first half to squeeze by the Minutemen. The game ended in incredible fashion as well, as UMass made a very questionable decision.
The Minutemen had the ball at the Miami 32 in the final seconds and completed a pass down to the six yard line. Instead of spiking the ball and attempting a field goal, the Minutemen decided to go for the touchdown, but Shadrach Abrokwah was tackled at the two-yard line as the clock expired.
And with that RedHawks fans poured out onto the field to celebrate.
Of course, the big question here is how this game will affect next week's Bottom 25 rankings, but you'll have to wait until Tuesday to get your answer.
No score needed. pic.twitter.com/hrfPsM2fy4

— Dave Meyer (@DaveMeyerMU) October 4, 2014