Michigan AD: NCAA's uncertain future headed for 'tumultuous' period
At Big Ten media days, Northwestern can't escape its players' unprecedented attempt to possibly form a union. And that's not the only issue facing college sports.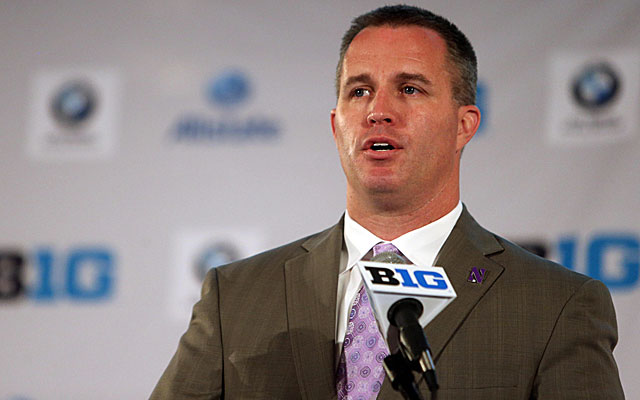 More CFB: Fowler: Michigan St. still seeking respect | More from Solomon | Latest news
CHICAGO -- Northwestern football coach Pat Fitzgerald patiently answered the questions posed to him Monday at Big Ten media days about his players' efforts last spring to possibly form a union.
There was one moment when Fitzgerald got noticeably frustrated. It came when he said he's tired of answering what he calls a "point/counter point" question that's shortsighted by only focusing on compensating football and men's basketball players. Fitzgerald has his own question: When is college sports going to fast-forward to discussing broad-based solutions?
"I look forward to the day when presidents and administrators and the NCAA and all this stuff kind of moves forward where there's concrete discussions about what the whole student-athlete experience means and what the whole system looks like," Fitzgerald said. "I think we're still in the confluence of the rivers colliding of what it's been in the past, what it is today, and what it could be, what it should be, what it might be. I look forward to what it is."
Fitzgerald is hardly alone throwing his hands up in the air waiting for answers that may take years to produce. Michigan athletic director Dave Brandon predicts the federal governament and state governments will intervene, and perhaps the courts as well.
"I think we're going to have a tumultuous year or two years of intervention and change and forced change and uncertainty," Brandon said. "It's going to be a time of constant struggle and change and will stress the system and everybody who participates in it because it's hard to plan. Right now to do a five-year forecast to know what you need to be doing is virtually impossible."
No school in the country has encountered the growing college players movement quite like Northwestern. A regional director of the National Labor Relations Board ruled that the school's football players are university employees, resulting in players voting April 25 on whether to form a union. The ballots were impounded pending an appeal by Northwestern.
Because of what Northwestern experienced, "there's no more unified program in the country," said Fitzgerald, who praised his team's maturity.
Northwestern was a guinea pig in the players movement. Purdue athletic director Morgan Burke thinks of the changing times in five parts that play a role in college sports' future: Congress, the courts, athletes, NCAA and universities, and the general public.
"All five of those pieces are moving right now so it's hard to pinpoint an exact solution," Burke said. "I don't want to see the model blown up. The University of Chicago in 1939 made a decision (giving up major college football). If it gets to the point where it's unpalatable to people, does it cause people to make that decision? You're getting to the point where the faculty on your campuses are really -- and appropriately -- asking more questions and getting more engaged."
So are some players. In Northwestern's case, players discussed issues that very few college athletes consider, much less vote on in a high-profile way.
Northwestern linebacker Collin Ellis said he learned there is more the NCAA could do, such as mandating four-year scholarships. Since 2012, the NCAA has allowed multiyear scholarships to be an option. Ellis said the NCAA also could adopt an internship program for athletes during school, similar to what he experiences at Northwestern, so players have some experience in a possible job-related field after sports are done.
"I'm not saying the union was a good idea whatsoever," Ellis said. "But at a different school, it might have been more appropriate because Northwestern does it right."
What could have been divisive, Northwestern players said, instead brought them together leading up to the April vote.
"In that instance where we're sitting there having in-depth conversations, you learn so much about your teammates," Ellis said. "Like whenever a guy who you've never heard talk on the team … comes out and he's very adamant about his beliefs, you can't help but respect and really get to know somebody in-depth when you're talking about something like unionization."
Kessler lawsuit win would be 'apocalyptic'
Sometime soon, a federal judge will issue her ruling in the Ed O'Bannon case that threatens to change the NCAA's rules banning players from being paid off their name, image and likeness. Just getting started is prominent sports attorney Jeffrey Kessler's lawsuit against the NCAA and the five major conferences that seeks a free market for college athletes.
"That's the one that would create the most massive change in the industry," Brandon said. "It would kill the collegiate model and it would kill a ton of sports. To me, that would be apocalyptic to put ourselves in position where football and men's basketball have decided to take over after decades of diversity and turn these athletic programs in semi-athletic machines as minor leagues for men's basketball and football."
Kessler's argument cuts to the heart of college sports: Why should football and men's basketball players, given that their market value typically is higher than athletes in other sports, be asked to support non-revenue sports?
"That's probably the same issue that the president of the Cadillac division says at Chevrolet," Burke said. "Let's assume Cadillac is a much more profitable brand than Chevrolet. (General Motors CEO) Mary Barra has to make decisions that are in the best interests of General Motors."
Burke said players with more value than a scholarship should consider going pro and perhaps challenge the NFL age limit. Former Ohio State football player Maurice Clarett tried that a decade ago and lost.
"You can't mix the model," Burke said. "We've mixed it about as much as we can. We're not play for fun, we're not paycheck. We've kind of gone in between, and yes, some people have gotten very substantial salaries, and I think that weighs on people when they look at this issue whether there's proper distribution to the players."
Critics of college sports question whether enough athletes are truly being educated. They also wonder why players can't try to be compensated based off their market value while in college, as coaches do in their careers.
Brandon said coaches are paid whatever value an institution assigns. He cited the pressures facing coaches and that there's a market for their services in the NFL.
"The complaints I've heard about coaches' compensation, interestingly enough, are only that if you don't pay enough to get a great coach who wins, then you're screwing up," Brandon said. "I don't hear a whole lot about, gee, Nick Saban's being paid too much ($6.9 million per year at Alabama). Because I think the view is if that's what we've got to pay to have a coach who consistently wins, then that's the marketplace."
Could money go to athletes and keep non-revenue sports by reducing the escalating pay of coaches and administrators?
"I don't think you can somehow take that money and poke it in a hole over here," Brandon said. "I've never seen that work in any business model. … There are things we could have done and should have done -- cost of attendance, continuing education, disability and health insurance -- basic things we knew we should do, but we can't get out of our own way."
Like other Power 5 conference commissioners, Big Ten commissioner Jim Delany said he expects NCAA autonomy to pass on Aug. 7. That will give the major conferences authority to create some legislation benefiting athletes, although no one believes it will quell the external pressures.
Unlike in some past statements, Delany stopped short of predicting non-revenue men's or women's sports would be cut if the pressures placed on college athletics play out.
"I think people have the right to sue what they feel is proper in the courts, and I think people have the right to defend themselves," Delany said. "And I think we'll be aggressive in defending principle where we think that's appropriate. I don't know where it all ends up. I think it will be a number of years before it becomes clear."
In the meantime, the sign of the times continue as college football media days periodically morph into talk of unions and lawsuits and player compensation. They're topics that once seemed foreign but are very real now, especially at Northwestern.
"We're so ready for football," Ellis said.
Our bowls expert looks at the toughest -- and weakest -- nonconference schedules in the na...

The new uniforms will be worn on Oct. 28 at Kyle Field vs. the Bulldogs

Kiffin's Owls have added myriad troubled players since he took over in Boca Raton
The Crimson Tide and Hurricanes have not met since the 1993 Sugar Bowl

Kelly is running out of people to blame at Notre Dame, and you know what that means

What's a bigger problem in college football -- referees or the rules themselves?