Michigan AD: 'No question' Brady Hoke will continue as coach
Dave Brandon offers Brady Hoke a vote of confidence ahead of the Wolverines' rivalry game with Ohio State.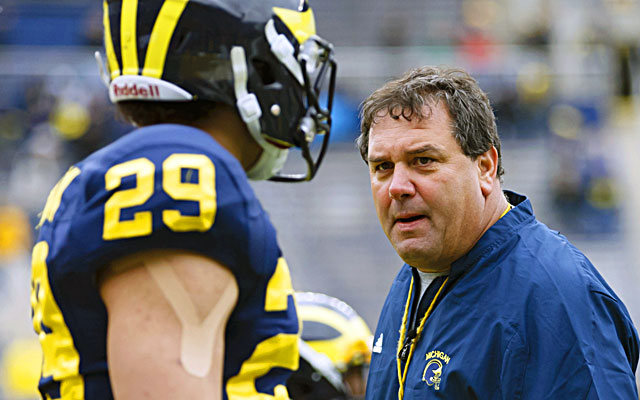 There's no real way to sugarcoat Michigan's 2013 season. Expected to be a Top 25 team and Legends Division contender, the Wolverines are just 3-4 in the Big Ten, needed late escapes against the likes of Akron and UConn, and have utterly collapsed offensively; through four November games, Michigan has gained just 3.3 yards per play, a number that would easily be the worst in the FBS if extended over a full season.
So even with a solid recruiting class on its way and coach Brady Hoke's 19-7 mark over his first two seasons, the inevitable whispers about his job security have started. Michigan athletic director Dave Brandon responded Wednesday evening by doing his best to shut those whispers up once and for all, publishing a blog post on the official Michigan athletic site that states that Hoke is in no danger whatsoever of losing his job. 
Brandon writes:
Brady Hoke is our coach and will be leading our football program well into the future. There is no question about it. Brady has done a great job rebuilding the program and reshaping the culture to the level it was under coaches Bo Schembechler, Gary Moeller and Lloyd Carr. Anyone making efforts to stir up a coaching controversy at Michigan is ill-informed and is likely promoting a personal agenda that is not in the best interest of Michigan Football ...

The 2013 season is far from over! We have two more big games to play, and we should all be looking forward to the opportunities they represent for our program. It is important and exciting for our young team to have the opportunity to experience an additional 15 practices, heal up some injuries, and compete in a bowl game at this stage in their career. And, for our seniors, these last two opportunities to play for Michigan are very special.

I know that Brady Hoke will finish his career at Michigan as one of the most successful coaches in our program's storied history. And, thanks to our many loyal fans and supporters who will be along for the ride because they care so much about Michigan Football for all of the right reasons!
So how much stock do you put into a vote of confidence like this one? It's fair to say that Brandon's comments may be motivated by Hoke's need for a big finish on the recruiting trail; the supposed uncertainty has played a factor, for instance, in five-star Wolverine commitment Jabrill Peppers electing to take visits after the season. And it's likely easier for Brandon to express his unwavering commitment to Hoke before a likely home thumping from "Ohio" this Saturday than after.
But Michigan also isn't the sort of program that typically fires a coach -- one with deep Michigan ties at that -- after three consecutive winning seasons, however unimpressive the third of those might be. The Wolverines did decisively beat both Notre Dame and eight-win Minnesota this season. And both Hoke's recruiting and defensive coaching have been sound; under coordinator Greg Mattison, the Wolverines still rank 22nd in yards per play allowed despite the offensive issues.
So no, don't expect Hoke to go anywhere. His offensive staff, on the other hand, may be in much more trouble. 
Greg Huegel suffered a knee injury during Wednesday's practice

The Wildcats and Utes open conference play on Friday night

Eichorst's firing on Thursday sets Riley's seat ablaze, even if a decision won't be made i...
Eichorst had been at Nebraska since 2012

Three straight titles makes it seem like 'Alabama and everybody else' in the SEC

Some early-season Big Ten games could shake up the national standings