Michigan makes no excuses, ready to lift Big Ten
Michigan and Brady Hoke are ready to produce the Wolverines' first championship since 2006. First they must beat Ohio State, Urban Meyer.
• 3 min read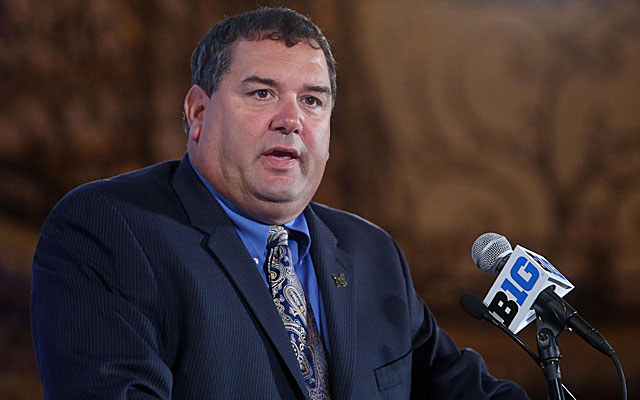 CHICAGO -- Maybe it was a long morning, but Michigan quarterback Devin Gardner spotted his Wolverines two years on the championship resume.
"We haven't won a Big Ten championship since 2006 – that's all our trainers, guys who have been around, they talk about that," said Gardner on Thursday from Big Ten Media Days at the Hilton Chicago. "It's a constant reminder that we haven't done anything."
Michigan's last Big Ten title was actually in 2004. Using either year, it's been too long for Ann Arbor.
Win one this year, and everyone will remember.
Michigan isn't letting the Big Ten's perceived dearth of talent or Ohio State's perceived headlock on the league's title chances put the Wolverines on the spot.
They did that to themselves all offseason by setting a firm line on where the program belongs.
Coach Brady Hoke and left tackle Taylor Lewan both deem this season a failure without a conference title.
Seems harsh, but Hoke is no dummy, despite jokingly calling himself "not the sharpest tool in the shed" when discussing player culture in today's game.
He's setting a tone by calling a missed title as "unacceptable" at Michigan. This happens to come while the Big Ten, out of the national title picture for years, could use a lift.
"It's unacceptable for us," he said.
Nineteen wins and a BCS bowl is a strong two-year start for Hoke. But coming off an eight-win campaign while rival Ohio State eats up title hype must get old, fast.
So Michigan is putting itself out there like a flash mob. Time to get it done.
"Build a legacy," Gardner said. "That's what we've been talking about all summer."
It's possible the Big Ten needs Michigan more than ever because of the way Hoke is recruiting.
Take a look at this list from NFL.com's Daniel Jeremiah on the top 50 most talented players in the country. Three -- yes, three -- are from the Big Ten. This is one man's opinion but a telling list from a former NFL scout.
Something has to explain the seven Big Ten players selected in the first three rounds of April's draft. Blame an aberration. Blame the cyclical nature of college football and how it's simply the SEC's turn on top. Blame a strong population shift to the Southeast (Ohio State's Urban Meyer believes this is a factor).
But Hoke has pumped out top-six national recruiting classes in each of the last two years. Michigan replaces 10 starters, but Hoke cites more depth and says "genetically, we've changed" from when he first arrived before the 2011 season.
The Wolverines are bigger, a little rangier, Hoke said.
Junior defensive end Frank Clark is so talented, Gardner says, the 277-pounder can do everything athletically that the 210-pound Gardner can, including running a 40 time in the 4.5s.
Talk about a Michigan Man.
Clark is poised for an All-American-type season despite starting four games a year ago, Gardner says. Michigan might need a few such breakouts to navigate a schedule that includes Notre Dame, Penn State and Ohio State.
Coupling the young athleticism with Gardner's arm -- his average of 9.7 yards per attempt in five games last year should lift Michigan's passing game through a full season -- positions Michigan for a Big Ten shot.
"I don't know if we're where we want to be," Hoke said. "But I like the direction of how our guys have recruited."
Hoke faithfully reps the Big Ten. He talks of winning "the right way" and upholding the integrity of the league and demanding a lot academically.
If Hoke is right abou this team, he'll have all those things and more in 2013.
"I like our football team," Hoke said. "I usually don't say that. I said it after the spring. I will continue to say it because I like how they've handled themselves on the field and off the field so far this summer. I like their work ethic, and I like how they've represented Michigan in a lot of ways."
Many NFL-eligible juniors ignore advice provided by the league and risk going undrafted each...

Snyder died in Manhattan, Kansas, on Wednesday

Locksley joined Alabama's staff in 2016
Saban reportedly wants to hire Freeze, but there may be things keeping that from happening

Florida State-Miami will be on Oct. 6, and the Seminoles will play Clemson on Oct. 27

Weis Jr. was an offensive assistant for the Atlanta Falcons in 2017