Michigan may play Fitzgerald Toussaint vs. Alabama, after all (or maybe not)
Playing it tight-lipped as usual, head coach Brady Hoke doused any premature optimism by insisting there's still no decision on whether Toussaint or suspended defensive end Frank Clark will see the field this weekend.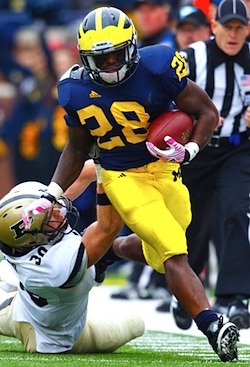 Michigan released a tentative depth chart today for Saturday's neutral site showdown against Alabama in Dallas, as expected, but the name at the top of the tailback position caught everyone off guard: Junior Fitzgerald Toussaint, still officially on indefinite suspension following a DUI arrest in July, is listed alone as the No. 1 back, reviving hopes that one of the Big Ten's breakout stars in 2011 will be in the lineup against the Crimson Tide, after all. Or maybe not.
Playing it tight-lipped as usual, head coach Brady Hoke quickly doused any premature optimism by insisting there's still no decision on whether Toussaint or suspended defensive end Frank Clark will see the field this weekend – at least, no decision Hoke is willing to make public:
He's still evaluating but said "I probably have an idea" what he'll do.

"Everyday how they come in every day, how they perform everyday, how they are true teammates everyday," Hoke said. "They're not done paying consequences on our level yet."
[…]
"I'm comfortable with what I want to do, very comfortable with that," Hoke said. "Talking to all you guys (in the media) about it? No, that's not comfortable because it's talking about two kids who are sons to us and made bad decisions."
With Touissant in the lineup, Michigan returns more than 80 percent of its total offense from 2011 and is the only team in the nation preparing for 2012 with not one, but two 1,000-yard rushersen tow. Without Toussaint, Michigan still has Denard Robinson, the more electrifying half of its millennial tandem, but no one else who has done anything to keep opposing defenses from keying on the quarterback.
At the beginning of camp, offensive coordinator Al Borges touted sophomore Thomas Rawls as first in line in Toussaint's absence, although Rawls was fourth or fifth on the depth chart last year as a true freshman, depending on the week, and only touched the ball once in the Wolverines' last eight games. Senior Vincent Smith, a regular starter under Rich Rodriguez in 2010, has seen the field considerably more often, especially on third downs and passing situations, but also saw his role gradually decrease last year with Toussaint's emergence down the stretch. After that, there's 240-pound junior Stephen Hopkins, a short-yardage battering ram, followed by a handful of not especially touted freshmen.
Then, of course, there's Robinson, whose presence even in normal conditions can tempt coaches to contemplate a one-man experiment in human endurance. Borges made some headway last year in cutting Robinson's carries from roughly 20 per game in 2010 to 17 per game, and in keeping him in one piece after the steady accumulation of aches, pains and sprains that plagued "Shoelace" as a sophomore.
Still, Robinson shouldered a heavy burden when the Wolverines were in no-nonsense mode, racking up 25 carries in a come-from-behind win at Northwestern, 18 in a tough loss at Michigan State, 23 in a romp over Nebraska and 26 in the season-defining win over <span data-shortcode= State" data-canon="Ohio Bobcats" data-type="SPORTS_OBJECT_TEAM" id="shortcode0">, and sometimes even when they weren't: Before Toussaint wrested control of the tailback job, Robinson needlessly went over 20 carries in a pair of easy September wins over Eastern Michigan and San Diego State. Those hits are best saved for the thick of the Big Ten schedule.
Obviously, the defending BCS champions are not typical September patsies; Michigan will need as complete a game as it's ever gotten from Robinson, and then some. But if the defense succeeds in keeping the score within striking distance against Alabama, how long can Borges rely on a strategy that amounts to "Denard Right, Denard Left, Denard Up the Middle"? The fewer balls Robinson and his erratic arm have to put in the air against a blue-chip, Nick Saban-coached secondary, the better. The fewer hits he has to take from a blue-chip, oversized front seven in the first game of the year, the better. But depending on how much confidence coaches have in his understudies, Toussaint may be Robinson's only chance at relief on either front.
Nick Saban reportedly wants to hire Freeze, but there may be things keeping that from happ...

Florida State-Miami will be on Oct. 6, and the Seminoles will play Clemson on Oct. 27

Weis Jr. was an offensive assistant for the Atlanta Falcons in 2017
Lott is joined by three current athletic directors and will serve a three-year term

These are the top guys every school is still chasing

College football lost a ton of star power, but these players are studs going into next fal...