Michigan, ND, USC talk to Atlanta about kickoff game possibilities
The Chick-Fil-A Bowl, which hosts Alabama-Virginia Tech next week, has had discussions with Michigan, Notre Dame, USC and UCLA about games.
• 2 min read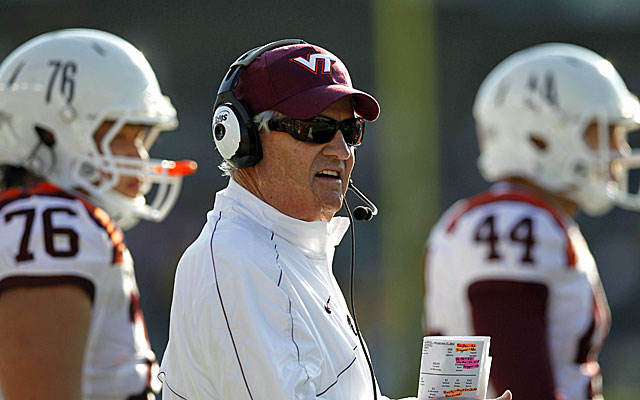 As the Chick-Fil-A Bowl looks to schedule kickoff games for 2015 and beyond, president/CEO Gary Stokan has had exploratory talks with several high-profile schools.
Stokan told CBSSports.com he's spoken with USC, Michigan, UCLA and Notre Dame on a "very preliminary" basis about future appearances.
Chick-Fil-A also spoke with Ohio State, which Stokan says seems tied to the home-and-home model.
Stokan cautioned there are no finalized matchups and the process is in the research phase. It's truly a feeling-out process to see what might work for the bowl and the schools.
Michigan could be interested if the right opponent is involved, Stokan said.
Chick-Fil-A prefers to have an SEC or ACC team on one side of the billing, as the case this year (Alabama-Virginia Tech next week) and next (Alabama-West Virginia).
Alabama already has played in two Atlanta kickoff games.
"I wouldn't want to put anyone in a situation where they are (slated as) coming to play," Stokan said. "We've had dialogue."
I'll be covering the Bama-VT game next week and will have a story on the kickoff-game craze (and Alabama's place in it) before the game. Stokan estimates there could be seven to 10 kickoff games a year in the future, and Atlanta's all-in.
"My vision is for Atlanta to be the college football capital of the world," Stokan said.
Bowl news: The Mountain West plans to re-up with its current bowl partners -- Famous Idaho Potato, Poinsettia, New Mexico, Hawaii, Las Vegas -- and is eyeing a sixth, possibly with start-ups in Los Angeles (Christmas Bowl) or Washington (Stars and Stripes) or Boca Raton, Fla., (paired with C-USA), MWC commissioner Craig Thompson said. 
Los Angeles could win out because of proximity, Thompson said, but the key will be finding another conference pairing. The Stars and Stripes told Thompson it has the Big Ten's 11th team locked up (if the Big Ten gets 11 bowl eligible).
Big Ten spokesman Scott Chipman said the league will have up to 12 bowl partners and is still reviewing possibilities on the back end of the bowl slate.
The MWC never has had six bowls but also has never had 12 teams like it does now, Thompson said.
"What we're trying to do is find out, 'How many bowls do we need,'" Thompson said. "We feel more often than not within the time frame of the next 12 years the Mountain West champion will be playing in a host bowl or semifinal."
Locksley joined Alabama's staff in 2016

Saban reportedly wants to hire Freeze, but there may be things keeping that from happening

Florida State-Miami will be on Oct. 6, and the Seminoles will play Clemson on Oct. 27
Weis Jr. was an offensive assistant for the Atlanta Falcons in 2017

Lott is joined by three current athletic directors and will serve a three-year term

These are the top guys every school is still chasing