Michigan QB Devin Gardner has come a long way for the Wolverines
Michigan QB Devin Gardner, once a dreadful student, graduated in three years from a prestigious school and smoothed out a rocky relationship with coach Brady Hoke.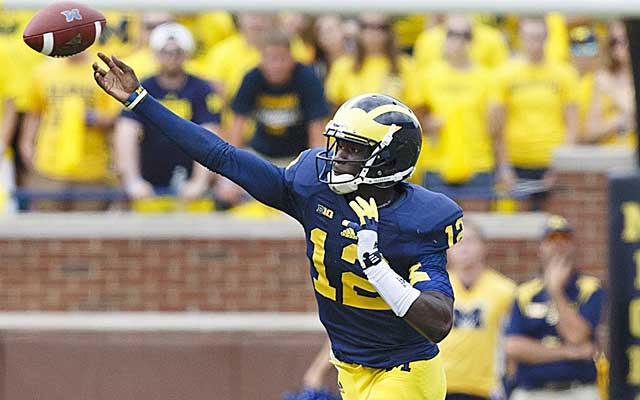 Much has changed for Devin Gardner since the last time Michigan played Notre Dame. His Wolverines lost that day in South Bend last September. Gardner was Michigan's leading receiver on a day when the Irish picked off five passes and the Wolverines didn't have a pass play longer than 20 yards. The 6-foot-4, 215-pounder is now the starting quarterback for a revamped offense that is much more balanced and more dangerous through the air. I'd been around Gardner some this summer while at the Elite 11 camp in Oregon and the Manning Passing Academy in Louisiana and was intrigued by the story of his maturation from a shaky high school student to graduating from Michigan in three years. On Monday we talked about that and also spoke about, among other things, his relationship with Brady Hoke and the magnitude of this week's Notre Dame game.
Question: You took a unique path to getting a Michigan degree. How rough was the daily commute for you just to get to high school?
Gardner: I'm from the east side of Detroit and I went to Inkster High in Inkster, Michigan. It was a lot of early mornings with a lot of 45-minute rides. The first few years I had to catch the "cheese" bus, this big, long, yellow bus. It'd come near my neighborhood and would stop at a bunch of different stops and then we'd finally get to the school. My senior year, someone who went to my church began working at my school, so I'd get dropped off at his house at 6 a.m. and I rode with him for the 45-minute drive. That was a lot more comfortable.
Q: Why'd you go so far away for high school?
Gardner: I wanted to go to St. Martin de Porres High School. That's where coach Greg Carter coached, but they closed right before I got to high school. I went to [University of Detroit Jesuit High], but didn't like it there, so I transferred to Inkster, where coach Carter went.
Q: What was your relationship like with him?
Gardner: He helped me so much as a person and to understand that it's not all about football -- that education is so important.
I didn't do well at U of D. He made it clear that it wouldn't be tolerated. I was going to be a good person and a good student and good athlete.
Q: Considering how much you struggled back then and knowing what a big deal a Michigan degree is, what was going through your mind when you're walking across the stage last spring?
Gardner: It was really amazing for me. It seems like it went so fast, like I just got here on campus and now, I have a Michigan degree and I just had orientation for my grad school on Thursday. I felt like I was almost out of place. I'm the youngest person there.
It was weird for me having had to come so far after being at U of D and not having great grades as a young guy and now I have graduated from one of the greatest universities in the world in three years and getting into the best social-work school in the country. It was so great.
Q: Your mom raised you essentially by herself. How much does what she did motivate you?
Gardner: She hardly asks me about football. I know how she's really proud of me because I graduated. I didn't even let her know I was on track to graduate so early. I just wanted to surprise her. She raised all of us by herself. That is the biggest motivation for me -- to be successful for her.
Q: How big is your family?
Gardner: I have two brothers, two sisters. I'm the second-youngest, which is a horrible position to be in.
Q: OK, why is that?
Gardner: Because you're not the baby -- you don't get all the privileges of being the baby, and you're second to last, so you're not the middle. You're not special at all.
Q: Ah. So how much did the drive to be different motivate you?
Gardner: It was a big motivation. My brother had his own way of motivating me. He expressed to me that he's not going to be happy with me just being 'a regular guy.' He said he wouldn't even talk to me if I let myself fall because I have other options. That was big for me. I wouldn't want my brother not talking to me.
Q: How close were you to falling into the wrong direction back in high school?
Gardner: I was really close. My grades were really, really bad at U of D. I wouldn't have been able to go to college had I not straightened up. I owe a lot to coach Carter and to my older brother (David) who is like my dad. He put structure in my life.
For me, I've always been my own person, but when all your friends are not doing homework -- they're just out there having fun and you have everybody pulling you in so many directions, it's hard. Luckily, I was one of those guys that had a nice support system and had my own mind and was able to fight it off.
Q: How tough is it following one of the greatest players in Big Ten history (Denard Robinson) while trying to take leadership of a team?
Gardner: It's a big challenge. I feel like he helped so much when he somewhat passed the torch last year and turned the team over to me. He made it clear that it was my team, and moving forward I felt like that helped a lot. [Gardner played in the final five games of the 2012 season and had an 11-5 TD-INT ratio while running for seven more touchdowns.]
I had a chance to show the guys my skill set because I feel like you can't lead a group of guys if you're not performing and not produce. I'm happy I was able to produce the way I did.
Q: Brian Kelly seemed to downplay the rivalry aspect of facing Michigan. How big a deal would beating Notre Dame be after only scoring six points and losing in South Bend?
Gardner: It's gonna be amazing for me especially as the quarterback of Michigan. Obviously, the rivalry's gonna end. They can say what they want, but around here in the state of Michigan and around college football, I'm pretty sure it's one of the biggest rivalries or else GameDay wouldn't be there and it wouldn't be a primetime game. I'm just looking forward to it. It's gonna be amazing for me.
Q: You guys won by 50 in the opener (against Central Michigan), where you ran for two touchdowns and passed for another, but you threw two INTs. How much did those stay with you?
Gardner: They're gone. It's a new week. It's Notre Dame week now. We watched the film, me and coach (Al) Borges. We understand what the problems were. On the first one, I thought it was a blitz and I threw it hot. The guy peeled off and didn't blitz. That was a mistake on my part. The other one, I got hit and it sailed over his head. All I can do then is try and make the tackle. Then come back to the sideline and try and make a play on the next drive.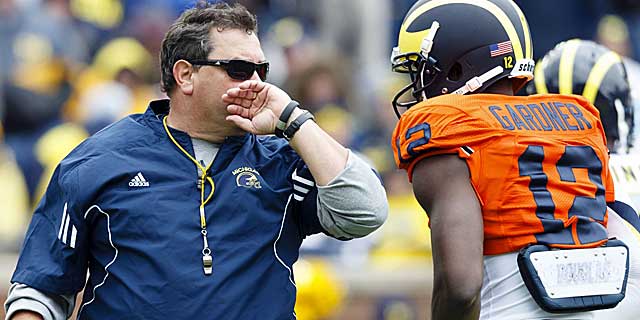 Q: What is the identity of Michigan football right now?
Gardner: We're going to be a tough football team. We're gonna run the ball. We're gonna throw the ball. We're going to be equal. Whatever you stop, we're going to do the opposite. It's going to be hard to stop everything.
Q: What do you think Brady Hoke has brought to the program?
Gardner: I feel like we're right there. We're not quite there yet. I think it was a big deal when a guy like Taylor Lewan who could've been the number one pick (in the NFL Draft) -- and I'm confident he would've been the number one pick -- comes back to play for a coach like Brady Hoke. That says enough in itself to pass up the opportunity to be the No. 1 pick the in the draft, which is everyone's dream to come back and help the team. I feel like he has changed the entire culture of Michigan.
Q: Did you and Brady (Hoke) connect right away after he got hired?
Gardner: Not exactly. We actually butted heads a little. It wasn't the best situation.
Q: Why was that?
Gardner: He didn't know me and I didn't know how he wanted things done. It was a lot different than what I'd been used to. I had a lot of growing up to do and I felt like he had to get used to me. I think it was a mutual thing where we grew together.
Q: I've heard you've always been a guy who tries to make people laugh and is pretty laid back. How much do you think that vibe has created some misperceptions about you?
Gardner: Without a doubt. I'm a fun-loving guy, and without me having been in the fire and having had the opportunity to perform, that would definitely scare a coach. He'd be like, 'Well, what kind of guy is he going to be on gameday?' I feel like I'm the same guy but Coach Hoke had seen that on gameday, it's all business and there's no jokes. I feel that is the biggest thing for a person like me who is not super serious all the time. Having the production and being able to show what I can do under tough circumstances is a big deal.
Cristobal's first game at Oregon ended the same way Chip Kelly's did

Conner Manning and the Panthers dominated the Hilltoppers in the Cure Bowl

You can only go to the well so often before it dries up
The Trojans beat LSU earlier in the year and now have their first 11-win season as a FBS t...

Saban has never been a fan of the early signing period and made it clear that hasn't chang...

Paul Tyson is a three-star quarterback prospect for the 2019 recruiting class