Michigan St. QB Connor Cook calls Jax St. low hit a 'bad cheap shot'
Connor Cook was still steaming Tuesday over a late hit he suffered during the Spartans' season-opening win over Jacksonville State.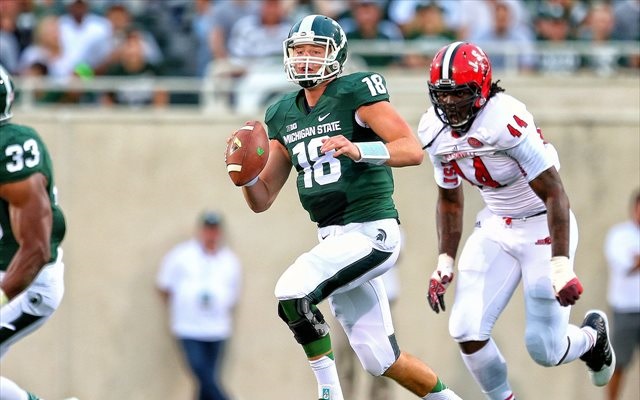 Michigan State defeated FCS Jacksonville State 45-7 in its season opener Friday night. Connor Cook hit 12-of-13 passes for 285 yards and 3 touchdowns in a borderline flawless performance. And the Spartans now have the chance to potentially grab College Football Playoff pole position with a win at No. 3 Oregon Saturday. 
But none of that has taken the edge off Cook's anger over a late, low hit delivered by Jacksonville State safety Folo Johnson in the Gamecocks' loss, one he told the Detroit Free-Press he believed was "100 percent" intentional and left him "really upset." 
"I thought it was a pretty bad cheap shot," Cook told ESPN. "I've seen a lot of hits, growing up, watching TV and stuff like that. I've never seen a hit like that, so low and so late. I thought it was a really dirty hit.
"But I'm glad things aren't as bad as it looked." 
Johnson was penalized 15 yards for the hit. Though Cook was slow to get up afterwards, he returned to the game and told the Free-Press the injury "feels great" and didn't cause him any pain in Tuesday's practice. 
All's well that ends well? If Cook is as healthy as he says and shows no ill effects against the Ducks, maybe so, but don't expect anyone connected to the Spartans to feel OK about this anytime soon:
Kevin Sumlin addressed Texas A&M's decision to cancel a rally scheduled for Sept. 11

Expectations are high for Charlie Strong at South Florida, and Houston looks to take the next...

There are new names to learn every season, and here are five to keep an eye on from the AA...
Taking a close, detailed and opinionated look at the AAC a week before the start of the 2017...

These Jayhawks got a tremendous surprise they weren't expecting

Jovon Durante announced on Twitter he's headed to FAU