Michigan State coach Mark Dantonio gets huge raise to $3.64 million
To no one's surprise, the best Michigan State season in 30 years results in Mark Dantonio getting a substantial raise.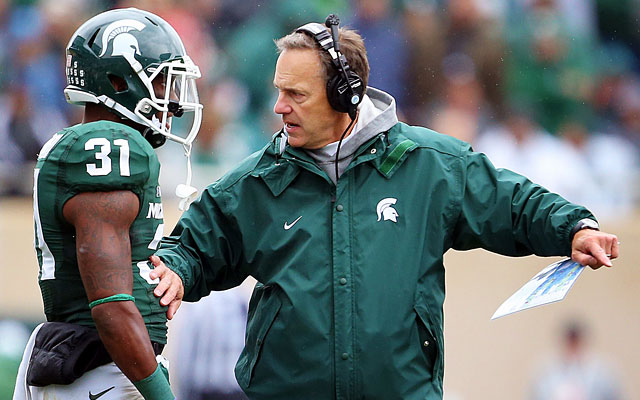 The first reports of a new contract for Michigan State's Mark Dantonio surfaced before the Spartans had even boarded the plane back to East Lansing after their historic Rose Bowl victory over Stanford. So it wasn't a matter of if the Spartans would give Dantonio a raise after their best season in more than two decades -- it was a matter of when, and how much.
The answers to those questions proved to be Tuesday afternoon, and by more than $1.5 million. A release issued by Michigan State announced that Dantonio's contract has been extended by one year -- taking him through the next six Spartan seasons -- and will now pay him $3.64 million in total compensation, up from $1.99 million.
Dantonio wasn't the only Spartan staff member richly rewarded for his contributions to Big Ten championship season, however, with the entire staff earning raises and star defensive coordinator Pat Narduzzi now set to earn a whopping $904,853 in annual salary.
Per the Detroit Free Press, Dantonio is now the third-highest-paid head coach in the Big Ten in terms of base compensation, behind only Urban Meyer and Kirk Ferentz, and Narduzzi is the highest-paid assistant in the league. (For comparison, new Michigan offensive coordinator Doug Nussmeier will make approximately $857,000 per season, the Wolverines confirmed Tuesday.)
"Mark Dantonio and his assistants have done a remarkable job in putting Michigan State football back on the national map and positioning it to compete for Big Ten Championships on a consistent basis," Spartan athletic director Mark Hollis said in the announcement. "The amended contract and enhanced compensation reflect his and his coaching staff's value in the current marketplace. These updated figures position Mark and his staff in the upper tier of the Big Ten. We believe that we have not only one of the finest head coaches in the conference but in all of college football, and we feel the same about his assistant coaches."
It wasn't too long ago the Big Ten's spending on its coaching staffs -- particularly its assistants -- wasn't commensurate with the amount of money the conference was generating; a coach like Narduzzi, for instance, would now likely have been hired away by a lucrative SEC or Pac-12 offer, or gone on to a head coaching position with a MAC team. Instead it's a former Pac-12 and SEC assistant like Nussmeier who's moving to the Big Ten, and the Dantonio-Narduzzi tag-team will return intact to East Lansing for another season. 
Money, as they say, talks -- and it's about time the Big Ten got around to using it.
Cristobal's first game at Oregon ended the same way Chip Kelly's did

Conner Manning and the Panthers dominated the Hilltoppers in the Cure Bowl

You can only go to the well so often before it dries up
The Trojans beat LSU earlier in the year and now have their first 11-win season as a FBS t...

Saban has never been a fan of the early signing period and made it clear that hasn't chang...

Paul Tyson is a three-star quarterback prospect for the 2019 recruiting class