Michigan's Taylor Lewan apologizes for facemask twist against Spartans
Michigan tackle Taylor Lewan said he reacted poorly to his quarterback being sacked repeatedly, and apologized for twisting the facemask of a Spartan safety.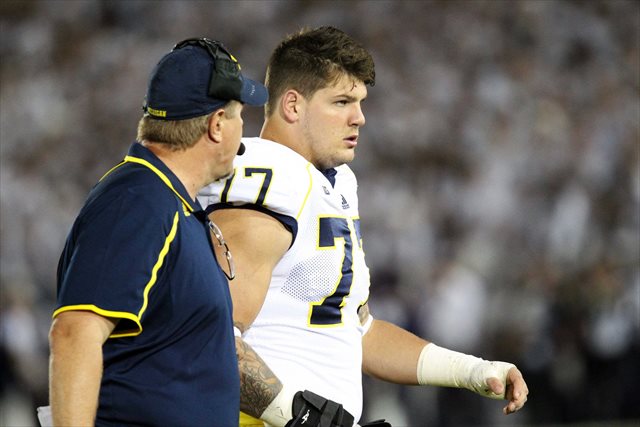 No one expected Michiganto put up a flurry of points against Michigan State's lockdown defense in East Lansing last Saturday. But neither did anyone expect Devin Gardner to be sacked seven times, take another half-dozen heavy hits, and come out of the game hurting so badly he couldn't practice Sunday or Monday -- least of all Michigan's All-American left tackle Taylor Lewan.
Lewan apologized Monday for both twisting the facemask of Spartan safety Isaiah Lewis after one play in the 29-6 defeat and grabbing the facemasks of other MSU players at other times, saying his frustration over his line's inability to protect its quarterback got the better of him.
"[A] couple of those facemask deals were on accident," Lewan said, per the Detroit Free Press. "A couple of those were very blatant, and I apologize for that.

"There's different ways to go about it. I lost my composure for a second. It's not OK to do. It's not representing the University of Michigan the way it should be, and it's not taking pride in the rivalry we have."
Several of those incidents, including the tug on the prone Lewis's facemask, were caught by ABC's cameras:
Brady Hoke said he would not suspend Lewan, but that he had made clear to the senior in a Sunday conversation that his actions were "not acceptable."
Mark Dantonio said Tuesday that he accepted Lewan's apology and was ready to move on from the incident.
This is the second time in three seasons "not acceptable" play has reared its ugly head in the meeting between the Wolverines and Spartans, with MSU's William Gholston suspended by the Big Ten in 2011 after punching none other than Lewan. Spartans-Wolverines doesn't typically make the shortlists in the "most bitter rivalry in college football" debate, since Michigan's clash with Ohio State has drawn so much more attention. But with both coaches' emphasis on it and the emotion showed by the players in recent years, maybe an honorable mention nod is due?
Kelly is presently deciding whether to start anew with the Gators or Bruins

There are a handful of conference championship games still to be determined

SportsLine's top college football expert, on a 30-18 run, locks in his top picks for a loaded...
Haynes was 14-45 in five years with the Golden Flashes

True romance isn't dead yet

The Egg bowl will be a Thanksgiving night treat for the college football world